Posted on: 1st February 2013 |
Publication details:
Orchid Press, 2012 388 pages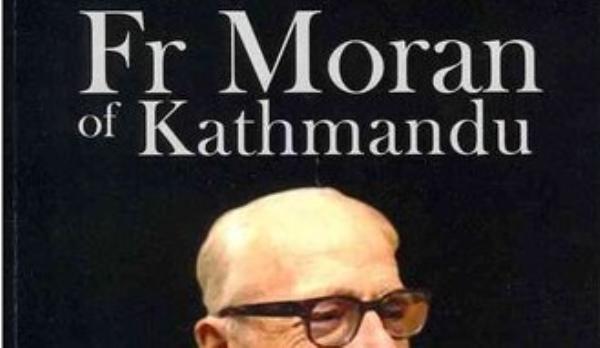 Whena copy of Fr Moran of Kathmandu: Pioneer Priest, Educator and Ham Radio Voice of the Himalayas arrived in the post, out of sheer curiosity, I asked a couple of Indian Jesuit friends if they had ever met the subject of the book. One of them, Fr Myron Pereira SJ, responded from Mumbai:
It was my honour to have met Fr Marshal Moran just once, on my only visit to Kathmandu in the 1980s. He was a legend - the first Christian to enter the Hindu kingdom which had been closed to all foreigners for almost two centuries; and the only Catholic priest requested to open a school!
When I met him, he had long retired as principal of St Xavier's Godaveri (on the outskirts of Kathmandu), but he was still a major influence, and knew everyone in the city, and everyone knew him! ... He had many friends, Hindus and Buddhists, for he had helped the fleeing Tibetans when they poured into Nepal during the Chinese invasion in 1958.
After such encouragement, Fr Moran's biography seemed even more inviting and I was not disappointed!
Messerschmidt describes early Moran's vocation story in detail. In some ways, it was not particularly extraordinary as far as such tales go. He is not the only one to have lost a beloved parent or to find his mother reluctant to allow her child to follow a way of life that, in those days more than today, meant long periods of separation. Neither was Moran unique in fighting illness, a sensitive stomach and the other complications of missionary life.
Nevertheless, it is encouraging to read of Moran's determination to learn Hindi, of his appreciation of the cultures into which he was inserted in India and Nepal. What comes across loud and clear is his growing sense of vocation and his appreciation of his Jesuit priesthood, and of the teaching and ancient wisdom of the people and the writings of his adopted culture. Yet circumstances beyond the control of the individual can sometimes alter the path of dreams or even vocations: for years it was politically impossible for the American Moran to obtain a visa for Nepal in spite of his outstanding work in India. In the meantime, whilst engaged in the setting up and running of an important school, Moran's openness to other needs and ideas paved the way for many other activities and contacts. God writes straight with crooked lines!
Eventually, Moran not only visited Kathmandu but was subsequently invited to return and establish a primary school. Messerschmidt describes the joys and sorrows, successes and failures of the ambitious venture, and also the contributions of other Jesuits, some of whom could sometimes find Moran's taskmaster approach a drain on their energy – and patience – even if the school was a tremendous success. Moran's story is, pleasantly, that of a Jesuit community living, working, praying and remembering together, rather than that of a one-man-show. Thanks to the Jesuit initiative, Kathmandu eventually boasted several schools, including two for girls, run by the Sisters of the Institute of the Blessed Virgin Mary.
Moran was also able to follow his long-time love and develop his own radio station, '9NIMM', or as it was known, '9NI Mickey Mouse'. The Jesuit acted as 'the voice of Nepal', transmitting to and receiving from the outside world. Although he trained his students in radio, perhaps it is his own use of the technology which had the greatest impact.
Fr Moran of Kathmandu is a most enjoyable book. Alongside Moran's personal story, this book reveals in fascinating detail the struggles of the countries of South Asia before, during and after Independence. The book describes the efforts of great-minded individuals to forge a path of peace and stability in the midst of confusion and chaos. Messerschmidt is not a Catholic and makes the occasional and inconsequential slip in terminology, and there are several typing errors. These flaws do not, however, detract from something which is meaty, filled with personal stories and, more than anything, written with love and admiration. The anecdotes and testimonies that Messerschmidt includes come from a wide range of contemporary sources. Such stories make this account of Moran's life, vocation, ministry and death on 14 April 1992 in New Delhi, India an important historical document. In many ways, Nepal's modern history is also that of Moran and his fellow Jesuits. Where they walked, others follow.
The reviewer, Sr Janet Fearns FMDM, is Communications Coordinator for Missio.
 Find this book on NNNN's web site


 Shop for this book on Amazon, giving a 5% cut to the Jesuit Refugee Service, UK