Posted on: 12th November 2015 |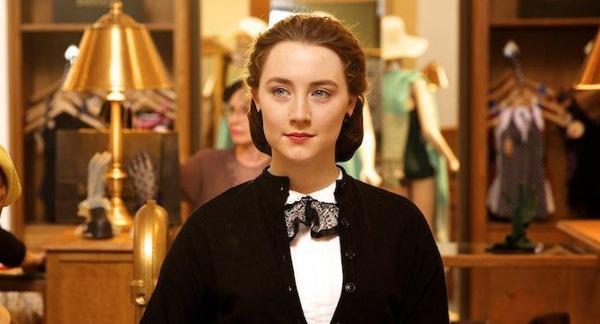 Director: John Crowley
Starring: Saoirse Ronan, Emory Cohen, Domhnall Gleeson, Jim Broadbent, Julie Walters
Certificate: 12A
Running time: 111 mins
UK release date: 6 November 2015
Brooklyn is a powerful contemplation of what it means to find, establish, leave and return to a home. John Crowley's superb film follows Eilis Lacey as she leaves Enniscorthy, Co. Wexford, for Brooklyn, New York in the early 1950s in search of the better life that her older sister desperately wants her to have.
Except this isn't really Crowley's film; this is Saoirse Ronan's film. Every pace of Eilis's journey from homesick immigrant to established New Yorker is carefully measured and meticulously documented in her performance. She's rarely off screen, yet her poise and grace do not slip once, even in the tearful throes of sorrow – and those tears, I warn you, are contagious. She excels in her solo moments, and in her interactions with the supporting cast: her romance with Emory Cohen's Italian-American plumber, Tony, is utterly charming, and the growth in affection between Eilis and Wexford boy Jim Farrell (Domhnall Gleeson) does not feel at all contrived.
I cannot speak to how far this reflects Colm Tóibín's novel, but it is certainly a tribute to Nick Hornby's adapted screenplay, and to a solid cast, to say that the authentic dialogue is more than sufficient in terms of scene-setting. There are no clunky explanations of family histories, nor are plot signposts shoe-horned into conversation. Eilis's dynamics with her mother, sister and best friend, and with the manager of the grocery shop where she has a Sunday job, tell us all we need to know about life in Enniscorthy. Likewise, the conversations around the dining table in the boarding house where Eilis finds her New York base paint a picture of life for young Brooklynites. These latter scenes in particular establish Eilis as sensible, affable and captivatingly innocent to the ways of the world. They also capture well a cultural Catholicism in which overt piety is deemed unnecessary and as deserving of chastisement (from landlady Mrs Kehoe, played by Julie Walters) as blasphemy.
If it's not too incongruous a claim, Brooklyn shines in its understatement. In fact, the film's subtle presentation of surprising contradictions is where it finds its drama. The goings-on at the high-end Brooklyn department store where Eilis works are of little interest to her, but news from Enniscorthy's golf club almost takes her breath away. And while she recognises a certain warmth in her superficial co-lodgers in New York, she finds malice in the close-knit town of her birth. The audience's expectations are inverted by the film's shrewd observations about the reality of life on both sides of the Atlantic; combined with the consistent humour that helps to level the typical highs and lows of a coming-of-age story, this gives the film an altogether unique shape. Brooklyn forges new channels for us to think honestly about our relationship to the place – or places – we call 'home'.