Posted on: 15th March 2008 |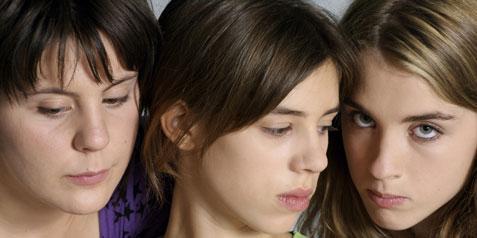 Director: Céline Sciamma
Starring: Pauline Acquart, Louise Blachère, Adel Haenel, Warren Jacquin
UK Release date: 14 March 2008
Certificate: 15 (85 mins)


Writers and film makers are very good at watching, standing on the outside and looking in, noting and listing with detached distain the various absurdities of human life.  It's a quality shared with adolescents:  we all remember the painful process of standing at the edges, watching more confident bodies in rest and motion—watching others doing stuff (acting, dancing, snogging) with apparent ease and confidence.   
This is a film about crossing those boundaries between watching and taking part, a film about dipping your toe in the water, about entering unseen and hidden places, about (in the end) taking a deep breath and plunging in. 
Bored, in a strangely timeless summer (1980s? 90s? now?) in the French new town suburb of Cergy-Pontoise fifteen year-old Marie (Pauline Acquart) is seduced by the athletic womanliness of the local synchronised swimming team, and their statuesque captain, Florianne (Adèle Haenel).  She watches, and we watch as she watches. 
It's this near voyeurism that is one of the electric elements of this film.  For an hour and a half, the men in the audience at least will be taken somewhere they have probably never before been:  into women's changing rooms and their locker room world.  Indeed, director Céline Sciamma expressly set out to take the audience to these 'places they've never been in movies', and into 'the head of a 15-year-old girl.'   Nor are we just glimpsing things through the cracks, like sordid peeping toms (as in conventional cinema):  we might be watching, but we're also there.   Some interesting semiological athleticism seems to be taking place among the thrashing limbs of the synchronised swimmers. 
But the interest in the film lies not in what men may be seeing for the first time, but in the celebration of a female gaze by Sciamma.  Let's be quite clear about one thing:  this film is swimming in dangerous waters, representing, as it does, a complex set of adolescent girls' relationships, at least one of which is homosexual.  Now there's quite a lot of this stuff around.  But usually it's the territory of the Go Between:  little boys (and sometime little girls) see things they shouldn't and manfully recover from the sight of legs flapping like octopuses.  In Cergy-Pontoise, it's the girls who become decisive participants, actors at the centre of their worlds (almost to the exclusion of all others).  They do things, we watch. 
But Sciamma is not satisfied with any simplistic voyeurism. She problematizes the camera's wandering gaze over the bodies of these girls, the beautiful, the coltish or the conventionally unattractive.  In one wittily constructed scene reminiscent of Velázquez, Marie strips naked in the changing rooms for the first time.  This (thank God) we do not see:  what we do see is Florianne's steady, downward gaze, lingering (in a parody of the male gaze) on what we cannot see, out of focus, and hidden below the bottom of the frame.  What we watch is her watching her.
In all this, she succeeds in creating a cinema that is genuinely intimate and celebrates young women's relationships with a breathtaking frankness and a conscientious care.  'It's an intimate movie, a personal one, but only because it says what it's like to be a girl.'


Ambrose Hogan


(Quotations from interviews in the Observer and Leigh Singer in i-D magazine, cited)