Posted on: 21st March 2008 |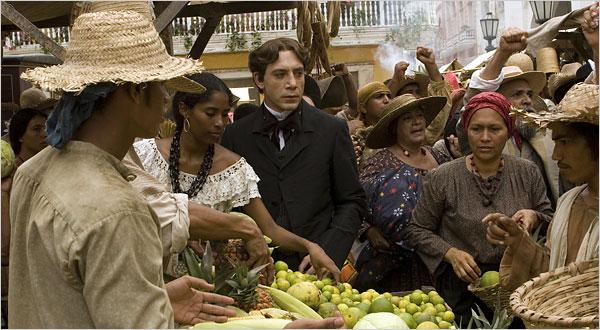 Director: Mike Newell
Starring: Javier Bardem, Giovana Mezzogiorno, Benjamin Bratt, Catalina Sandino Moreno and John Leguizamo
UK Release date: 21 March 2008
Certificate: 15 (138 mins)


Love in the Time of Cholera is based the on Nobel Prize-winning author Gabriel García Márquez's novel, about a love story that spans a lifetime. This fifty-year love triangle between Fermina Daza, Florentino Ariza and Doctor Juvenal Urbino, set in the late 19th century, explores the suffering of a timeless love.  
The film follows Florentino (first played by Unax Ugalde and later Javier Bardem), an awkward telegraph worker who meets and falls forever in love with Fermina (Italian actress, Giovana Mezzogiorno) and initially wins her affection in an exchange of clandestine love letters. But he loses her when her father, Lorenzo Daza (John Leguizamo who gives an implausible and histrionic performance), bans him from the house and takes her away on an extended "journey of forgetting." On her return, Fermina rejects Florentino's resolute fidelity and agrees to marry the handsome, European-trained Dr. Juvenal Urbino (Benjamin Bratt).
The past pervades the present as this love story unfolds in the 1930s with the sudden death of Juvenal. His death gives Florentino the opportunity to resume his pursuit of Fermina after 51 years, nine months and four days of obsessive pining. After the funeral, Florentino's declaration of everlasting love is met with shock and fury as Fermina orders him out of the house. "Don't show your face again for the years of life that are left to you…I hope there are very few of them." The story then flashes back to their youth in 1879 and narrates the intertwining lives of Fermina and Florentino to old age. This circular narration dilutes the momentum of the film, failing to capture the viewer's attention by revealing the poignant ending before the first seed of love is sown.
The film moves into an overly sentimental direction, teetering between slapstick and a tedious soap opera. Florentino's penchant for excessive drama as a poet and lover is portrayed as both noble and ridiculous. Unfortunately, the latter dominates the film as the absurdity of his actions outweighs his original sense of sincerity and devotion. Initially, he vows to stay a virgin until he is reunited with Fermina, but soon finds himself using casual sex to numb the heartache of their separation, engaging in a farcical 622 affairs. This overwhelming escapade quickly anaesthetises his credibility and likeability as the forlorn and jilted lover.
There's a great disconnect between the novel's Colombian-born author and the film's creators. Mike Newell, the director (Four Weddings and a Funeral) is British, which may explain why the characters, even those played by Hispanic actors, seem far removed, almost resembling stifled caricatures. The chemistry between Florentino and Fermina is as lifeless as a Cholera victim. The only element that exudes Spanish energy and fervour is the film's soundtrack. On his own initiative, García Márquez convinced Grammy-winning singer-songwriter Shakira to provide two songs for the film. Unfortunately, the soulful lyrics could not uplift the emotionally and spiritually anaemic ambience of the film. 
The film's main theme is that lovesickness is an emotional and physical illness, a disease comparable to cholera. At one point, Florentino expresses his physical and amorous agony when he falls ill after eating flowers in order to capture Fermina's scent. In this instance, I would follow Florentino's strange antics and eat a flowerbed of tulips instead of sitting through this agonising malady of misguided melodrama.


Michelle dos Santos