Posted on: 21st May 2008 |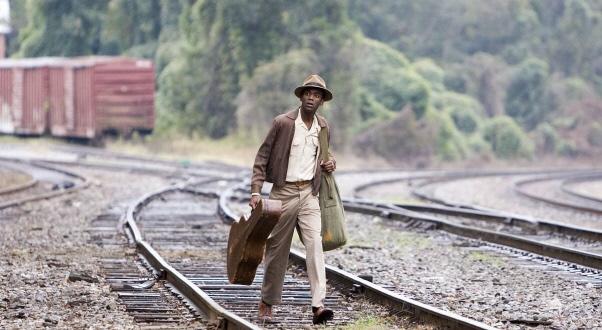 Director: John Sayles
Starring: Lisa Hamilton, Yaya Dacosta, Vondie Hall, Danny Glover, Gary Clark
UK Release date: 9 May 2008
Certificate: PG (123 mins)


Honeydripper's director, John Sayles, has a reputation for socially aware (if little-known) films.  Some indication of this social commitment comes from the name of the film production company with whom he is associated, the Anarchists' Convention.  Their production list includes The Brother From Another Planet. I have not seen this other piece, but it is described elsewhere as 'a film about a black, three-toed slave who escapes from another planet and finds himself at home among the people of Harlem in New York City, largely because he is incapable of speaking'.
A form of social-ism (as Tony Blair used to put it) is there also in Honeydripper, in its mode of social realism and attempt to portray its vision of the south (of the USA) in some detail.  It's there also in one nice moment of cinematography:  the bleached out scenes of cotton-picking where the colour balance nicely suggests the backbreaking effort of the work.
There is, however, nothing revolutionary (politically or cinematographically) about Honeydripper, it's a luscious festival of musicality and sentiment.  The film drips in a golden honey-coloured light of the imagined south, with the director's compassionate and loving attention to his characters proving to be much stronger than any social challenges that might have lurked in the plot. 
A plot which is, it has to be said, glaringly obvious.  But what compensates for this predictability is the strength of the ensemble cast, and our consequent keenness for their success in the face of poverty, the tragedies of time and gross, habitual and institutionalised racism.   There is an achingly beautiful performance by Mabel John as the ageing blues singer, Bertha Mae: immaculately Marcel-waved and still accurate and soulful in her musicianship, but around whom the world has changed.  She still sings, wearing the clothes of twenty years before, but only those who love her for herself now come to listen.
It's in the vignettes like this that the film is strongest:  Stacy Keach's predatory sheriff; the compelling and almost documentary performance by Albert Hall as the exclusive Reverend Cutlip; the Revd. Cutlip's thrilling and muscularly-womanly gospel choir; and Arthur Lee Williams on harmonica and Eddie Shaw on the tenor sax as themselves.
And that takes me to the music.  The film is a celebration of blues, gospel, early rock & roll and the crossovers between these idioms.   This really is the centre of the piece, around which the lightly-conceived plot is a device to give voice to the music.
But I can't help thinking that, despite the quality of the ensemble cast and the care with which they and the subject matter is handled, this is a view of the south and its music seen through the eyes of a romanticising outsider.


Ambrose Hogan