Posted on: 17th June 2008 |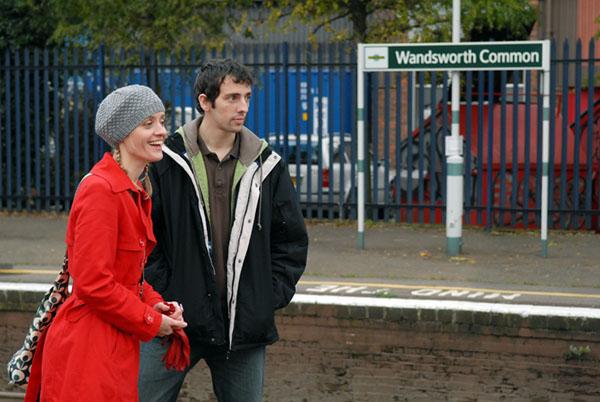 Director: Roger Goldby
Starring: Anne-Marie Duff, Ralf Little, Rupert Graves, Zoe Telford, Frank Finlay
UK Release date: 6 June 2008
Certificate: 15 (110 mins)


The marital and romantic anxieties of the English middle classes have been the focus of novels and stories since at least the time of Jane Austen.  This reviewer has no pretensions to being an expert in Austen (having finally finished reading one of her novels in its entirety at a lamentably late age, and that only because of a bet with a pupil), and he ascribes that ignorance largely to issues of 'gender': Austen observes men, but writes about women, for women. 
So it is interesting that The Waiting Room (a film about the romantic anxieties of men) uses as one of its motifs Austen's preoccupation with the myth of the perfect marriage, the marriage of those really suited to each other, the marriage of those truly, madly, deeply in love.  Early in the film, a sensitive, elderly woman asks her nurse to read extracts from Mansfield Park¸ so setting the tone for his struggle to choose, his challenge to discern:  is what I've got as good as it can get?  Is what I'm offered better, truer, deeper? 
Thus is established the central plot tension, a triangular counterpoint between an affair (should it last?  Is it love?), a partnership on the brink of marriage and children (but should it last?  Is it love?) and a marriage on the brink of collapse (but should it last?  Was it ever love?).  The piece is tightly written, and successfully plays with our expectations from the start (for me to write more would spoil the effect, but suffice it to say that within the first five minutes I was whispering to myself, 'oh, so that's what's going on'). 
Set in Balham and Clapham, London, England, there was never much scope in The Waiting Room for shots of luxuriant landscapes or wide, arching skies.  Nonetheless—at the risk of writing a truism—what Roger Goldby does with his camera is one of the interesting points of this film.  There is, for example, a tight little title sequence making a nice 'graphic ballet' of the daily movement of trains around south London.  After all, what makes the landscape of this corner of town, but the web of railways intersecting across heaths and commons, running along the backs of houses and over high streets?  The idea reminded me of some details in Edgar Reiz's humanitarian epic Die Zweiter Heimat (the Second Home):  that piece focused on the twisting, turning personal and political relationships of a group of students in 1960s Munich.  Reiz recreated a sense of the artistic experimentation of the period by allowing a couple of minutes to be taken up with a reconstruction of a student's abstract film called something like 'Speed':  a poem in motion of half-focused and blurry images of trees and lampposts shot from cars and trains. 
There are other similarities in the two directors' approaches: like Reiz, Goldby is happy to let his camera linger on his actors. Unlike Reiz, Goldby makes his cast slip through a range of the darkest emotions at some speed.  These performances are consistently excellent, and the observant voyeurism of the camera gently tightens the screw on this study of middle class morals and desires. I watched intrigued as characters turned from appearing physically and morally repugnant at the start of a sequence, to seeming beautiful and redeemed by the end. (Though they were back to their old selves in the next scene).
My abiding memory, therefore, of the film is one of an unhappy white, middle class man leaning on the door-jamb at the threshold of a well-appointed living-room—leaning there, staring into the void. Strindberg in South London. But with charm and a happy ending (and a slightly intrusive score).


Ambrose Hogan