Posted on: 1st August 2008 |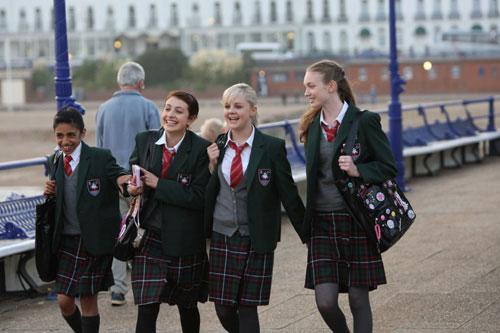 Director: Gurinda Chadha
Starring: Georgia Groome, Eleanor Tomlinson, Aaron Johnson, Alan Davies
UK Release date: 25 July 2008
Certificate: 12A (100 mins)


I was teaching in a girls' comprehensive school when I first encountered Georgia Nicolson, the character at the centre of Louise Rennison's sequence of novels which begins with Angus, Thongs and Full-Frontal Snogging (note the slight change in the title, more of that later).  During an English lesson in the library, I bumped into one of my pupils (at the time a twelve-year old, now a fine art student at a major London art college).  I asked her what she was reading.  She mumbled something.  Enthusiastically, I barged on, keen to encourage her reading.  She mumbled something again. What had she said, exactly?  She blushed bright red and thrust under my nose, pink and spangled with stars (the book, that is, not my nose), Knocked Out By My Nunga-nungas, the sequel to Angus, Thongs and Full Frontal Snogging. 
Why on earth was she so embarrassed? Well, I suppose the whole 'nunga-nunga' reference didn't help.  For the uninitiated (or the celibate) reading this review, 'nunga-nungas' are Georgia Nicolson's euphemism for breasts (also known in this film as 'bazoomas'). But it was a bit more than that passing reference to breasts that caused her blushes.  Rennison's books are about the closed world, the secret spaces, of womanhood, and some of us are not meant to enter.  Also, 'snogging' is not just about advanced kissing and other forms of frottage, it's a metaphor.  You have to 'have your first snog':  and if necessary, you can loose your snogging cherry to the Year 10 lothario who gives lessons in the subject.  Georgia has a snogging scale, but it only goes up to nine:  when you get to ten, you have to deploy the shagging scale.  This is a good joke, and one which, though in the script—and filmed—doesn't make it into the film.
Which brings me to the alteration to the title.  'Full Frontal Snogging' makes it clear where all this febrile teenage mooning is ultimately destined—and it's that charge of hope, excitement and expectation which gives the books an added interest to young teenagers.  'Perfect' snogging, on the other hand, seems rather unambitious and self-satisfied.  Which seems to me rather to miss the point.  But it does make the film more marketable to a pre-teen audience, the 'tweenagers' for whom I think it has really been targeted (and who seem to enjoy it), not the younger teenagers who actually read the books, and understand the emotions Rennison writes about. 
The books are funny, and are read by clever girls who enjoy not just the evocation of their lives, but the surreal humour, the word-play and the social comedy.  One of my team of female advisors for this review remembers crying with laughter at passages in the book—embarrassingly, while on the top deck of a bus:  the writing reads you into a world of teenage elation and paranoia where it actually, really, truly is—literally—true that your parents will get a divorce if you don't get the right colour eye-liner.  Today.  Now. 
It's the surreal insanity, switchback logic and hyper-real wit of Georgia Nicolson which teenagers relish.  The madness of their own lives is shown to be as utterly insane as it is (even as they live through it), simultaneously believing everything to be sooo important, and knowing it all to be utterly ridiculous—like the very project of stalking boys.  Regrettably, the pace and editing of the film is slow, and that, combined with the choice of a tv soap-opera visual idiom will frustrate a more sophisticated audience.  For such viewers, the very straight filmic language used by Gurinda Chadha and her cinematographer Richard Pope, does not communicate Nicolson's mad, witty world.  Fourteen- and fifteen-year olds often seem to live life in stronger colours than older human beings, and there's only a passing sense of that in this film. 
Ambrose Hogan
 Visit this film's official web site