Posted on: 21st October 2008 |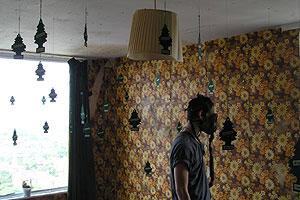 Director: Suzie Halewood
Starring: Ben Barnes, Andrei Chadov
UK Release date: 10 October 2008
Certificate: 15 (82 mins)


It's actually not terribly easy to be a homeless, destitute, drug-addicted petty criminal and illegal migrant in somebody else's country. If you are in doubt about that proposition, this film will explain.
My film friend, perhaps not surprisingly after certain smart remarks in my last review, was unavailable for selection. So I sat alone in an otherwise deserted cinema to see this black comedy based on the diaries of Sergei Sakin and Pavel Teterski. Nobody does black comedy quite like the Russians - it takes five generations of Pravda to destroy the last fond vestige of trust that any Truth can be either pure or simple. And then nothing is quite so hilarious as continuing to hope in the possibility of genuine truth, hope or love. And yet, for some reason, we all still do - even the Muscovites.
"This is a true story," we are told in the first line. Spikker (Andrei Chadov) and Cobakka (Ben Barnes), two pieces of self-described "Russian scum" vote with their feet not to be drafted into the Russian army. Armed only with mindless machismo, bullshit bravado and hopeless optimism, they take a chance on London as the second best place in the world to study capitalism after Los Angeles, which doesn't have a direct coach-link from Moscow.
As Cobakka explains, the theory is simple: the UK has the world's fourth largest economy, the most even distribution of wealth and is a haven for fraudsters. It even has the notion – bizarre to the minds of aspirational Russian gangsters – that even red-handed petty criminals are innocent until proven guilty. Having been raised on the somewhat different prosecution philosophy practiced by the Moscow police, such liberty for free criminal enterprise seems like heaven itself.
But somehow, it all turns out to be just a little harder than it looks. Legitimate employment is briefly tried, but swiftly abandoned after a brief, but beautiful moment when they are completely baffled by the Nor'n Iron accent of an honest but incomprehensible employment agent. Instead they integrate happily into the multicultural criminal underworld where people, whatever their other failings in the sight of the law, speak the sort of English our heroes can understand.
Their way in is Artash (Ovidiu Matesan) – drug addict, scamster and the best known London teacher of ECOLS – English for consumers of other legal systems. In a matter of days, they learn elementary benefit fraud, simple shoplifting (a masterclass from a ten year old) and basic burglary. Soon they discover a particular talent for credit card fraud. And briefly, there is real hope of a first step on the ladder of immigration – a flat, a bank account and a national insurance number. And in an all too authentic way, that hope is denied by drugs, deceit and discrimination. Most authentic of all is the depiction of the absolute hostility of the British population of every colour to the most recent foreigner. Particularly well done is the worker at the homeless day centre, explaining very politely, patiently and professionally to Spikker that it's nothing personal - he is just the wrong sort of "homeless" for their service. Along with the last hopes of Spikker and Cobakka, the sound-track gradually declines from energetic Russian thrash metal through the soft lyricism of Joe Strummer to the chaotic shambles of Pete Doherty.
Near the end, Cobakka allows himself one moment of near-Chekov: "sadness and adversity happen because of the inability to believe in something." Which, in Russian humour, is what passes for a happy ending.
I think, when this film comes out on dvd, I shall go up Camden Market and buy a few bootleg copies for my Eastern European patients. (Somehow, in the context, buying legit copies just wouldn't feel right).
My patients will recognize themselves.
And then they will cry.
And then they will laugh.
Because they're like that.


Paul O'Reilly SJ works as a doctor for the homeless in London.




 Visit this film's official web site