Posted on: 11th November 2008 |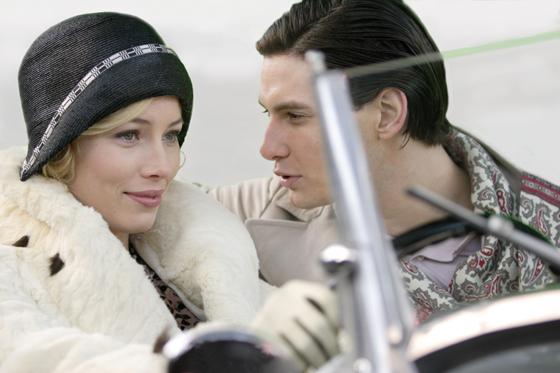 Director: Stephan Elliott
Starring: Jessica Biel, Ben Barnes, Kristin Scott Thomas,Colin Firth
UK Release date: 7 November 2008
Certificate: PG (97 mins)


I went to see Easy Virtue on a cold and rainy Sunday afternoon, and in my opinion there is no better time to see a film like this.
A remake of a Noel Coward play of the same name, Easy Virtue is set in post-war Britain. After John Whittaker (played by Prince Caspian's Ben Barnes) marries feisty American racing driver Larita (Jessica Biel) following a whirlwind romance in the south of France, the pair come crashing back to reality when they make the journey back to England for John to introduce his new wife to his upper class family who reside on a huge estate in the Surrey countryside.
As one can imagine, the female half of the family, particularly John's mother (Kristin Scott-Thomas) take a dislike to this glamorous, modern American who has been forced upon them. What follows is a battle of wits as Larita, determined to put her own stamp on English tradition, continues to defy her frosty mother-in-law.
Despite the subject matter being a regular plot-filler (think Meet the Parents circa 1920), this film is most watchable, due largely to its fantastic cast. Scott-Thomas is perfect for the role of aristocratic mother-in-law; no one seems to be able to perform a disdainful stare quite like her. Colin Firth is equally good as the world-weary father who becomes Larita's unlikely ally in her quest to stir up life in the Surrey mansion.
Although their roles are slightly smaller, the rather unfortunate Whittaker sisters (Kimberly Nixon and Katherine Parkinson) are responsible for many of the more amusing moments in the film, especially when younger sister Hilda performs a distinctly unladylike version of the can can. Kris Marshall as the dry-witted family butler is (as always) very funny too, and puts in an almost show-stealing performance. However, the real star of this film is Biel. From her opening scene she lights up the screen (a more perfect advert for Hollywood dentistry hasn't been seen since Julia Roberts in Pretty Woman). With the help of some fantastic costumes that help portray Larita's personality perfectly (women wearing trousers? In the 20's? Quelle horror!), she makes a character who could have come across as vulgar and annoying, witty and fun and one we are rooting for.
Despite all this, Easy Virtue is far from faultless. For starters, John Whittaker is a bit of a drip. Not exactly unattractive, you may still find yourself wondering if the wonderful Larita would really want to marry him. The plot does also seem to flag slightly, for a large part of the film nothing much changes, Larita continues to upset the family and they continue to dislike her. While there are definitely some funny moments to be seen (dog lovers beware) there are no moments that will really have you in hysterics.
This film will not try or test you and is not filled with hidden meanings. It just looks great and will leave you with a little sparkle. So as winter sets in and the days become shorter, this beautiful-looking bit of fluff is the perfect way to add a bit of light into a dreary Sunday afternoon.


Charlotte Bateson-Hill




 Visit this film's official web site