Posted on: 9th January 2009 |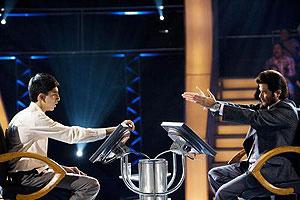 Director: Danny Boyle and Loveleen Tandan
Starring: Dev Patel, Freida Pinto, AnilKapoor
UK Release date: 9 January 2009
Certificate: 15 (120 mins)


The traditional rags-to-riches story is one that tends to capture the imagination.  We love to champion the underdog who manages to emerge from poverty in order to obtain a new life for themselves.  Slumdog Millionaire puts a modern and somewhat different spin on this familiar story.
Directed by Danny Boyle and Loveleen Tandan, Slumdog Millionaire is set in contemporary India and begins with some torturous scenes that result from what is usually a cause for celebration.  How many people anticipate that the result of succeeding in a game show will be electrocution?  This is exactly what happens to Jamal Malik (Dev Patel), who is well on his way to winning millions of rupees on the Indian version of Who Wants To Be A Millionaire?  The reason for such cruel and unusual punishment is that the producers find it implausible that a young man who grew up in the slums and now works in a call centre is capable of answering the show's questions.  Hence they conclude that this slumdog must be cheating.  It is via the subsequent interrogation process that Jamal recounts his life story, and in so doing refutes the charges brought against him.
Jamal and his elder brother Salim have histories that are replete with loss and the innate drive for self-preservation.  They were orphaned at a young age and left to fend for themselves amidst one of India's expansive slums.  From there, their journey takes them all over India as they struggle to obtain their daily bread, sometimes through an honest day's work, but more often through cleverly devised means of theft.  In one of the more comical scenes, Jamal poses as a Taj Mahal tour guide.  The fact that he is a bona fide Indian and speaks English with the desired accent is enough to win the patronage of eager western tourists. 
Bit by bit, Jamal's life story reveals how his experiences have hardly rendered him an ignorant fool.  Such life experiences are said to endow one with 'street smarts', the lessons that are learnt from the daily toils of life itself.  The most valuable thing that Jamal has learnt is courage, including the courage to love.  In the end, it is courage that propels Jamal forward from experience to experience and allows him to triumph over the obstacles in his life and in the game show.
Aside from his brother Salim, Jamal's supporting cast includes his lifelong love interest, Latika, and the sly game show host, Prem Kumar.  These two characters stand opposed to each other in the sense that Latika drives Jamal forward while Prem strives to frustrate his advance in the game through discouragement and outright deception.
The soundtrack to Slumdog Millionaire does well in adding to the enjoyment of the film.  A few days before seeing Slumdog I was viewing another film in an adjacent theatre and wondered if there was a dance party going on next door.  In fact, it was the rhythmic music of Slumdog Millionaire.  You would not be unwarranted in dancing in the aisles, not just because of the insanely catchy soundtrack, but also because of the triumph of Jamal and Latika.
What sets Slumdog Millionaire apart from the traditional rags-to-riches story is that the monetary reward is relegated to such a secondary role that it is easily forgotten.  What is of primary importance is the joy of togetherness shared by Jamal and Latika.  Ultimately and perhaps ironically, the film is not primarily concerned with either the slums or the millions of rupees.  Rather, at its core, it is a love story and as such it is love that that functions as the true sign of wealth.


John Friday




 Visit this film's official web site