Posted on: 29th January 2009 |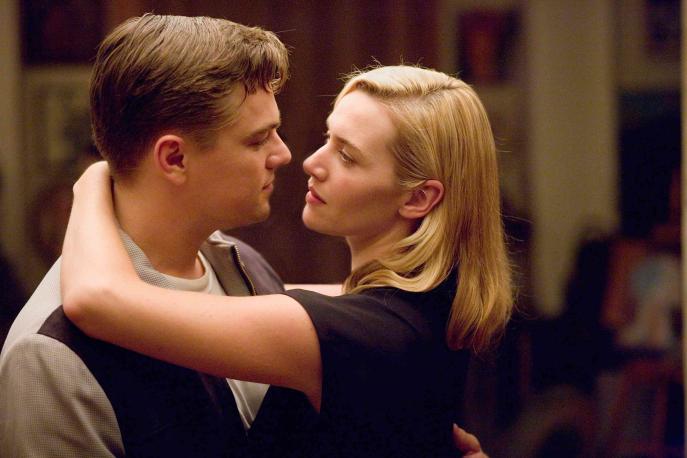 Director: Sam Mendes
Starring: LeonardoDiCaprio, Kate Winslet, Kathy Bates, Michael Shannon
UK Release date: 30 January 2009
Certificate: 15 (119 mins)


In 1999, director Sam Mendes brought us the critically acclaimed and award-winning film American Beauty.  Ten years later, Mendes delivers a film that similarly explores the discontent and tragedy of seemingly well-off suburbanites. 
Based on the Richard Yates novel of the same title, Revolutionary Road introduces us to the Wheeler family in their calm and picturesque Connecticut suburb.  Mendes has selected two strikingly beautiful actors who have proven themselves to work well together – Kate Winslet (Mendes's wife) and Leonardo DiCaprio – to play April and Frank Wheeler. By all accounts, they are the prototype of the happy, suburban, post-World War II couple: Frank holds a respectable job in the city while April assumes the role of homemaker and mother to two young children.  While there is no white picket fence, the house sits comfortably on Revolutionary Road and seems rather idyllic with its white clapboard siding and red shutters.  However, any such idealism fails to represent the real and very disturbed lives of Frank and April.
Neither Frank nor April are content with their lives.  Frank spends ten hours a day at a job he loathes and April becomes utterly bored as a housewife.  After reminiscing about their days as a young couple, April suggests that the family of four escape to Paris.  Such a move, she thinks, will save them from inheriting the boring and complacent futures of their neighbours.  However, when unexpected news threatens their European plans, April literally takes matters into her own hands.
Winslet and DiCaprio's supporting cast includes Kathy Bates as Helen Givings, the cheery estate agent, and Michael Shannon (nominated for a Best Supporting Actor Oscar for this role) as John Givings, her mentally disturbed son.  It is with John that the Wheelers have the most affinity, perhaps due to their mutual discontent; the adage of 'misery loves company' comes to mind. However, while John's misery stems from the fact that he is clinically insane, April and Frank are miserable because they have a quiet life in the suburbs; perhaps the Wheelers are unaware of how well off they actually are.  Either that, or everyone else in Suburban America is equally unhappy but the Wheelers are the only ones who are sufficiently enlightened to recognise it and take definitive steps to affect change.  Unfortunately, the only change that comes is further misery in the form of an untimely death and all of the consequences that inevitably result from it.
Revolutionary Road can candidly be described as a 'downer.'  There really is no trace of redemption and this will probably mean that many viewers leave the cinema with a mild case of depression.  That said, it isn't as if the Wheelers don't strive for something beyond what they already have. They are continually in search of happiness and contentment, but it is their tragic failure that produces a pinching feeling of frustration. The possibility that things could have been otherwise is always lingering in the background.
As with American Beauty, Mendes offers us an interpretation of a seemingly ideal situation that is chastened by the stark reality of human frailty and sinfulness.  In both films, he succeeds in shedding light upon the idea that true happiness is forever precarious, as opposed to a goal to be achieved once and for all.  That being the case, the emergent challenge is that of finding happiness in one's given situation.  Ultimately, Frank and April fail to find their happiness, but they are but one example of a search that is common to all.  Contrasting examples abound of those who achieve what ultimately eluded the Wheelers, but this bleak tale is one of hope unfulfilled.


John Friday




 Visit this film's official web site