Posted on: 14th August 2009 |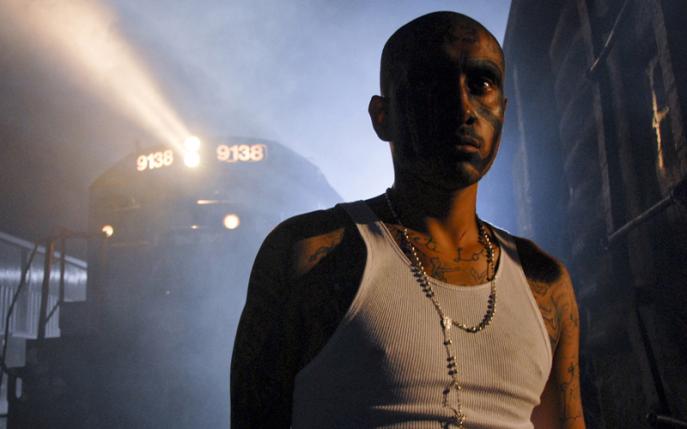 Director: Cary Joji Fukunaga
Starring: Edgar Flores, Paulina Gaitan
UK Release date: 14 August 2009
Certificate: 15 (96 mins)


For a debut feature film, Sin Nombre is exceptional. Director Cary Fukunaga shows an assuredness and maturity that belie his 32 years. The result is a powerfully dramatic and gritty film. It is also uncompromisingly and realistically brutal, and certainly not for the squeamish.
The critic in Little White Lies described Sin Nombre as 'a fascinating fusion of road movie, gangster epic and tragic love story', but that grossly oversimplifies the film. It tells the tale of one young man's quest for liberation (from his gangland origins) and redemption through love and compassion. And in the process, it explores identity, friendship, loyalty and betrayal.
The story centres around one family's desire to quit their squalor in Honduras and strike out for New Jersey, via Mexico. We rarely hear about the immigrants of Latin America, but their circumstances and that quest for a better life mirror those of immigrants around the world and throughout history: the Vietnamese Boat People who moved Superior General, Father Pedro Arrupe SJ, to found the Jesuit Refugee Service; the Albanians who lost their lives trying to escape the genocide in their country; or those migrants who flee civil war, political instability, poverty and famine in the Horn of Africa. This could be a drama about any of them.
Interestingly, however, one of the assistant directors of Sin Nombre described the theme of the film as 'exodus, not immigration'. And this is certainly a film of biblical proportions in places, culminating in the crossing of 'the River Jordan' at the end (or is it the River Styx?). Those fleeing poverty and oppression climb onto the roofs of trains heading northwards through Mexico towards the US border. They dodge border patrols on the way. They are welcomed warmly by some of the locals who throw fruit up to them, and aggressively by others who pelt them with stones. But the Honduran migrants are desperate and determined.
Their story, however, is only one element of Sin Nombre, because the entire film revolves around El Casper, played by Edgar Flores, fleeing the brutality and violence of a lifestyle deeply rooted in gang warfare. The gang members are ruthless and desensitised: murder or kicking a victim to a pulp seem as natural to them as eating or breathing. They recruit their members young, and initiate them in a way that I found quite nauseating. They are fiercely loyal, which means that anyone who betrays them suffers the consequences. They wear their dense tattoos like a uniform. And they value their identity, their territory and their sense of belonging: 'You are part of a family with thousands of brothers,' the gang leader tells Casper.
In this social environment, survival depends on being in a gang, and making sure it is stronger and better equipped than your rivals. Wielding a gun makes you a man; using it on a chavala (a punk) seals your identity as a giant. But El Casper has a conscience that emerges as he intervenes to prevent a rape. We start to see the glimmer of goodness. Having sunk about as low as he possibly could, he starts to climb out of his violent depravity and begin to bond emotionally with a young Honduran girl, Sayra (Paulina Gaitan). Love grows and his determination to help Sayra reach the US border safely redeems him.
Sin Nombre is rich in imagery and symbolism, but it is usually subtle. It is also unashamedly direct about the extreme battle between evil and good: the devil is a real person in the minds of the gang members. When Casper's girlfriend in the barrio is killed in a tragic accident in a cemetery, the gang leader tells him what caused her death: 'The devil took her.' Ironically, it was he who cast her fatally to the ground when she resisted his advances.
But while they are brutal and, by any definition, fundamentally 'evil', they do not seem to see that in themselves. If the devil is a reality in their existence, so too is God; it just seems that the former's influence and power are stronger and more satisfying in their deprived young lives. The exception is Casper who, in a revelatory moment, asks Sayra how he managed to make such a mess of his life. It is touching and gratifying, and we are left feeling that perhaps there is hope after all.
Cary Fukunaga is being hailed as 'one of the most exciting new American directors' and it is not hard to see why. He won the award for Best Direction at the 2009 Sundance Film Festival and the Skillset New Director's Award at the Edinburgh Film Festival. His direction of Sin Nombre is confident and compassionate. The cast are flawless and the settings stirringly authentic. The violence is not gratuitous: it is integral to the story. The painful reality of life in the Honduran barrios and the tragic struggle that people face to escape it are both challenging and bloody.


Ged Clapson




 Visit this film's official web site