Posted on: 9th October 2009 |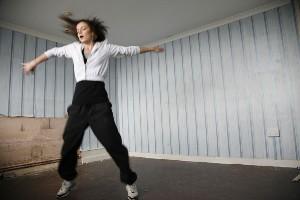 Director: Andrea Arnold
Starring: Katie Jarvis, Michael Fassbender, RebeccaGriffiths, Kierston Wareing
UK Release date: 11 September 2009
Certificate: 15 (123 mins)


'Visualising the realism of life and actuality
F**k, who's the baddest? A person's status depends on salary'
These are the opening lines to the Nas song, Life's a Bitch that provides the soundtrack to the understated climax of Andrea Arnold's severe yet true to life Fish Tank. They say more about the film's intentions and concerns than anything else I can think of to say.
Fish Tank explores the social 'underclass' that has, in recent times, become both Britain's scapegoat and its most easily forgotten embarrassment. We are, of course, talking about what only someone with a politician's lack of sensitivity and social awareness would refer to as 'Broken Britain' (nothing like some alliteration to salvage a sound bite out of the tragedy of society's disastrous failure to provide for its people). Arnold approaches this difficult task with sensitivity, whilst never becoming overly sentimental or patronising. The portrayal of the crushing, relentless sadness of Mia's (Katie Jarvis) world flickers between the overwhelmingly tragic and the monotonous in a way that evokes both empathy and depression in the audience in equal measure.
Mia is a 15-year old firstborn child to a mother who shows her no love. She, in turn, has none to show her younger sister (Rebecca Griffiths), who is rapidly erecting the same emotional walls and barriers that Mia has firmly in place. Mia has been kicked out of school, and finds nothing but antagonism in herself and all others in her life. That is until she meets Connor (Michael Fassbender), her mother's charming and eloquent new boyfriend: his way with words, his warm Irish lilt and, notably, his payslip set him apart from all else in Mia's world such that she is immediately wary, aggressive and desperate for his affection. With father absent and mother distant, Mia is disarmed easily by Connor's attention and compliments. This angers her: she is betrayed by her emotional weakness, and lashes out sporadically as her defences are dissolved. Connor sneaks in through the gap in her confusion between fatherly affection and male attention, and again she is burned.
The biggest things in Mia's life are cheap lager and dance, and she sees a way out for herself when she sees an advert looking for 'Female dancers'. With surprising naivety, Mia choreographs and rehearses a creative but somewhat clumsy retro break dance routine to Bobby Womack's California Dreamin'. As her audition draws nearer, the viewer's dread for Mia increases, and when she walks into the dimly lit, tinsel-laden bar and sits, in her tracksuit, alongside girls wearing more jewellery than fabric, the audience can barely watch. I don't want to give away what happens after Mia takes to the podium and California Dreamin' starts to play, but it determines a path for Mia, and endows her with a power and confidence that she was short of before.
Mia's benevolence, is clear from the start. Her continued attempts to free a horse chained up by gypsy brothers, at the risk of her own safety, epitomises this. Maybe she sees something of herself in this animal: trapped in a situation beyond its control, nearly but not quite resigned to its own helplessness, its existence echoes hers. This is alluded to beautifully towards the end of the film, after Mia finds out that it had to be put down. 'It's not what you think', the owner says, 'She was old'. On hearing this, Mia sinks to her knees. 'She was sixteen', continues the boy, 'It was her time'. This sentence rings ominously in the audience's ears, as thoughts instantly return to Mia, nearly 16: not old, but not as young as she should be.
Arnold does, however, leave us with a sense of hope, as Mia and her mother connect wordlessly in an impromptu dance to Nas' Life's a Bitch. The strange ambivalence of this touching reconciliation is cleverly intimated in the refrain – 'Life's a bitch, and then you die' – to what is, in spite of this lyric, a song of hope and of escape.
Katie Jarvis' performance is particularly brilliant. Convincing in every aspect, passionate in both her anger and sadness, the audience cannot help but identify with her in all that she experiences. There are great supporting performances from Michael Fassbender and Rebecca Griffiths, as well as a good performance from Kierston Wareing as Mia's mother.
Fish Tank is a very sad film. It is a portrait of life for many thousands of people in this country, people who have been forgotten by society; or not forgotten, in fact, but something much worse maybe: sacrificed. We all know, as do the people that run this country, of the hopeless situations people can find themselves in, and of the ladders that don't reach down far enough, and yet society as a whole does not do enough to help. Instead, as a group, we mock and patronise, we make and use deriding labels ('chav', for example, rumoured to stand for 'council housed and violent'). British films dealing with issues of class often look to the past and romanticise working class movements and disillusionment; it is rare for a film to look honestly at class issues so current. Fish Tank does so unapologetically. It is a reminder to us that we are lucky, and that we are selfish, and that we don't do enough.


Aaron Kilkenny-Fletcher




 Visit this film's official web site