Posted on: 3rd September 2010 |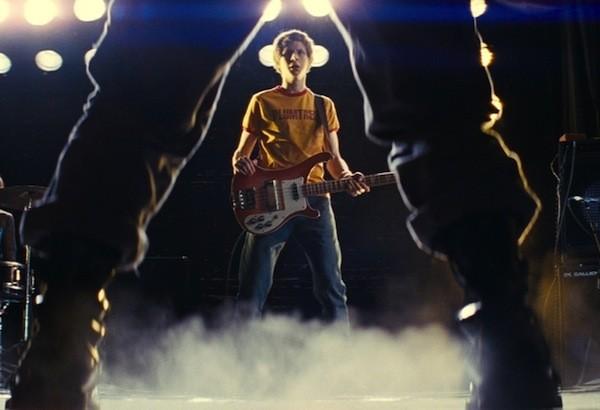 Director: Edgar Wright
Starring: Michael Cera, Mary Elizabeth Winstead, Jason Schwartzman, Ellen Wong
UK Release date: 25 August 2010
Certificate: 12A (112 mins)


It has long been the role of art to create and find great meaning within the ordinary. Whilst in recent times, many films have possibly over-egged the pudding in this department, replacing meaning with drama simply for its own sake (think of the sort of apocalyptic crescendos of romance in many rom-coms, and how little it represents reality), few could have thought of doing it in the way that Edgar Wright's Scott Pilgrim vs. the World does. Based on (and written alongside) the series of graphic novels by Canadian writer, Brian Lee O'Malley, Scott Pilgrim vs. the World fills the ordinary everyday life of a 23-year-old slacker musician with magic, love, life and death, and all because of a girl.
Scott Pilgrim is inseparable from its setting. It is a Toronto story, the events are at home in the places they happen, and many scenes are filmed in the same spots that O'Malley drew for the novels. The surroundings (shot brilliantly it must be said) provide for the events of the film what pictures provide for a graphic novel: life, magic, vindication, a taste of the story's reality.
The life of Scott Pilgrim (Michael Cera) seems to have been something of an ordinary affair until we catch up with him in his 24th year, broke, detached and disillusioned. It seems all Pilgrim has to keep him going is his band. That is until he sees the girl of his dreams. Literally. He dreams about her, and then he sees her. This vision changes everything. All he has learned in 23 years is about to be tested in a Herculean adventure for the 21st century. As he (surprisingly quickly) manages to turn his inevitable awkward and crippling first impression into genuine mutual affection, he walks blindly into a task laid before him by an unknown villain. In order to be with his 'dream girl', Ramona (Mary Elizabeth Winstead), he must defeat her 'seven evil exes' in 'a fight to the death'. It is here, when this sentence is first uttered, that the ordinary reality of the film, of a young boy-man's life is shattered with the bizarre. The sentence even sounds funny mentioned in a film so essentially set in our own mundane reality. A 'fight to the death' is something you would hear in Peter Pan or Treasure Island, yet it doesn't feel out of place in an off-putting way. It captures attention. And once the fights begin, in Street Fighter-style indulgence, the degree to which the world has changed becomes quite clear.
Scott Pilgrim must embark on this perilous quest and defend his mortality to save his love (I say must, of course he could just choose not to and let Ramona be), but we can't expect cinema to be that realistic, can we? The magical-realism of Scott Pilgrim vs. the World is cleverly emphasised by Wright through his use of motifs and music from video games old and new. It borrows from these old timeless stories of youth to evoke in many a childish wonderment. I certainly felt my childhood awaken when Pilgrim wandered down a dimly lit school corridor which inexplicably turned into the snowy night-time to the magical ambience of the music from Zelda.
The influence of video games is present throughout the film. Each of the seven duels that Scott faces take place in the world of video games; of Tekken, of Mortal Kombat and of Street Fighter. Pilgrim's opponents all have a superpower of sorts, and he must match them with the supernatural fighting skills he has somehow acquired, the wit and guile he explicably possesses, and the ingenuity brought on by his love for Ramona. Scott Pilgrim's struggle against 'The League of Evil Exes' or to him, 'The World' culminates with his face-off against super-villain and obnoxious snob Gideon Graves (Jason Schwartzman). Pilgrim faces his toughest task yet, against someone he has no power over, who seems superior to him in every way, and he must confront the repercussions of the actions he has taken (some blindly and cruelly) in his pursuit of Ramona.
Michael Cera is excellent in the main role. His comic timing is excellent as always, and for those of us who are fans of Arrested Development this is a welcome return for Cera to the more subtle and clever humour that, I would argue, were absent from some recent projects he was involved with. Likewise, Jason Schwartzman's appearance is simply a treat. He is again outstanding, as he has been in everything I have seen him in. The rest of the cast do not disappoint at all, and Mary Elizbeth Winstead, Ellen Wong and many more deserve mention.
Scott Pilgrim vs. the World is a contradiction, an amalgamation. It endows every recognisable element of life with a magical realism that enchants because it does not detract from the reality. A perfect example of this is Gideon Graves, the obnoxious snobby ex that we can all recognise and would all hate in our own magical realities, who is turned into an evil super-villain of fairytale status. His apparent superiority over Pilgrim in terms of age, status, power and confidence fuels his power over Pilgrim, but also ultimately his downfall. The film leaves the audience with a sense of hopeful enchantment. It suspends mundanity for a period. It allows one to embrace the imagination one had as a child, and apply it to one's hopes as an adult. It is a wonderful film, funny, moving and provocative.


Aaron Kilkenny-Fletcher




 Visit this film's official web site