Posted on: 29th October 2010 |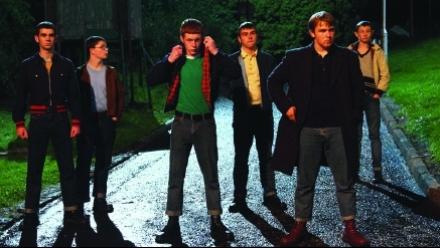 Director: Peter Mullan
Starring: Conor McCarron, Joe Szula, Mhairi Anderson, Gary Milligan, John Joe Hay
Certificate: TBC (122 mins)


NEDS stands for Non Educated Delinquents in this cozily nostalgic yet violent coming of age drama from writer/director/actor Peter Mullan (who directed Orphans and the Magdalen Sisters and won a best actor at Cannes in 1998 for My Name is Joe). Set in 1970s Glasgow council estates, an impassive, baby faced, intelligent boy descends from class swot to rampaging gangland thug in just a few years.
The lack of pretension in the depiction of John McGill's (Conor McCarron) teenage mind makes this film a disarming, hypnotic and almost destabilising experience. Filmed on location in Peter Mullan's old secondary school and Catholic parish in Mosspark, the drama opens with 11 year old John McGill leaving Primary School with prizes for being the best student. His mother and aunt meet him at the school gates proud and contemplating his bright future where anything is possible. Back home the warmth becomes horribly chill whenever John's father enters. We see Mr McGill later, a drunk rigid bully yelling abuse and cruelly intimidating his wife. The menace is made so acutely personal as Mr McGill is played by Peter Mullan and the shock of realisation of such raw autobiography sucks the viewer into the drama.
John's older brother is a local gang leader which is both bad and good for John – on the one hand John is protected from violence as all the kids know and fear his brother, on the other his brother's reputation blights John at school and he isn't placed in the top class at the start of term. But he's bright and studious and makes it up to the top form. There are fights between the students and knives come into the school – students are stabbed. John is initially passive but street wise – dodging the violence but picking up the knife. Physically he is a tall solid child with a pressed school uniform, neat hair and shiny cheeks.
At the end of the first term a summer holiday friendship with a boy from a middle class family turns sour and John is rejected. With this hurt raw in his large sensitive frame it is as if all the potential good, in an equal and opposite way, turns bad. On his way home John encounters a gang and his dive is incredibly rapid from the top class to the NEDS portacabin and from family home to glue sniffing homelessness. His intelligence is replaced by fearlessness and he is almost too extreme for his fellow gang members; he steals to pay for his brother's bail, and with incredible frozen malice beats up (and disables) a rival gang member.
John's decline is complete when, in a glue induced 'trip', he collapses at the foot of the life size parish cross. The reality of the 'trip' takes over as Jesus' nails ping out onto the ground and He gets down from the cross – in the traditional crown of thorns and loin cloth. At first we think Jesus is going to embrace John but it's a feint and the prelude to a severe beating. If John has seen the light it isn't immediately obvious but slight signs of hope emerge – he doesn't kill his father; he is accepted back into school; he starts to read books in the NEDs class and he shepherds the young man he disabled across a field of lions (in a safari park) in the bizarre closing scene.
The gang culture and the fights are portrayed with great naturalness and skill by a large cast of first time actors. The cast had a fight club for two weeks leading up to filming so that Mullan could ensure they could fight without hurting each other.
The film shows knives entering school but also the awful ingenuity of the everyday – in one scene a boy is repeatedly garroted by a rope with bottles on either end – grotesquely mimicking a 1970s knuckle busting game of Clackers.
The film presents John's situation with humanity, humour and sympathy, there is suffering and slaughter and the deadly sins (lust, hatred and rage) but it seems there is an absence of intent. The teenage mind is depicted as a game unto itself, and, try as adults might to impose structure, being a teenager is a mess to be endured that will gradually sort itself out. I left the film both aware and bemused and with a vague hanker to learn more about the anthropology of gangs and the psychopharmacology of the teenage brain.


Jane Leek




 Visit this film's official web site