Posted on: 29th October 2010 |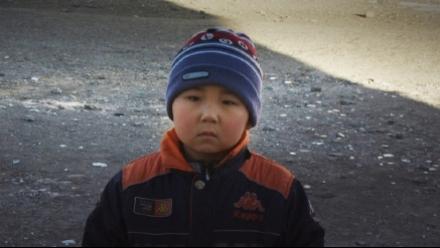 Director: Li Hongqi
Starring: Bai Junjie, Zhang Naqi, Bai Jinfeng
Certificate: TBC (91 mins)


I want to write today about a new genre I've kind of invented since watching Winter Vacation, Li Hongqi's film about the last day of the winter holidays in rural China. I've called it Beyond Deadpan, which admittedly isn't a very snappy title (not like the onomatopoeic 'mumblecore'), but then again, that is fairly apt. So far my genre has one film in it, so please, any suggestions on a postcard will be accepted, collated and formally submitted to those who have the say-so in the great fashions of the world. Winter Vacation is, on the surface, an aimless and soporific film about a few people waiting for things to happen (the first day of school, a divorce, an uncle to come home), interspersed with big patches of silence that makes you wonder whether Harold Pinter did die in 2008 or whether he emigrated to China. However, and this is where the Beyond Deadpan bit kicks in, it's also a very, very funny satire and exercise in a type of patient social realism.
Winter Vacation is made up of a series of set pieces that sit like still photographs until one of the humans moves or says something. At a street corner four teenage boys gradually congregate; there are no cars, and in the background is the sound of distant gunfire. This gunfire punctuates every outdoor scene and is never explained or referred to by the characters, it's simply there, clearly as unremarkable to the boys as the cold weather, the concrete buildings. We're left to wonder why they don't mention it and what the guns are firing at; is the city at war, and does that explain its emptiness and desolation? Or is this military training, towards which the boys are aimed after their final years at school? The aesthetic of the film makes no concessions to the audience's separateness from what is happening on the screen. In response you either fall asleep or the imagination starts to come alive.
Questions proliferate. Zhou Zhongxin, a four year old with the fattest cheeks I've ever seen, sits on his haunches with his face in his hand whilst his grandfather, still youthful and well dressed, sits silently on an expensive sofa. They sit in silence for two, three minutes, Zhou Zhongxin occasionally sighing and the clock ticking. A bowl of grapes sits on the glass coffee table. The grandfather turns to his grandson and regards him for a minute, sitting on the floor. Eventually he speaks: 'Zhou Zhongxin, be calm or your uncle will come and kick your butt'. Zhou Zhongxin sighs again, stands up and then sits on the sofa, his pose now identical to his grandfather. If this sounds like pseudo-absurdist dialogue from a piece of student theatre, or something from a mime show, then I haven't communicated it properly: the whole audience burst out laughing. This isn't because (I hope) the rest of them got some sublime joke that I missed out on but rather that, after such a long stretch of dreariness a crazy comment like that is hilarious.
'Punchlines' like this are beyond the boundaries of normal deadpan and can only be appreciated as part of a satirist's accentuation of the absurd parts of reality. Zhou Zhongxin tells his young friend Li Xiaomeng that when he grows up he wants to be an orphan (to which she replies – 'you really are a pitiful kid'); the final scene with them comes as he trudges through the snow past her apartment and tells her that he is going to find the place where he can be an orphan and that she can come with him if she wants. This is quite a comment on his future that undermines the hoary socialist view of the future, with everyone marching towards a happy, earthly paradise. He has already been infected with the disillusionment that seems to permeate the lives of all the adults around him.
Here is where irony has been set to the maximum level in order to get the film past the Film Bureau. There's nothing on the surface of Winter Vacation that could be taken as a criticism of social reality in China. Instead through tone and juxtaposition it repeatedly undermines any utopian claim. The teenagers' story culminates in a discussion between two young lovers who are facing a break-up. Zhu Xiaoling has decided that she is too young for romance and wants to concentrate on her studies. So far, so moralistic. But wait, says Laowu, please reconsider – 'How can it affect your studies? You've come last in every test for eight years. Your record is unbeatable…Trust me. You're average looking and stupid. It's impossible that anyone else other than me would want you.' And what does Laowu have to offer? – He will get a job and have a child, which will have a child, which will have another child, and the 'fruit of [his] loins will go on forever.' Zhu Xiaoling considers the offer. 'You'll get very tired', she says.
Here the official moral lesson of the teenage lovers is cracked in half by reality's insistence that it won't budge no matter how many commands are thrown at it. On returning to the group, Laowu hears Laobao, the relative waster of the group, complain that he doesn't want to go back to school the next day and doesn't see the point in school. Again, time for a lesson. His nerdy friend wants to give him some advice. 'Firstly, Laobao, you are a mother fucker. If you do not go to school you will only be a burden on society.' More snow falls on them. What will you do, Laobao? 'I will continue to contribute to socialism with Chinese characteristics.' More snow falls. The juxtaposition of their teenage language and the parodic learning of a moral lesson (Laobao no longer the waster, now a good comrade) gives the lie to the forced imposition of the latter.
Moments like that make Winter Vacation a gem, and it's easy to see why it won the Golden Leopard at the Locarno Film Festival this year. Not because it's easy viewing (most reviews of it have focussed on the boredom you have to go through before you reach any of the highlights described above) but because it's a remarkable piece of satirical film – although it seems deader than any deadpan has a right to be, it is really crackling with rebellious life.


Nathan Koblintz




 Visit this film's official web site