Posted on: 29th October 2010 |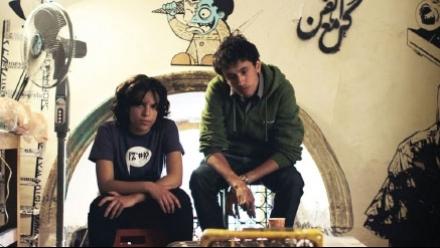 Director: Ahmad Abdalla
Starring: Khaled Abol Naga, Menna Shalabi , Yosra El Lozy, Hany Adel
Certificate: TBC (120 mins)


Alexandria, Egypt, was the town of the poet C.P. Cavafy, and out of this habitual government clerk the town pulled poems packed up close with the sweetness of boyhood loves, sweating with nostalgia for a life and a civilisation long passed. The Alexandria of Microphone retains the feel of a city caught between cultures – for Cavafy it was Egpyt and Greece – and for Khaled, the ex-pat returned home, it is similarly bound up with memories of lost love. The film shares a subject matter with The Taqwacores – music's role as a binding agent for a subculture – but is more mature in tone.
It's part documentary, part fiction, with many of the characters played by themselves. Khaled is Khaled Abol Naga, a well-known TV and film personality in Egypt and likely to become better known to the rest of the world through film festivals like this one. His semi-fictional return to the city provides the narrative, captured in part by two film students, as he says goodbye to an ex-girlfriend, and in an effort to stave off misery, embroils himself in the garage bands and underground music scene of Alexandria. There's an interesting feeling of incompleteness to all three of the romantic narratives that emerge: Khaled and Hadeer are shooting off in different directions; the two film students become tender towards each other before Salma falls for a violinist; the young skater who leads Khaled into the world of the bands is too shy to ask out the cute graffiti artist. Unlike The Taqwacores, with its climaxes and completions, Microphone feels more wistful.
Alexandria's middle-class make up the characters: these are the ones with half an eye on going abroad, if they haven't already done so, who flicker between love and snobbery in their attitude towards their city. Khaled is after French wine and electric kettles, but has been desperate to come back to where he considers home. It feels a true depiction of that subsection of international society whose hearts will be permanently split between two or three places: the international students; those whose parents or lovers have gone away for work. The danger with such a topic is that it could fall towards self-pity, but there's enough humour and counterbalance to Khaled's more morose moments to stop this happening. Perhaps this is because the two young film students who record much of the film attend the real-life Jesuit Cultural Centre in Alexandria – a happy moment of recognition for this reviewer, who has spent much of the festival explaining to other critics why Thinking Faith and the Jesuits have anything at all to do with cinema!
The benefits of a Jesuit education aside, Microphone shows us the tensions in a city like Alexandria, where free speech is largely allowed as long as it doesn't aggravate the coterie of politicians and businessmen who run the city. The bands' final concert is interrupted by a group of men complaining that it's stopping them praying and before long the police have arrived and ordered them away. Nepotism rules in the National Centre for arts, which determines where funding goes. The apolitical salesman Excelans, provides one rebellion against the politicians, pulling down a defunct political banner in the hope of making a quick sale; elsewhere a homeless cassette salesman hides in the protection of a political poster until it is destroyed and he is beaten up.
Music can be both the antidote to, and the stifling self-satisfaction of, the ruling classes. Regardless of whoever is using it, it is a binding force. The singer-songwriters, hip hop artists, accordionists and metalheads that Khaled encounters (all real musicians) are part of life that always exists, beyond differences in power and freedom. Beyond too, any over-interpretation of critics and reviewers. Music is simply one of the things that add sweetness to existence. God must delight in these songs that we give to each other as gifts – imagine a group of children repeatedly creating lovely things and sharing them with each other. This isn't to romanticise or exoticise the bands in Alexandria: pubs around Britain are filled with musicians doing exactly the same thing every night. Microphone captures this sweetness and intermingles it with an Alexandrian mix of pride and loss.


Nathan Koblintz




 Visit this film's official web site