Posted on: 5th November 2010 |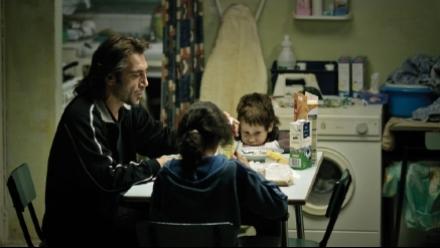 Director: Alejandro González Iñárritu
Starring: Javier Bardem, Maricel ?lvarez, Eduard Fern?ndez
UK Release date: 11 January 2011
Certificate: 12 (147 mins)


The last time Javier Bardem and Barcelona were paired up on the big screen was in Vicky Christina Barcelona, where his Catalan artist made short work of two Americans' romantic plans. It's hard to think of a way in which both the city and the character he plays could be further removed from the archetypal sunny city in Woody Allen's film: the universe weighs heavy on Bardem's Uxbal, and the Barcelona in which Biutiful is set. Uxbal is a dying man trying to put his affairs in order – not an easy task for a life that is ending with two young children, an estranged, unstable wife, and a conscience speckled with a life of petty crime. The Barcelona that we see is not the vision of the tourist board, nor 'Europe' seen through American eyes, but a city of migrants and police, and a poverty that undermines its inhabitants' attempts at goodness.
And Uxbal is a psychic too, able to communicate with the dead. One of the remarkable feats of Biutiful is to turn this fact into such an understated aspect of Uxbal's life: it's simply a talent he has that he makes use of to get some cash. We are left in no doubt that he is not a fraud – the dead that he sees and the voices that he hears exist in the film on the same level as the other 'real' characters, without any jolting sound effects or mysterious build-up. Nor does he defraud his customers by telling them what they want to hear: it's a genuinely shocking moment when, at the beginning of a scene, he is finishing speaking to an old woman and tells her that her dead husband reports that it feels like 'his stomach is filled with mud and his hair is on fire.' What makes it so striking is that within the context of the film this hellish destination is very real.
Biutiful has been labelled 'magical realism' and it's worth a paragraph considering this, and how useful a term it is for people of faith (for whom the material world is not the only reality). It's clearly a very 'realistic' film. The lives of the African and Chinese migrants in the city's semi-illegal economies is brutally realised, and Uxbal's role as broker between them and corrupt cops, cost-cutting constructors, and those that prey on their vulnerabilities is reminiscent of Dirty Pretty Things, for example. And 'magical'? The term is used to describe Uxbal's double vision of the living and the dead, but more so suggests that the universe that Biutiful portrays is a fantastical reality – one separated from ours by imagination, hence 'magically real', rather than simply 'real'. To call Biutiful 'magical realism' is to speak from a perspective where surfaces and materials are the only true substance – but for those who believe that there is not only this world, but also 'the next', Biutiful comes unusually close to portraying this reality.
Perhaps it was this proximity to a reality I believe in that made Biutiful such a destabilising film to watch. The physical reality Uxbal lives in is unremittingly bleak. All of his attempts at cleaning up the loose ends in his life and healing the pain that he has been involved in are thwarted by either his own weakness, those of others around him, or by the odds stacked and teetering against him. His children will need a mother after he has died, but Maramba, his wife, lashes out at their young son in frustration at her own weakness. His attempt to cut a fair deal for the Chinese workers ends in tragedy. His Senegalese friends are turned on by the police when he had promised them safety. All this pain spreads around Uxbal, and as he grows weaker he feels more intensely the need to aid those who have died in these ugly, arbitrary ways, on their journey after death. The film left me moved and exhausted – for a film that dealt with issues of such size, it lacks any brightening or alleviation of the dark.
The film begins and ends with scenes of Uxbal talking with his father after he has died. His father died in Mexico soon after Uxbal was born and so when he meets his son, it is the father who appears to be the younger man. On his face is an innocence that Uxbal has lost: his father died in exile in Mexico after rebelling against Franco, an act whose purity Uxbal has been striving to replicate. Their conversation is the only sense of redemption for Uxbal, and his question with which the film ends – "what is over there?" – reminds us that there is a far longer journey for him to go on. But whatever lightness the film ends on, with the clean snow and a peaceful soundtrack to the credits, feels puny compared to what has gone before.


Nathan Koblintz




 Visit this film's official web site