Posted on: 4th February 2011 |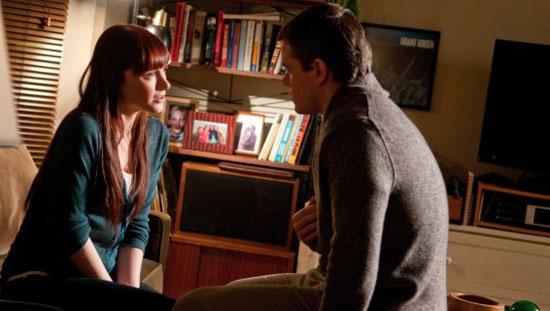 Director: Clint Eastwood
Starring: Matt Damon, Cécile De France, Bryce Dallas Howard
UK Release date: 28 January 2011
Certificate: 12A (129 mins)


Directed by Clint Eastwood, Hereafter is concerned with the age-old human fascination with life after death. The film weaves together the stories of its three main characters in a restrained but unconvincing meander: the characters are drawn affectionately and with sympathy in their situations, but Eastwood relies only on the immediacy of events to investigate spiritualism. In his hands, despite excellent acting, the topic is one dimensional and unfulfilled. There is no solace to be found in religion in any of the three narratives, and as such I thank God for my Catholic tradition, which gives death a reverence and a purpose and has given me a rich array of intercessions, hymns, scripture and spiritual teachings. Despite the film's title, life after death itself isn't questioned or discussed. It is as if each character has a 'death itch' to be scratched, and scratching it brings not only relief but healing.
Marcus and Jason (George and Frankie McLaren) are twelve-year-old twins in London managing to hold together their family life by covering up for their drug-addicted mother. Jason, older by twelve minutes, runs to the chemist for a prescription for his mother and, harassed by a local gang, veers into the street and is killed in a car accident. Marie Lelay (Cecile De France), a French TV journalist, is almost drowned in the Tsunami and on return to work is distracted by the out of body experience of near death. George Lonnegan (Matt Damon) has withdrawn from a lucrative life as a psychic and is in retreat from his unsettling 'gift'. He tries to build a normal life as a warehouseman with an interest in cookery and Charles Dickens.
The three stories interweave in a pleasant but pedestrian way. George's brother asks for a 'reading' as a favour for a friend and other encounters follow, including a 'reading' for a potential girlfriend with her dead mother and (abusive) father, at which point the would-be relationship collapses with the girl's comprehension of how much George's 'gift' reveals. Leaving behind a brother who is rapidly turning into Svengali, George escapes his re-launch as a medium by flying to London to seek solace in the haunts of Charles Dickens and in a Derek Jacobi reading at the London Book Fair.
The two other storylines develop to their conclusions: Marcus is placed with foster parents whilst he explores the world of mediums in his effort to contact his brother; and Marie Lelay is given leave from her TV show to write a book on Mitterand, which she drops to write about near death experiences.
George, Marcus and Marie's stories inevitably coincide as they all visit Alexandra Palace: Marie is reading there from her book; George is listening to Derek Jacobi read from Dickens; and Marcus is there with his foster parent to meet their last foster child, now a security guard. Marcus recognises George from a medium web site and pursues him for contact with Jason. George eventually relents and there is a scene in which Marcus speaks to the deceased Jason through George. Jason's stroppy plea is for his living brother to stop needing him as much in death as he did in life.
The meeting between Marie and George is engineered by Marcus and ties their relationship up in a faintly ridiculous, chocolate box finale in another Victorian masterpiece location – Ludgate Market.
My suspicion is that Christians and particularly Catholics rarely turn to spiritualism, not only because the Church absolutely forbids it, but as they have the benefit of a tradition already rich in death, its purpose and even its comfort (anniversary Masses, the Church Militant and Church Triumphant, the Communion of Saints, All Souls, All Saints, the whole month of November, intercessions and Novenas). I imagine my family is typical – my grandmother often imagined and shared her conviction with us that when she died she would be reunited with her sisters: her idea of heaven. Our classic Christmas day conversation is one where my parents 'compete' for who will die first and enjoy the imagined trials of the one left behind. Anniversaries of death are marked by Mass and take the place of birthdays. We ask the dead to intercede for our wellbeing as they are nearer to God and we pray that they may be released from their sins. But there is almost a diktat of respect that we must not assume too much, must not expect anything too concrete from the dead and that it is not healthy to be too concerned with the end times or even tomorrow!
This film reveals the human instinct to believe in life after death, and responds to it by means of the characters' contact with the dead. But, otherwise, the great question remains untouched and unexamined. Not only Christianity, but so many faith traditions make an association between this world and the next with spirits, gods, ancestors and even reincarnation. In Hereafter, it seems that the human need for purpose and progression is more than fulfilled in the real world and its own hereafters.


Jane Leek




 Visit this film's official web site