Posted on: 8th December 2011 |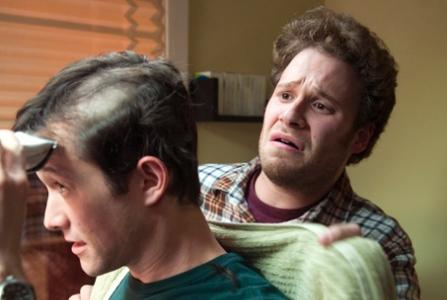 Director: Jonathan Levine
Starring: Seth Rogen, Joseph Gordon-Levitt
UK Release date: 25 November 2011
Certificate: 15 (100 mins)


So movember moustaches, what a hoot! I'm sure you've all seen them or even know some vain hair-growing enthusiast who has recently indulged in this rather strange charitable craze. As well-meaning as these facial monstrosities are, I think as a species we need to step up the game a bit and making cancer funny needs a little more than a hairy slug balancing on a lonely philtrum. But fortunately, director, Jonathan Levine has put in a little more effort with his movember offering and in 50/50 he has created a film that takes a tragic situation and extracts from it some wonderful and irreverent jokes that look at cancer in a personalised and funny way.
Levine's film tells the story of a young man called Adam (Joseph Gordon-Levitt) living in Seattle. Adam finds out that he has a rare form of cancer and like so many other cancer patients, he must undergo rigorous chemotherapy treatment that leaves him with a 50 percent chance of survival. Whilst many people may argue that there's nothing funny about cancer, writer, Will Reiser, who himself was diagnosed with the disease and went through the gruelling treatment, has clearly used these events as a means of extracting humour for the film. His focus however, isn't on making some cheapened, semi-comic, tear-inducing pap – but rather Reiser's film is a horrible story during which funny things happen. Of course there's no set method of coping with cancer, especially when you've got the same odds as roulette in a casino. What's more, for the protagonist Adam, the people who are supposed to help him through the process are his suffocating mother (Anjelica Houston), his Alzheimer's-ridden father (Serge Houde) who can't remember who he is, his cheating girlfriend, Rachael (Bryce Dallas Howard) and his irreverent and smutty best friend and sidekick, Kyle (Seth Rogen). Bum deal. But here's where it all gets funny.
Primarily, this is down to Kyle's unorthodox strategies to help his friend cope at this difficult stage. Kyle, once he realises that not everyone is Lance Armstrong, supports Adam; not in ways you might think but despite his many, many, many failings, he is actually kind of admirable and stoic. However, one shouldn't be too liberal with praises for Kyle as his coping strategies largely involve medicinal marijuana and casual sex. Whilst this may sound like a recipe for a crude, American, high school sex-com, Seth Rogen and Levitt's friendship and relationship is at the heart of the film and this sincerity without sentimentality is crucial. For instance when Adam sheds his hair the two friends laugh at the fact that he resembles Voldemort and Michael Stipe. Kyle also tries to use the cancer to the pair's advantage. In what is perhaps a rather ingenious move, Kyle takes Adam to a club where he tries to persuade his sick friend that cancer is a gift, his key in the seduction of half of the women in Seattle. Adam, however, is not comfortable with this and fortunately the film doesn't descend into the 'bros and hoes' genre that dominates American cinemas. Adam has different plans and has his sights set on inexperienced hospital therapist, Katherine (Anna Kendrick). Strangely, Adam seems to find solace in her more mundane problems and again the awkward situation of an inexperienced psychology graduate aiding a cancer patient gives way to a great many comic interactions as well as providing the foundation for their inevitable romance.
The film, I believe, is not insensitive nor does it fail to give the subject matter the weight it deserves. We are given an insight into the relationships Adam forms with the people he meets along the way. For instance, Adam strikes up a friendship with two other cancer patients undergoing chemotherapy, Alan (Philip Baker Hall) and Mitch (Matt Frewer), and whilst their situations are tragic, the way they talk about them with one another is funny and it seems they too gain mastery over the tragedy of the illness by laughing at it, and at themselves. Of course 50/50 is not a hyper-realistic, journalistic portrayal of someone's relationship with cancer. But therein lies the film's strength, in that it doesn't suffer from the disease of Hollywood sentimentalism.


Michael Bateson-Hill




 Visit this film's official web site