Posted on: 27th January 2012 |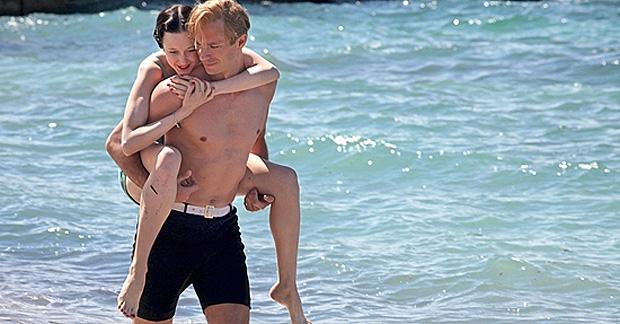 Director: Madonna
Starring: Andrea Riseborough, Abbie Cornish, James D'Arcy, Oscar Isaac, Richard Coyle
UK Release date: 20 January 2012
Certificate: 15 (119 mins)


The Wikipedia entry for Madonna lists no fewer than ten professions to describe her 'occupation'. Well, here is number 11: self-appointed Promoter of the Cause for the Canonisation of St Wallis of Baltimore.
W./E. is not a film about Wallis Simpson; rather it is a film by a woman obsessed with Wallis about a woman obsessed with Wallis. In 1998, New Yorker, Wally Winthrop (Abbie Cornish) escapes her own marital difficulties by imagining a friendship with her namesake, played by Andrea Riseborough. An auction of the Collection of the Duke and Duchess of Windsor at Sotheby's acts as a tenuous portal between the supposedly parallel lives of the two women.
Just in case the viewer struggles to spot immediately the similarities (names aside) between these two very different women, Madonna paints the picture for us, but it is more of a paint-by-numbers job than a masterpiece. The two women are both defined by their marriages (Wally, at an event to celebrate her husband's extremely successful career in psychiatry, is referred to as 'Married Lady'; Wallis' three weddings are all highlighted). Both are victims of domestic violence, and brutal it is too.
And it is Wallis the victim to whom Madonna wants to introduce us: Poor Wallis, who was only trying to improve the standing of her husband and herself in society when she attracted the attentions of the heir to the throne; Poor Wallis, who, reputation already in tatters, still begged her David not to give up his throne in order to marry her; Poor Wallis, despised by the world and trapped in a marriage to a man disillusioned with the stark reality of having renounced a kingdom in order to retain her love. It's an unsubtle plea for the audience to take seriously the plight of a woman vilified in her time and by history, a woman who allegedly made as many sacrifices as her third husband. It may have been subconscious direction, but a scene in which Wallis encounters derogatory newspaper headlines about herself is positively Evita-esque in its styling, music and ambience – this is another woman-against-the-world that Madonna feels called to defend. But the relationship between Wallis and David lacks chemistry, and with more of a focus on the dull, modern day story-line it is hard to engage with Mrs Simpson enough to be moved by Madonna's portrait of her. This film really does nothing to convince us that theirs is the greatest love story of the twentieth century – except when it tells us, via a radio broadcast playing in Wally's home, that it is the greatest love story of the twentieth century. It's like a bad joke that needs to be explained.
Questions of historical accuracy almost seem irrelevant when the film would fall flat either as a work of complete fiction or as a biopic. The lack of depth means that what is on the surface is more noticeable, and the devil really is in the detail. The lazy editing was evident on far too many occasions: I'm no pianist, but those fingers were not producing those notes; and the dogs that were sitting at the foot of the Duke of Windsor's deathbed looked remarkably like those who were running around his home just after his marriage, looking none the worse for their additional 250-odd canine years. The period staging is laboured and contrived: lingering shots of a gramophone or a tray full of vintage champagne glasses, lest we forget that this particular part of the film is set in an age before the arrival even of cassettes, when champagne flutes were not yet in fashion. The soundtrack is laughably incongruous, with the Sex Pistols' 'Pretty Vacant' accompanying a party held by Wallis and David, and something resembling a murder mystery score playing underneath the conversation in which the now King Edward VIII tells Wallis that he plans to abdicate. However, as this exchange took place while they chased one another around a tree, it is unlikely that any choice of music would have given it the gravitas it needed. The Benny Hill theme tune would have been as fitting as anything else.
Riseborough gives an impressive performance, despite the awkward script; she is every bit the beguiling socialite that Simpson must have been, if nothing else. Cornish, however, does not overcome the limitations of the script and is uninspiring and one-dimensional, which makes the attentions bestowed upon her by the charming auction house security guard (Oscar Isaac) seem entirely unbelievable. Such a contrast between the two characters makes the basic premise of the film utterly unconvincing.
If W./E. had been released this time seven years ago, ahead of the Prince of Wales's wedding to Camilla Parker Bowles, the very mention of the Wallis/Edward legend might have been enough to capitalise on the interest of the audience and allow them to overlook the film's failure to humanise its characters. But with the heir to the throne now married to a divorcée and the nation still captivated by the second-in-line's wedding to a commoner, perhaps a British (and maybe a Commonwealth or even wider) audience are just de-sensitised to the gravity of the Wallis Simpson affair. It would take Prince Harry to announce his wedding to a Catholic, that most dangerous of all threats to the monarchy, to shock us now. But with Commonwealth leaders now in favour of the removal of the constitutional barriers preventing such a union, maybe even that would cause nothing but a ripple in the Serpentine Lake, which lies next to the memorial to another woman who stood at odds with the British monarchy and whose claim on public sympathy leaves little for the late Duchess of Windsor.
It says something about both W./E. and The King's Speech that a man's struggle to overcome his stammer makes for an infinitely better film than does the political and monarchical scandal that forced him into the spotlight. But perhaps this attempt at hagiography has worked and Madge has done something to persuade us of Mrs Simpson's virtue after all: whatever she might have done, Poor Wallis could not have been so contemptible as to justify a film this dreadful being made in her name.


Frances Murphy




 Visit this film's official web site