Posted on: 16th November 2012 |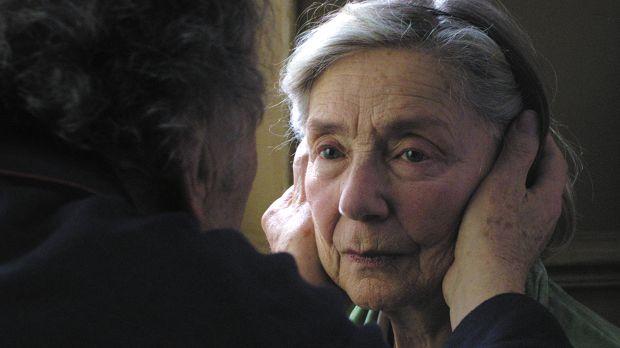 Director: Michael Haneke
Starring: Jean-Louis Trintignant, Emmanuelle Riva and Isabelle Huppert
UK Release date: 16 November 2012
Certificate: 12A (127 mins)


The debate about a person's right to die and the care they should receive in their final days or weeks has escalated over recent weeks and months. Discussion about the breadth and scope of the Liverpool Care Pathway (LCP) in particular has involved politicians, doctors and health officials – not to mention the families of patients who have claimed they were not consulted when their loved ones were placed on a 'pathway' that led – purportedly – to a more comfortable and less painful death. Cases of recovery have been cited and the debate has inevitably led to opinions being expressed with high emotional content. Anglican priest, Dr Peter Mullen, writing in the Telegraph referred to it as a 'scheme to rid the country of people judged to be past their sell-by date'; and the Catholic Archbishop of Southwark has called on the Department of Health to investigate how the LCP is being implemented. There could hardly be a more apposite time for the release of Amour!
Writer and director Michael Haneke is unapologetic in his portrayal of the utter desolation faced by an elderly man (Jean-Louis Trintignant) as his once sprightly and vibrant wife (played by Emmanuelle Riva) declines into an abyss of immobility, mumblings and incontinence. By the time we meet Georges and Anne, they are already in their 80s. Through touching dialogue and knowing looks between them, we are left in no doubt as to the depth of their love and devotion to each other. They are retired music teachers, with pupils who have achieved international acclaim. But in a series of dramatic and disquieting incidents, we gradually experience the decline of Anne's health – first by a stroke which affects her right side and then her swift and tragic decline into dementia.
It is hard to overstate how powerful the performances of the film's two main characters are. From health and happiness to isolation and near despair, their journey draws you in, so that by the time it concludes, you feel more than just an observer: they make you feel the depth of their love and their frustration, their determination to care and to console. Their relationship, which we see at the start as being founded on warm companionship and mutual affection, develops first into interdependence, and then total dependence. Haneke almost makes the audience a party to the drastic action that Georges takes to relieve the pain of both his beloved wife, of those who love and admire her and of himself. Sometimes he does it in the simple but effective dialogue; other times it is simply a lingering camera-shot or the look on a face. I defy you not to have a lump in your throat when Georges warns his wife that if she continues to refuse water she will die. The way she looks away speaks volumes!
In the context of the current debate about schemes that care for those who are at the final stages of their lives, it lifts the debate beyond the theoretical or the academic or even the ethical. It becomes personal – one man watching the person he loves drift away – becoming 'another person'. The acclaimed French actress, Emmanuelle Riva (known for her roles in Hiroshima mon amour, Léon Morin, prêtre, Thérèse Desqueyroux and Les Risques du metier) is real in her portrayal of Anne. It is not just the fact that Riva is herself in her mid-80s. She conveys such total helplessness in her decline that we can understand fully how difficult her daughter (played by Isabelle Huppert) or their musical prodigy (Alexandre Tharaud) find it is to discover this woman that they hardly recognise in the apartment. Though the neighbours say, 'Just ask if there is anything we can do to help', is that really enough? Do any of them really understand what Georges is going through – physically, mentally and emotionally? He has no obvious spiritual crutch to support him: any reference to faith is fleeting. And yet, if St John is right when he states simply that 'God is love', we are left in no doubt that everything that Georges does is motivated by love – the Amour of the title. He is loyally and devotedly following his wife's wishes that she should not be sent into hospital or to a hospice
Michael Haneke makes no judgement in his film. He does not confront us with a moral verdict. He simply offers us the potent scenario of a couple in crisis, without asking whether it is right or wrong, good or evil. In so doing, he leads us to question: what would I do in a circumstance like this? How would I deal with it? What ethics or spiritual framework can I call upon to help me make life and death decisions about the person I love, when that person seems to no longer be there?


Ged Clapson




 Visit this film's official web site