Posted on: 8th February 2013 |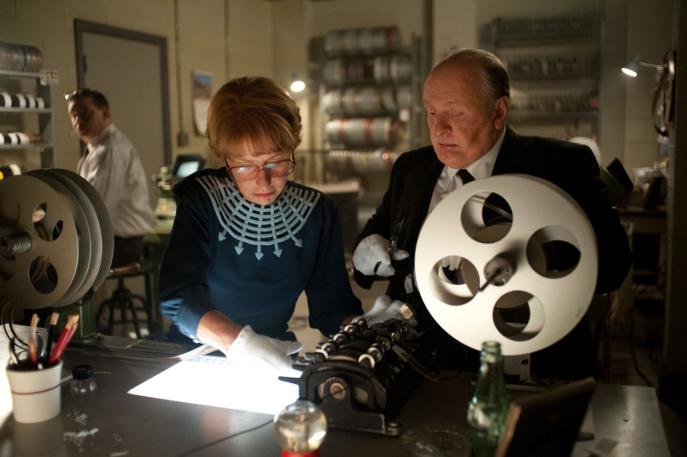 Director: Sacha Gervasi
Starring: Anthony Hopkins, Helen Mirren, Scarlett Johansson
UK Release date: 8 February 2013
Certificate: 12A (98 mins)


In 1959, the same year that North by Northwest was released to critical and popular acclaim, Alfred Hitchcock, director of dozens of films and host of the hit TV show, Alfred Hitchcock Presents, turned 60. Searching for inspiration, he came across Robert Bloch's new novel, Psycho, based on the story of Ed Gein, the deranged murderer who had been arrested in Wisconsin in 1957. Hitchcock immediately saw the potential to make a film based on the novel but came up against opposition on nearly all fronts from those whose sensibilities were shocked by the brutality and sensationalism of the story. Hitchcock follows the production of Psycho from inception through to its unprecedented success.
I have a confession to make. I have never seen Psycho. I enjoy Hitchcock's films, but I shy away from anything billed as horror, so although I have seen a fair few of his creations, I have neglected the one which is arguably his most famous. I did, however, know the story and the ending. Without having seen Psycho, I was able to understand Hitchcock and to enjoy it immensely, but if you have not seen Psycho but plan to watch it one day, make sure you do so before you see Hitchcock. I am sure that Mr Hitchcock would be disappointed if the ending were spoiled for any of his potential viewers.
Hitchcock is a splendid film. Anthony Hopkins carries the weight of the role with his customary ease. He turns a familiar name and silhouette into a person, and a rather weak person at that – except where his films are concerned. Off set, he can be selfish and petulant, giving in to vices such as alcohol and lust, but on set, he is confident and firm in his purpose. Like Alfred Hitchcock, we all have different faces which appear in different settings: at home, among friends, at work. These different faces are facets of the same character, and in Psycho, Hitchcock explored the violent rage which he sees as a facet that exists in all of us, dormant in most people but with the potential to emerge given the right stimuli.
This idea is intensified through Hitchcock's channelling of Ed Gein in this film. Partly a product of the long hours that Hitchcock dedicated to recreating the horrifying behaviour and actions of a psychologically disturbed man and a murderer, the Gein that the director pictures in his mind also represents that capacity for evil within himself, which drives him to jealousy and suspicion. Gein is played with chilling impassivity by Michael Wincott, and his presence adds to an otherwise straightforward drama an appropriate element of horror; not in the sense of gore or sudden frights, rather a glimpse of the cold-blooded evil of which human beings are capable. This element is handled well and though it is a strong feature of the film, it is not overpowering.
Anthony Hopkins and the rest of the cast certainly perform well, but the star of this film is Helen Mirren as Hitchcock's wife, Alma Reville. Alma is a fantastic character, a match for her husband in both intellect and strength of will. She is his indispensable right hand and he knows it. She has that rare knack of knowing when showing support means lending a hand and when it means standing her ground and telling off her husband.
The partnership between Alfred and Alma is a dominant theme of the film. They are well able to cause one another pain through jealousy and suspicion, but Alma's loyalty and strength are more than a match for her husband's foibles and, despite his weaknesses, he knows what he owes to her. Their relationship is a picture of the struggles and triumphs of marriage.
Alfred Hitchcock was not only a filmmaker. He was an artist, and he recognised the importance of attempting new and different things, even if it meant jeopardising his firmly established reputation as one of the greatest directors in Hollywood. He knew that sometimes in art, as in life, it is necessary to leave behind the safe, familiar and comfortable and to risk everything in forging new paths and exploring unknown territories.


Kristina Glicksman




 Visit this film's official web site