Posted on: 17th May 2013 |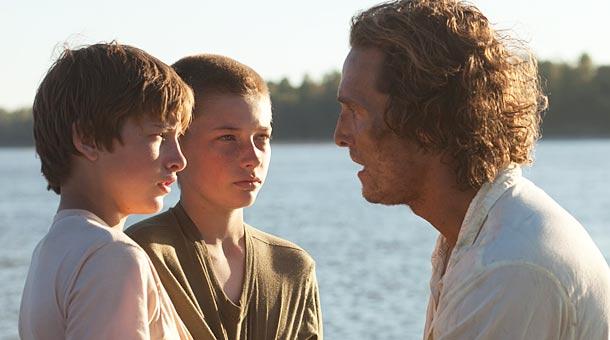 Director: Jeff Nichols
Starring: Matthew McConaughey, Reese Witherspoon, Tye Sheridan, Sam Shepard
UK Release date: 10 May 2013
Certificate: 12A (130 mins)


Billed as a 'coming of age' film with a fairly uninspiring title, Mud certainly was not top of the list of flicks I wanted to see this month. It is, however, a pleasant surprise that will have you dreaming of sun-dappled days and the adventures of your youth.
Set in Arkansas, it tells the Huckleberry Finn-esque tale of two 14-year-old boys, Ellis (Tye Sheridan) and Neckbone (Jacob Lofland), as they discover and assist the enigmatic 'Mud' (Matthew McConaughey), a fugitive trying to rebuild a boat to float away with his first love, Juniper (Reese Witherspoon). Mud, however, has a chequered past, which the boys gradually uncover, and the group of bounty hunters on his tail add a gentle tension that simmers just below the surface throughout.
One gets the sense that, particularly for a US audience, this film evokes nostalgia for a lifestyle that is fast disappearing. We see the decline of river communities, grubby boys foraging for scrap and building dirt bikes unassisted, and groups of teenagers hanging out at 'strip-malls'. Director Jeff Nichols has successfully conjured up the essence of laid back southern living in a deliciously soporific fashion that makes you want to experience it for yourself. The beautiful cinematography by Adam Stone has helped to craft a dusty southern landscape that pulls you in, and when McConaughey turns his face to the sun you can almost feel the same dry-heat on your own skin.
But what of substance? The action rolls along at a good pace; unfortunately, Witherspoon does not have much to work with, but she does her job of playing the messed-up love interest well. It is, however, the members of the sterner sex, in all their grizzled, gun-totin', fishin' and spittin' glory, that bring this film to life. McConaughey is engaging as the tanned, complicated Mud, whilst the performances of the two boys are compellingly realistic. Michael Shannon's turn as Neckbone's oyster-diving hick uncle is also impeccably understated.
At first it is surprising and alarming, given the film's Bible Belt setting, that religion only makes an obvious appearance in the film's most chilling scene: 'Let us pray for the death of the man who killed my son'. But on closer inspection perhaps it is not so much of a discrepancy. The overt references to Christianity may not be there, but Mud's overarching emphasis is on the kindness of others and the good of mankind, a message that is uplifting to hear in this day and age.
However, when facing an impasse where both sides believe they are doing the right thing, situations are bound to get messy, and this film is no exception. The third act is a little bizarre and fairly predictable, but its shortcomings can be forgiven, mostly because of McConaughey's performance, which pulls the whole thing together.
Mud is not going to change the world, but that may well be the point – if you try to do the right thing, as far as you can, eventually things will become clearer. This is an unsentimental tale of good versus evil, of complex and difficult lives, and the mud we all wade through to achieve clarity and answers – be that at home, on the hunt for vengeance or in trying to protect and do right by those we love. What Mud will do is charm you and leave you feeling a little bit better about life.


Afra Morris




 Visit this film's official web site