Posted on: 27th September 2013 |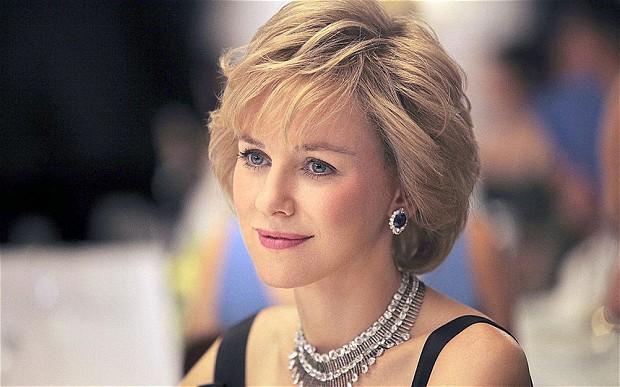 Director: Oliver Hirschbiegel
Starring: Naomi Watts, Naveen Andrews, Douglas Hodge
UK Release date: 20 September 2013
Certificate: 12A (113 mins)


What does Diana, Princess of Wales, mean to you? It is possible that for many people reading this review, she may mean very little – her abrupt and violent death in a road traffic accident is now over sixteen years ago, and her role as 'the most beautiful woman in the world' has been assumed by others, by new celebrity icons. The gap made by her death has been filled, and her face and personality are fading in the public memory.
So it might be helpful to remember that her death precipitated in Britain an extraordinary phenomenon of mass and public grief that swept through the nation during the first week of September 1997. If you did not see it, the scale of what happened might be difficult to picture: in their thousands, Britons bought bouquets of flowers and heaped them in swathes and mountains in front of the London Royal Palaces. People who had never met her wept in public or in interviews with media agencies. Her funeral was a total pause in national life, and at all stages on her final journey to her resting place in her family's mausoleum, her hearse was strewn with flowers.
It was as if she had become the figure England lost when the shrine of Walsingham was destroyed, as if that deep ache in English spirituality caused by the banishment of a Queen of Heaven had found a substitute in this 'Queen of People's Hearts'. Maybe the grief came from this very deep place, from this unconscious and ancient sense of loss – the loss of beauty, the feminine, the creative. The instinct to leave offerings near the sites associated with the dead seemed to be some sort of echo of Catholic practice, or something primal or archetypal. Irrespective of how she had lived her life, she had been made into some sort of irreligious saint, an icon onto which people projected their insecurities, anxieties, fantasies and fears.
To my shame, I viewed this behaviour at the time with a certain metropolitan distain, watching the funeral on the television with a friend and sneering at most of it, particularly the appearance of Elton John in Westminster Abbey. I say shame, because seeing Oliver Hirschbiegel's film has taught me something about both her, and why she was held in such affection by so many people.
Just under two years before her death, the Princess had recorded an extraordinary interview with the BBC journalist, Martin Bashir. It is available in various places online and might be worth looking at before you see the film. The nature of the interview opened her up to accusations of disloyalty, self-obsession and media-savvy manipulation of the public. The interview is clearly the result of careful consideration and some planning on her part; in retrospect, however, what is so striking when you watch her is her insight, sensitivity and intelligence – and her emotional courage and leadership. She talks frankly about her post-natal depression, her self-harming, her eating disorders and her profound unhappiness in her marriage. The interview was watched by millions of British viewers (15 million, according to the BBC) and it will have had an impact, not least on those who have shared her experiences of depression and abuse. It will also have contributed to changes in the way that British people talk about their feelings and their emotional and spiritual selves, and maybe partly explains why her death provoked such feeling in people who had never met her.
Diana does not cover her childhood, her marriage to the Prince of Wales, her affairs in the 1980s, nor any of her other troubles that are now on the record. Rather, it is a love story focusing almost entirely on her relationship with a consultant heart surgeon, Hasnat Khan, with whom she is reported to have begun an affair around about the time of the 1995 interview with Martin Bashir.
The film has clearly been made on a budget; it is melodramatic, dialogue-driven soap-opera and is filled with a number of cheesy moments (including at least one break-up in the rain). But, there are one or two really nice dolly-shots and Naomi Watts works very hard to give us a performance that is much more than just caricature.
And it made me cry – several times. But I suspect this was less to do with the qualities of the film-making than the fact that Diana Spencer's story is so deeply sad. What comes across after all the film's painstaking re-enactment of her visits to the sick, the hospitalised and the vulnerable, all the scenes from her work on the campaign to ban landmines, is that Diana's remarkable and defining capacity for compassion did not come from a void. Her powerful compulsion to offer love to complete strangers seems so clearly driven by her own yearning for it, a yearning for a love she never found.


Ambrose Hogan




 Visit this film's official web site