Posted on: 22nd October 2013 |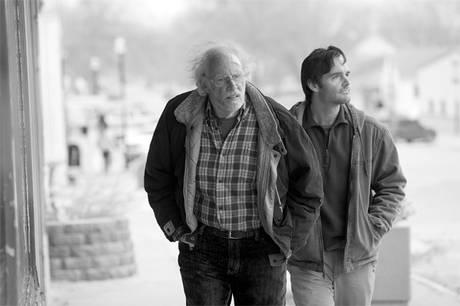 Director: Alexander Payne
Starring: Bruce Dern, Will Forte, June Squibb
UK Release date: 6 December 2013
Certificate: 15 (115 mins)


Speaking at the screening of Nebraska at the 57th BFI London Film Festival, director Alexander Payne rightly claimed to have made a family drama that is 'at once touching and funny'. His intuitive directorial decisions create a beautiful unity throughout the film. From the cinematography to the acting choices to the editing pace, Nebraska is a quietly touching yet humorous film that I do not hesitate to call art.
I was first struck with the slowness of the film, to which the black and white cinematography contributed. Nebraska begins with wide shots of an elderly man walking along a busy highway during winter in Billings, Montana. He moves with difficulty and looks like he is not totally aware of what is going on or where he is heading. When the sheriff pulls up and tries to help the man by asking him gently what he is doing, the man replies with an obvious, concise reply: he is walking. This is where the gentle humour reveals itself and where I became hooked.
Bruce Dern plays Woody Grant, the elderly man from Hawthorne, Nebraska who moved to Billings, Montana with his wife and two sons a few decades previously. In Woody's senility, he becomes convinced that he has won a million dollars, so he has taken to walking along the highway in an attempt to make his way over 800 miles to Lincoln, Nebraska to collect it. His youngest son, David (Will Forte) asks him why he cannot send for it in the mail. Woody retorts emphatically, 'I'm not trusting the mail with a million dollars.'
But Woody did not win a thing, as his family tries to convince him; the million dollar ticket is just an advertising gimmick from a magazine sales company. His wife, Kate (June Squibb), nags him about his constant disappearances and the extra attention he needs. His eldest son, Ross (Bob Odenkirk), is convinced he should be put in a home. But Woody will not let go of the fantasy, so David decides to give in for a few days and drive him to Lincoln to 'collect' the money.
Their journey reveals Woody as a sad and disappointed alcoholic, and David as a loving son, longing for a connection with his father and some substance to his life. After Woody sustains a head injury, they decide to spend a few days in Hawthorne, Nebraska, a place the Grant family has not visited in years. Kate and Ross join them, and the family call on relatives who soon discover Woody's newfound 'wealth' – everyone wants a piece of it. Woody quietly craves the attention, however insincere it might be. He finally feels important; he believes these 'winnings' will mean that he has finally done something with his life, although he plays it off as insignificant.
Although Woody is not vocal about his feelings, Bruce Dern magnificently shows the depth of the old man's emotion and the extent to which the opinion of the people with whom he grew up matters to him. During a scene in which Kate wishes to visit (and insult) old Grant relatives in the cemetery, silent close-ups of Woody reveal his attachment to family and his preoccupation with death. These quiet glimpses into Woody's thoughts are echoed by shots of David as he absorbs new knowledge about his father while in Hawthorne.
As David, Will Forte plays the 'straight' man, offering a middle ground between the deadpan life of small-town Nebraska and the modern, driven life to which most of us are accustomed An incredibly loving and gentle son, David's efforts to support his father are also an attempt to understand his own life a little better.
As the people of Hawthorne, particularly Woody's old business partner, Ed Pegram (Stacy Keach), demand recompense for supporting Woody during his drunken days in the town, the Grant family faces a conflict they had not anticipated. Instead of quietly visiting relatives while Woody lives his fantasy for a few days, David, Ross and Kate find themselves battling with relatives and friends over a million dollar ticket that they know is a sham. The characters that screenwriter Bob Nelson has created may seem one-dimensional at first, but when conflict arises, so does their sincerity.
During the Q&A after the film, an audience member asked Payne if he would continue to make family dramas. Payne chuckled as he replied, 'Family relationships? Well that's what life on this planet is all about, isn't it?' Nebraska is not a stereotypical family drama about arguing parents and a couple of unruly teenagers. It is a great - and hilarious - portrayal of aging parents, their middle-aged children, and the strength of family.


Teresa Seale




 Visit this film's official web site