Posted on: 1st February 2017 |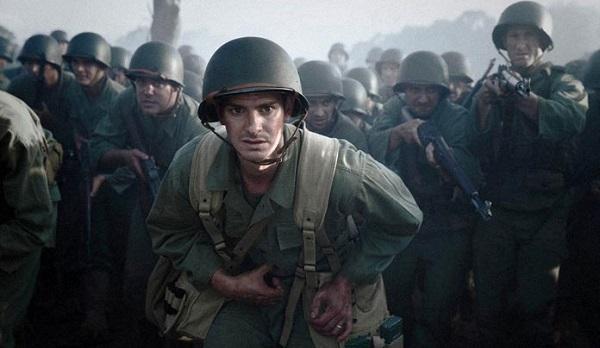 Director: Mel Gibson
Starring: Andrew Garfield, Sam Worthington, Luke Bracey, Teresa Palmer, Hugo Weaving, Rachel Griffiths
Certificate: 15
Running time: 139 mins
UK release date: 27 January 2017
Mel Gibson is not one to shirk intense religiosity or extreme violence in his films. His first directorial project in ten years, Hacksaw Ridge, is a raw treatment of both. This is the epic true story of World War II US Army medic Desmond T. Doss (Andrew Garfield), who was the first man to receive the Medal of Honor without firing a shot. Fittingly, the film is as impressive as that feat.
Hacksaw Ridge is at once a film about a remarkable Christian life and a Saving Private Ryan-type opus on the horrors of war. It is to Gibson's credit that the two are held in such impressive tension, neither deferring in screen time or weight to the other: this is no hackneyed portrayal of faith, nor do the gruesome war scenes pull any punches. The narrative turns precisely at its halfway point from a powerful and interesting biopic of a man who refuses to let his beliefs be ridiculed, into an intense sequence of bloody battles, as the US Army tries to capture the titular ridge from their Japanese counterparts.
At the heart of the film, Garfield gives a magnanimous performance as Doss, for which he deserves formal recognition. He is at once brave, strong, modest and kind. He portrays an authentic belief in Christ, which allows for high-minded ideals alongside gentle humility. It is a testament to Garfield that the Christian idealism on show never seems trite or unbelievable. Credit also belongs to writers Andrew Knight and Robert Schenkkan, who have crafted a screenplay which ignores no small detail as it tells a noble story.
The faith that drives Doss has its roots in his childhood. His father, Tom (Hugo Weaving), is a drunk, angry man, broken from his time on the blood-soaked fields of France during World War I. Desmond's long-suffering mother, Bertha (Rachel Griffiths), has a beautiful, feminine trust in God, which has a massive impact on her son. Following a nearly fatal brawl with his brother, Desmond promises to turn his life around and to serve God with a peaceful heart. As a young man, he meets and falls in love with Dorothy Schutte (Teresa Palmer), a lively nurse in the local hospital. When the fateful Pearl Harbour attack shatters lives even in his small-town Virginia community, Doss decides to sign up to go to the front. However, he refuses to carry a gun, much to the chagrin of his commanding officers (Vince Vaughn and Sam Worthington).
Doss's faith is tested to its limits, as he is persecuted and abused because of it. He faces literal trials and physical tribulations as he tries to do the right thing – serve his country – but without breaking the most sacred of commandments: thou shalt not kill. His strict adherence comes not from dogmatic fury but from his discovery of the beauty of a personal relationship with Jesus Christ. When he is challenged by even those closest to him, Doss refuses to forsake this, instead finding comfort and solace in prayer.
The first half of the film might serve as a comprehensive faith story in its own right. However, arguably the greatest realisation of religious belief comes when Doss is thrust, weapon-less, out onto the battlefield. He tends to the wounded with a single-minded mercy, which stems from a relationship with a compassionate and loving God. Doss is living out his faith on the front lines, proving that the first half of the film was not merely empty rhetoric.
An extended, breathless showcase of Doss's heroism and daring comes about three quarters of the way through the film, and is characterised by an intimate and profound humanity. This is not some all-American wannabe hero chasing fame, but a man doing his best to live out the gospel message. This is a particularly memorable sequence in what is, in no uncertain terms, a spectacular film.
The final third is like watching an early 20th century interpretation of the gospels: there is a stirring depiction of the beatitudes in action, incidences of making the lame walk and restoring sight to the blind, and even a heart-rending demonstration of loving one's enemy as oneself. If nothing else, this story proves that authentic Christianity can inspire a new way of engaging with a destructive mindset. Rather than focusing on an exclusive, 'us-versus-them' narrative, Hacksaw Ridge gives us a vital glimpse of how Jesus Christ is the way, the truth and the life.