Posted on: 8th May 2015 |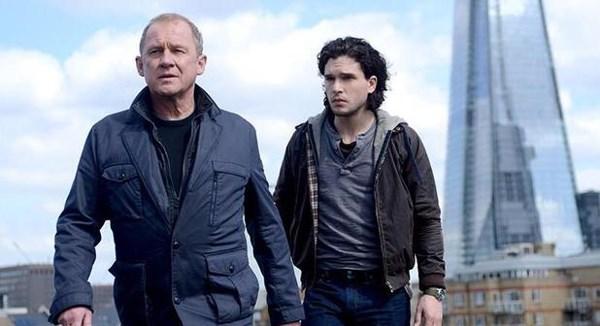 Director: Bharat Nalluri
Starring: Peter Firth, Kit Harington, Tuppence Middleton, Jennifer Ehle
Certificate: 15
Running time: 104 mins
UK release date: 8 May 2015
A film about the British security services released on the 70th anniversary of VE Day – which also happens to be the day after a General Election – and subtitled 'The Greater Good'. If those considerations add to the weight of any viewer's expectations of Spooks: The Greater Good, then I am afraid that viewer is in for a disappointment.
If you are not familiar with the TV series Spooks, which concluded in 2011 after ten seasons, this film will not serve as a useful introduction. There is some continuity in the cast – devotees will be pleased to see the return of a familiar face under a flat cap in a Brixton café – but the characterisation of the protagonist, Sir Harry Pearce (Peter Firth), is flawed. To anyone who watched MI5's Head of Counter-Terrorism wrestle with decisions big and small for ten years on the small screen, his total detachment in this film from the institution for which he would have given life and limb just doesn't wash. Harry was always one to play the game at the highest level and deal in bluff, counter-bluff and triple-bluff, but his casting here as a vigilante, determined to take justice into his own hands, is inconsistent. Yes, he would frequently shoulder a burden on his own in order to protect his team from the crises of conscience that he faced, but never would he go totally rogue and forsake the trust of his colleagues, nor would he get his hands as dirty as they become by the end of the film.
The main thrust of the plot is Harry's quest, with the help of a decommissioned MI5 officer whom he lures back to the fold (Will Holloway, played by Kit Harington), to expose a traitor at the highest level of British intelligence. If that sounds familiar, there's also a curious nostalgia for a Tinker, Tailor kind of espionage, with messages slipped under doors and tied to umbrella handles rather than being encrypted using MI5's latest technology. This isn't necessarily the wrong approach – indeed, the enduring appeal of John le Carré's work and of TV shows such as The Americans or The Game suggests a popular fascination with Cold War-era spying – but it requires robust yet enigmatic characters in whom an audience can invest and around which a plot can meander. The TV series had these in abundance, but the creators of this film have been complacent in assuming that they would transfer to the big screen. New audiences will be confused rather than intrigued about which character to root for, and Spooks fans will lament a carelessness in the treatment of an old friend.
'You can do good or you can do well. Sooner or later, they make you choose.' That's the lesson that returning black sheep Will passes on to a junior colleague, and the writers would no doubt single it out as the moral of the story. As a soundbite, it's not particularly helpful: it's hardly an encouraging way of paraphrasing a deontological approach to ethics, nor does it acknowledge the impossibility of defining 'good' in the world in which this film asks us to immerse ourselves. The film's subtitle might suggest that identifying and making difficult choices between various goods is at the heart of the plot, but alas logistics take precedence over moral value for much of the proceedings. The film, lacking the show's knack for drawing its audience fully into the complex details and dilemmas of the officers' case work, is the poorer for this.
Spooks: The Greater Good is a great advertisement for London, Kit Harington's hair and the ease of travelling between terminals at Heathrow Airport, but it offers little else. It would have been a real shame if this film presented a dazzling vision of a greater good, or any suggestion of how to achieve it, a day too late for it to inform anyone's choice in the voting booth. Thankfully, I suppose, it gives us no such thing.