Posted on: 2nd January 2015 |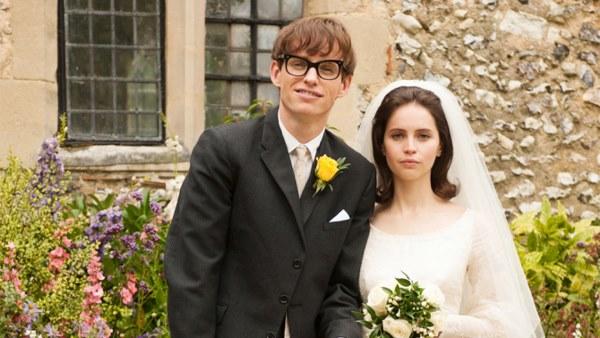 Director: James Marsh
Starring: Eddie Redmayne, Felicity Jones
Certificate: 12A
Running time: 123 mins
UK release date: 1 January 2015
This film's ambition – to deliver a caricature-free biopic of one of the most recognisable intellectuals of the modern age – is matched in audacity by some of its finer details. A twee but earnest set-piece in which Professor Stephen Hawking and his ex-wife are received by Queen Elizabeth; the casting of an actress as fine as Emily Watson (now OBE) in a part so small it is all but a cameo; and not least a title which purports to tell us all there is to know about everything there is to know about.
Do any of these brazen moves count as a black mark against the project? Not one. This is a sublime film that lives up to all of the hype that has been surrounding it. Based on Jane Hawking's account of her marriage to her now ex-husband Stephen, The Theory of Everything charts the course of their life together – insofar as it is possible to do so. What this film says, without casting aspersions or judgement, is that any such course is impossible to plot. Sometimes things just go wrong and nobody knows why. The best of intentions, the most detailed and capable analysis of a situation, and a network of support as tight as could be hoped for, do not guarantee a smooth voyage through marriage, life or the history of the universe. In a beautiful irony, this film disproves the existence of the theory of its title.
One of the film's great achievements is its work-life balance. Its narrative includes as much of Stephen's academic life as is necessary for the audience to appreciate the trajectory of his career, but no more. This is, after all, Jane's story, not a film adaptation of A Brief History of Time. The mathematics is woven seamlessly into the story, and in fact it serves a very useful purpose in the film's powerful closing episode: a regression of the Stephen and Jane chronicle to a singularity. Maintaining this equilibrium is precisely where The Imitation Game failed, and this discrepancy is one of a few reasons why the head-to-head battle being fought in media circles between the two films has a clear winner for me.
The Imitation Game's star-studded cast were all admirable, but the players in The Theory of Everything are in a different league. Harry Lloyd as Stephen's university friend; David Thewlis as his mentor; Charlie Cox and Maxine Peake as romantic interests for Jane and Stephen, respectively; and Watson as Jane's mother, all provide exceptional support. However, Eddie Redmayne as Stephen and Felicity Jones as Jane have earned every one of the column inches devoted to their performances.
Redmayne's commitment to this role is brave and astonishing, and he fully deserves all of the accolades that he is receiving. Jones matches him every step of the way. It is inevitable that her contribution to this film will be overshadowed by Redmayne's incredible physical efforts, but it should be remembered that this whole project would have fallen flat without a believable Jane – strong and vulnerable in the same instant, firm in her beliefs yet constantly willing to enable her husband's brilliance. The conversations – between Stephen, Jane and others – that address the place or lack thereof for God in Stephen's theories are anything but contrived. There was always the danger that Jane's Anglicanism could have been used as a religious straw man, serving only to highlight the supremacy of Stephen's Godless universe. Not so. Granted, her faith is not explored in great depth but, from what we do see of it, it is robust and honest; and discussions about it are shaped by passion, conviction and mutual respect – in many ways they are a model for dialogue.
Awards season is fast approaching and any film deemed to be better than The Theory of Everything will be well worth your money. Some may find its neutrality unsatisfactory, but it is quite remarkable given that the film is based on the memoirs of one of the parties involved. That suggests, at the very least, an abiding love and compassion that extends beyond the film's timeline. It is a rare film that allows each member of its audience to be guided by his or her own moral compass on the journey that it depicts. In Stephen Hawking's own words: 'There's no way to remove the observer – us – from our perceptions of the world.' This film embraces that philosophy: it offers no theory of anything, but invites its observers to form theirs.