Posted on: 22nd October 2014 |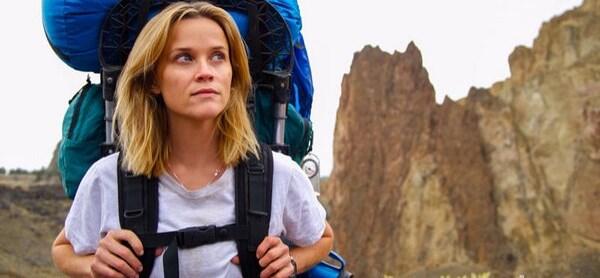 From the 58th BFI London Film Festival programme.
Director: Jean-Marc Vallée
Starring: Reese Witherspoon, Laura Dern
Certificate: 15
Running time: 115 mins
UK release date: 16 January 2015
At the heart of this film is a yearning for the grace that can be found in the midst of grief. Set in the recent past, Wild is the story of one woman's spiritual and physical journeys, to which vast, desolate American landscapes provide the perfect backdrop. It is very much a companion piece to director Jean-Marc Vallée's previous film, the Oscar-winning Dallas Buyers Club: this is another true story whose protagonist is languishing in the empty promises on which America failed to deliver.
Following her divorce, the details of which unfold as the film progresses, Cheryl (Reese Witherspoon) loads herself up with a bulging backpack and heads out into the western wilds of the US to hike the 1,100-mile Pacific Crest Trail towards Canada. She chooses the new surname 'Strayed', which serves as a constant reminder to herself of the terrible things she has done. We are introduced to Cheryl as a character who is aching to punish herself: this is something that Witherspoon conveys with an understated precision.
This is a film brimming with heartbreak, hope and hilarity. The screenplay is a typically deft effort from Nick Hornby (High Fidelity, About A Boy). Hornby writes regularly about stubborn, broken people to whom an audience cannot help but warm because of even the tiniest glimmer of optimism – Cheryl, at least on screen, fits this model perfectly, so it is no surprise that Hornby has been able to weave her experience into a sharp and thought-provoking screenplay. The script, which is laced with well-observed humour and punctuated with moments of gut-punching, poignant rawness, is brought to life with evocative and character-specific music. This is prime Hornby territory.
This is also as Ignatian a meditation as you are likely to get from a mainstream film. The flawed Cheryl has many demons to wrestle as she sets out into the wilderness: this is not just an escape from her wretched life, littered as it is with mess and mistakes, but an attempt to restore herself to the person she used to be. As she falters along the way, she considers carefully and honestly the choices in her life that led her to this point: drugs, infidelity and self-pity. This is the moment of looking in the mirror, facing up to the carnage, owning it and deciding to try again.
Wild details the torment and guilt of someone who knows, deep down, that they were created to be something more than they currently are. Cheryl is mourning not only the loss of a true and complete love, but the loss of the person that she was when she was so loved. She is fragile, shattered from loss, but determined to find her way out of the emptiness and back to her former self.
The journey metaphor is powerful, and well-judged within the film. The prodigal daughter returns – ankles swollen from the walk, bruises covering her body – having surrendered to the truth about herself that she has discovered through the painful but honest examen that she has undertaken.
Wild is a beautiful, mature film, full of brutal anguish and soaring hope in equal measure. The loneliness of a life devoid of trust in God is etched across Cheryl's past, but she opens herself to grace through her recognition of the peace that is to be found through examining one's life choices.