Posted on: 4th December 2014 |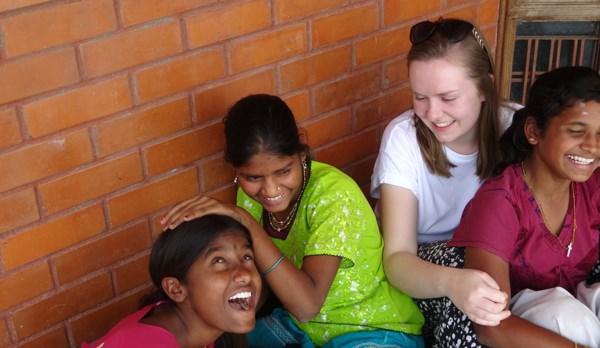 On 5 December, the UN celebrates International Volunteer Day. To mark the occasion, Clara Sheaf describes how the volunteering placements offered by Jesuit Missions are a source of vitality for the host communities and for the volunteers themselves. In a world of increasing inequality, what difference can individual volunteers make?
International volunteering has seen huge growth in the last twenty years, with an ever-increasing number of organisations, secular and religious, offering all manner of volunteering placements in every corner of the world. Inevitably, this has opened up a debate as to the sustainability and long term implications of such practices; questions are often asked, for example, about the risk of Western intervention in developing economies creating dependence. In this delicate, globalised context, Jesuit Missions continues to affirm the value of volunteering overseas, for the communities in which the placements are based and for the individuals who take up the opportunities.
Oxfam reported earlier this year that the richest 85 individuals on the planet possess the same wealth as the poorest half of the world's population.[1] The pursuit of social justice that is so crucial to Ignatian spirituality does not allow us to ignore this increasing inequality; it demands action. In the words of Fr Pedro Arrupe:
... for the Church to be a credible witness to her own divine mission, ought she not also be a credible witness to justice among people? True; but to preach it as Christ our Lord did, not just by words but by deeds; not just talking about it but by living it and dying for it.
This insistence on an active faith, a faith that does justice, a faith that responds to poor, neglected and exploited communities worldwide, lies at the heart of Jesuit Missions volunteering.
The solidarity expressed through the simple act of living in a foreign community in the spirit of service is central to a volunteer's experience. The placements seek to respond to a practical need, but at the same time require an openness from the volunteer to develop relationships within a community far removed from the lifestyle and culture with which they are familiar. In a community that transcends the barriers of language, culture, ethnicity and faith, what is highlighted is a shared humanity, and that serves to strengthen every member of that community.
Pope Francis has said that solidarity is 'the treasure of the poor'[2] , and our volunteers certainly learn the truth of this. The placements we offer take our volunteers to communities that do not have the luxury of support from a welfare state or any other institution. In India, for example, our placement in the south west province of Karnataka works with the 'untouchable' Dalit community, teaching in the school, and working on a malnutrition programme and at HIV orphanages. In the absence of any other support structure, the vital importance of community and relationship is at its most evident.
In this spirit of service, it is sometimes easy to overlook the reciprocal benefits that the placement offers – that is to say, how much the volunteer stands to learn, to develop, to flourish. In his apostolic exhortation, Evangelii Gaudium, Pope Francis quoted the words of the Latin American bishops: 'Life grows by being given away, and it weakens in isolation and comfort. Indeed, those who enjoy life most are those who leave security on the shore and become excited by the mission of communicating life to others.'[3] It is when we leave the comfort and familiarity of our home lives that we are most receptive to living fully.
Speaking from my own volunteering mission in Cameroon, this is certainly something I can personally testify to. Finding myself in a Muslim, French speaking community in the desert landscapes of the far north of the country, it is without exaggeration to call it the most foreign and unfamiliar environment I could ever possibly have imagined. My preconceptions about Africa, Islam and international relations were far more deeply embedded than I would ever care to admit; indeed, they were something I (shamefully) had never even brought into question. Through my day to day interactions with my Cameroonian friends and colleagues, their tolerance, openness and humour soon showed me that our shared humanity would always be stronger than the differences which at first glance had seemed so insurmountable. To have my horizons broadened and my beliefs questioned in that manner remains one of the most precious gifts my volunteering experience left me with.
The opportunity to disengage from the consumerism and constant stimulation of life in the UK can and does open the door to a deeper relationship with God. Detachment from the material comes more easily in an environment where material items are not so readily available. Living alongside the poor also counters the misconception that greater material wealth leads to greater happiness – it can sometimes feel as if our society and values are based entirely on this fallacy. By living simply we are able to live in the moment, to be fully present rather than subject to constant distractions – and this can bring us closer to God. The vast majority of our returned volunteers have spoken of the lasting impression that this aspect of the experience has left on them, and the impact it has made on the lifestyle they have chosen to lead since returning to the UK. The oft-quoted Ignatian value of 'finding God in all things' might seem more difficult in the face of abject material poverty and suffering. However, it is through being in a place where we are more aware of the small, everyday moments of joy, light and human connection that we become a true witness to God's presence.
The call to transcend barriers has never been more pertinent than in this time of ever-growing inequality and separation. The placements offered by Jesuit Missions enable our volunteers to be men and women for others. These words of Fr Arrupe sum up the Christian love that we hope that our volunteers are able to live through the opportunities we provide.
It is easy, fatally easyfrom the height of one's caparisoned steedTo throw a surplus coin to a beggar,Or, passing from the medieval to the modern,To write in one's air-conditioned officeA substantial (and tax-free) chequeTo purchase surplus (and possibly unwanted) machineryFor some third world country.This is to be a philanthropist,it is not to be a man for others.What is it to be a man for others?It is to give out of love.To give every man according to his due - that's justice.But Christian justice is enfolded in Christian love.He who loves as Christ lovesGives not only what he has but what he is;Not only goods, but service.he gives what he can spare certainly,But more than that, he lives sparingly;He deprives himself that he may give,For Christ is his ideal, Christ is his model,Christ is his strength.
Clara Sheaf is the Volunteer Coordinator for Jesuit Missions.
If you are interested in an international voluntary placement with Jesuit Missions, or if you wish to learn more, please contact [email protected] or visit www.jesuitmissions.org.
---
[1] Oxfam, 'Working for the Few: Political capture and economic inequality' (January 2014) http://policy-practice.oxfam.org.uk/publications/working-for-the-few-political-capture-and-economic-inequality-311312
[2] Pope Francis, Address to new, non-resident ambassadors to the Holy See (2013)
[3] Pope Francis, Evangelii Gaudium (2013), §10