Posted on: 2nd November 2021 |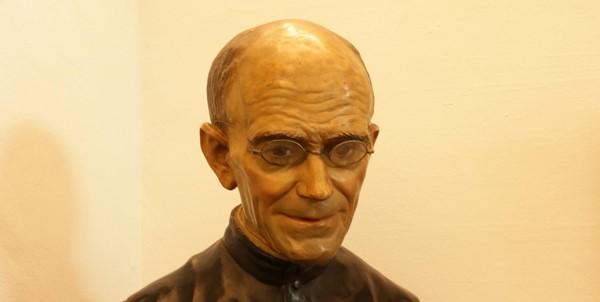 The sanctification of daily life can be achieved through the simplest acts or the briefest encounters, and Christopher Brolly SJ finds a model of this in the life of Basque Jesuit … but probably not the one with whom you are most familiar!
During my stay at Deusto, I would often stop in the porter's lodge, as I went in and out of the house, so as to be able to watch him in action. That entrance hall was a place of ceaseless activity: parents wanting to speak to their sons, all kinds of visitors asking to see the Fathers or the professors, tradesmen delivering their goods, beggars asking for alms. And all of them, as I saw for myself, were received or taken leave of with a gentle smile. He tried to satisfy each one's request; for everyone he had a courteous and friendly word and all this with truly remarkable serenity and calm.
(From a letter of Cardinal Pietro Boetto SJ, a visitor to the Jesuit community in Deusto University, Bilbao)
During my philosophy studies in Paris, my weekly work placement was to be the porter (the 'doorkeeper') of the Jesuit-served parish in the town of Saint-Denis. I discovered that what sounded like a simple task – welcoming people arriving at church for Mass or for the food bank and leading them to their places – actually had a great hidden depth and treasure. A seemingly unimportant position held a great privilege. Although myself a foreigner in the parish, I discovered the beautiful mystery of hospitality: in extending welcome to others with a smile and a greeting, I myself soon began to feel 'at home'. Helping others to feel welcome held the power of making me feel welcome, too. The smile I dared to show to those I did not yet know was beamed back at me over the coming three years.
Brother Francisco Gárate SJ (1857-1929) glorified God in the simple tasks. For 41 years he was the doorkeeper at Deusto University in Bilbao, where he performed ordinary tasks with extraordinary generosity. His faithful dedication to the 'small things' stands as a reminder that every action is an opportunity to let God's love shine through our work. His loving attention to the people overlooked by the eyes of others stands as a reminder that all Christians can make Christ known in the briefest, most unexpected, of encounters. His life was a sanctification of the daily.
I first came across the story of Blessed Francisco during my novitiate pilgrimage. This journey culminated in Loyola, the birthplace of St Ignatius of Loyola in 1491. Over three centuries after Ignatius, another Jesuit would be born in this quiet corner of the Basque country. Unlike Ignatius, who was born in a noble family home, Gárate grew up in a farmhouse on the Loyola estate. After my pilgrimage, I deeply appreciated spending time in prayer at St Ignatius's family home. Praying in the chapel of Ignatius's conversion and convalescence, remembering all those who had offered me hospitality on my journey, this was a particularly moving moment. And yet, my visit a day later to the Gárate family farmhouse set off spiritual sparks of a different kind.
As I stooped to enter through the rickety wooden door and as I wandered around the small rooms with rusting agricultural utensils hanging from the walls, I was immediately transported back to my own roots – a 19th century farmhouse in the north of Ireland that my great-grandad (alive at the same time as Gárate) had left to emigrate to Britain in search of work. Juxtaposed to gilded, grandiose monuments dedicated to other holy men and women, Gárate's farmhouse held for me a beautiful simplicity. As well as an echo of rural Ireland, it spoke something to me of our Lord Jesus Christ's own humble origins – would his house in Nazareth have been all that different? Kitchen, fireplace, workshop. Home.
Nowadays I follow in the footsteps of Brother Francisco in that I, too, find myself on mission in a Jesuit educational institution. I also try to follow him in humility and hospitality in the various tasks of my day. The challenge is to let Our Lord's light shine through in every encounter. At times this can be difficult, or rather, by becoming busy, flustered or fearful, I can make it more complicated than it really needs to be. Fortunately, there are some saints – and Gárate is certainly one – who remind us that meeting our Lord in others and glorifying our God with our labour is simpler than we realise. May humility and hospitality flourish in our homes and places of work – for these have the power to sanctify our daily lives.
Christopher Brolly SJ is a Jesuit of the British Province in formation for the priesthood, currently teaching at St Ignatius College, Enfield.