Posted on: 28th April 2009 |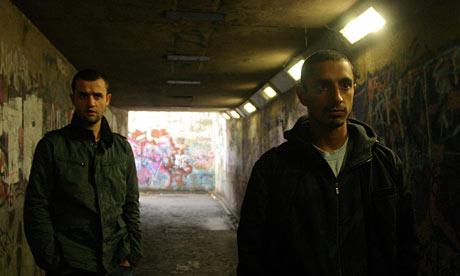 Director: Eran Creevy
Starring: Riz Ahmed, Daniel Mays, Jason Flemyng, Nitin Ganatra, Jay Simpson, Dannielle Brent
UK Release date: 24 April 2009
Certificate: 15 (85 mins)


You can usually tell the quality of a crime-thriller by its attitude to violence. Some coat the act in slick banter that lowers a murder to the consequence of a mate's joke gone bad; conversely others raise it up to a stylised art form, sound-tracked like A Clockwork Orange to a "rarest-spun heaven metal or like silvery wine flowing in a spaceship". Shifty takes the rarer middle ground of naturalising its violence as far as possible: a slash with a painter's knife, a half struggle on the ground ending in bruises and escape. The lack of embellishment adds to the sense of thoughtfulness pervading the film.
It feels like a very British affair: 24 hours in a fictional outer London suburb in which Shifty's career of making a decent living dealing out crack to his menagerie of clients is interrupted by the return from Manchester of an old friend. There's something classical in the intensity of the action, with the lean storylines planted early on hardly pausing as they wrap themselves around the two friends. Shifty is more an opportunist than an ogre, with the film hinging around the decisions he has avoided about how he is living his life. Around him converge the eccentrics we've come to expect from films of this genre (think Somers Town with more drugs, or This is England) – a middle-aged hippy driven to drugs partly by the techno hammering through her flat from the neighbours; the let-me-down father of two; the middle-class ex-student lighting up under a huge 24 Hour Party People poster.
Where the film stutters at points is when the script labours under its persistent points about drugs. Some scenes are restrained – Chris (Shifty's old friend) watching the girl he used to fancy at college play a slow-motion game of Connect Four with her dealer – but elsewhere the imagery is more heavy-handed: for example, Shifty regarding his reflection in a mirror used to cut up lines of coke interspersed with shots of a ticking grandfather clock. In another film a shot like that would be the high-point and it says much about Shifty that here it appears clumsy. The opening ten minutes shows us about as accurately as possible in film what it feels like knocking on the door of a best mate you walked away from 4 years ago, the camera sitting there watching the faces of the two men as they size each other up and hide their happiness behind worn-out jokes.
What lies behind this tale of revelation and choice? There are enough similarities to the plays of Eugene O'Neill to lead us there for guidance – the same claustrophobic sense of characters returning to a place they know well to find bitterness and hurt have not resolved themselves in their absence. O'Neill's families provide the structure against which dissatisfaction and resentment clash even whilst the relationships provide the flashes of love that keep the characters alive. In Shifty what sweetens the toil of compromise is the reclamation of friendship between the two men. It's a trope that is currently drawing in easily-entertained viewers to I Love You, Man; here in Shifty we see in more serious terms the way that a good friendship nurtures that which is best in us. Even as the violent conclusion looms closer the forgiveness shared between the two friends is moving in the opposite direction. It's an age-old narrative structure that serves to highlight the preciousness of the good by having it foreshortened by an impending disaster: well-used perhaps, but used well as in Shifty it has not lost its power to move.


Nathan Koblintz




 Visit this film's official web site