Posted on: 10th December 2010 |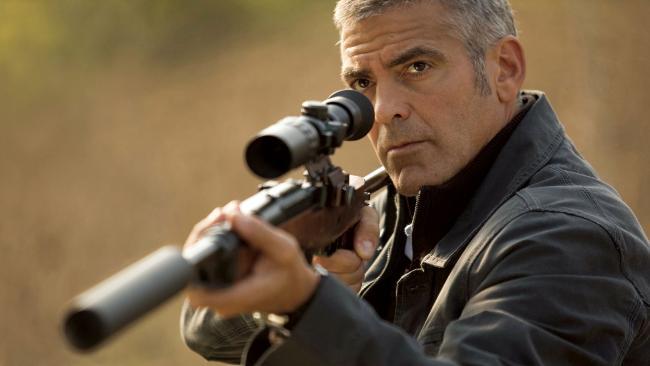 Director: Anton Corbijn
Starring: George Clooney, Violante Placido, Thekla Reuten, Paolo Bonacelli, Irina Bjorklund
UK Release date: 26 November 2010
Certificate: 15 (105 mins)


As a boy I marvelled at the atmospheric album covers designed by Anton Corbijn the photographer. At a time when carrying albums to school was deemed cool it was Corbijn's images that would stand out from the crowd. Corbijn used black and white to create ghosted edges of the bands he was promoting. U2 were defined as much for their haunting photos full of foreboding and introspection as they were for their music.
Now Corbijn has honed his photographic skills to sharpen their impact on the silver screen. His latest offering, following the critically acclaimed Control, a film about the life of Ian Curtis the lead singer of Joy Division, is called The American. It will divide joy in equal measure for all cinema goers wanting to get a glimpse of George Clooney's starring role. It's a very thought provoking film that makes the viewer think rather than relax as the story unfolds. It is uncomfortable and yet stimulating at the same time. It is billed as an action thriller and that is misleading. It does not sit comfortably in any genre and is as difficult to pin down as the moods conveyed all those years ago on fading album covers.
The American is based on the novel, A Very Private Gentleman by Martin Booth. Its central character, Jack (George Clooney) is a hitman who makes guns to order. At the start of the film he is living in Sweden with is lover Ingrid (Irina Bjorklund) who, without explanation, is assassinated by Jack as men who arrive to kill him are thwarted in their endeavour. Jack is then forced to flee to Italy. The viewer from the outset is forced to bring to the film explanation and motive without ever being reassured that they are right or wrong in their assumptions. It is a central thread.
Jack takes his counsel from a dark mysterious contact who sends him to Castelvecchio, a small town high in the mountains of Abruzzo. The location is known to those who pay careful attention to the old spaghetti westerns of the seventies. In fact Clooney was keen to film here as he hoped it would regenerate the area for tourists and was met with open arms by the locals who no doubt ingratiated themselves with copious amounts of Nespresso coffee whilst talking about the finer details.
Jack awaits instruction while constructing for an assassin a specialised rifle that is painstakingly treated with reverence and diligence which only Clooney can carry off to such effect. He is making a gun to kill someone, but Corbijn makes us think about the beauty and tragedy of the assassin's creed. There is a touch of irony considering the heated comments Clooney himself made about Charlton Heston's cold steel utterances made famous in the Bowling for Columbine film. An outspoken critic of Heston, Clooney was forced to apologise in writing to Heston whilst questioning his Alzheimer's condition.
Jack befriends a local priest Father Benedetto (Paolo Bonacelli) who wishes to bring absolution and redemption to his tortured and introverted soul. But Jack is quick to point out that sins lie in all lives and that the priest is no exception. As much as the priest tries to point Jack in the right direction it is the priest himself who seeks consolation after being confronted with his past and having a son.
If Jack finds no consolation at the foot of the cross he does appear to find consolation in the arms of a local prostitute Clara (Violante Placido). She quickly moves from being an object of desire to being a soul looking for a playmate. Clara develops a relationship with Jack that gives the only true warmth in the film. It flickers to ignite; the ability to trust someone is put before the viewer as a key moment in the film. But it never quite catches alight. To be honest, I did expect Clara at some point to turn to the camera and say something to the effect of, 'look at me, its George Clooney, isn't he gorgeous, can you believe it?' Clooney is professional, but Placido looks to have won the lottery. In the eyes of many maybe she has.
As the film progresses the characters are one by one taken to the river. Perhaps to Corbijn the river symbolises redemption and cleansing. The first journey there is taken by Mathilde (Thekla Reuten) the woman who has requested the custom designed sniper rifle. Jack demonstrates how good he is at his trade, but is unaware that Mathilde is about to be his would be assassin. It is never clear why Jack is wanted dead, but the values of life and death become intertwined and leave the viewer wondering what it is Corbijn is trying to say. The dialogue during the film is laboured, stilted and sparse. It does not flow as easily as it should. If Clooney was not on the screen, its ability to capture our attention would fade like those album covers. As the film progresses time and again we go back to the river. When the final credits role Clooney's dying grasp reaches out to be cleansed or saved. You can choose.
Clooney has notched up another string to his bow by doing something so different, and credit to this creative and able director to take the actor left field. But The American could have been so much more if the writers had been equally bold. The poster for the film is excellent and harks back to the glorious movie posters of the sixties. You feel Hitchcock would have approved and the posters could be as iconic as Beatrice Dalle became for Betty Blue in the eighties and grace the walls of many a halls of residence. It is just a shame the film does not fully do it justice. Maybe Corbijn's skills as a photographer outweigh his ability as a director, but only time will tell.


John-Paul Morrison




 Visit this film's official web site