Posted on: 28th September 2012 |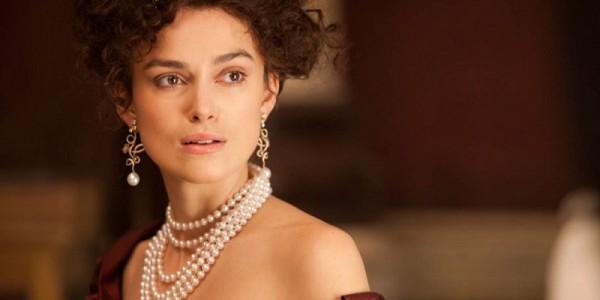 Director: Joe Wright
Starring: Keira Knightley, Jude Law, Aaron Taylor-Johnson
UK Release date: 7 September 2012
Certificate: 12A (130 mins)


Anna Karenin, one of the world's finest novels, is often not fully understood. It is not just the story of a love affair in the 1870s between Anna, the wife Anna of a distinguished St Petersburg government official, and a dashing cavalry officer named Vronsky; it is also a careful and sympathetic study of the relationship between men and women, their expectations, their duties and their search for happiness. The turbulent and eventually unhappy relationship of Anna and Vronsky is brought into sharp relief by the more conventional love story of Levin, a landowner of philosophical bent, and Kitty, a charmingly naive young lady from a closely knit and loving Moscow aristocratic family. The juxtaposition of the two couples is also reflected in the comparison of the glittering and superficial society life in Moscow and St Petersburg as experienced by Anna and Vronsky with the tranquillity and quiet beauty of the Russian countryside as enjoyed by Levin and Kitty. In simple terms, the book is a story of two very different couples.
The film scenes are set in a Russian theatre where the more important episodes from the book are played out in rapid succession. Doors open and close on scenes of the Russian countryside, railway stations, and the interiors of houses and theatres. Once used to the theatricality of the production, one is swept pleasantly into the story and the illusion of reality. This unusual approach can be justified fully in terms of reducing a long novel into a screen production of between one and two hours.
Anna arrives in Moscow from St Petersburg to deal with a family crisis caused by the infidelity of her brother, Oblonsky, a charming womaniser. A touch of irony here in view of Anna's imminent fall from grace. Meeting Vronsky by chance at the station and later at a ball, she is attracted to him, senses danger and makes her return journey to St Petersburg a day earlier than planned. On a platform at a stop en route she is astonished to meet Vronsky, who loses no time in making clear his love for her. She refuses his advance and continues her journey determined to regard the unexpected meeting as merely a romantic episode. She is unsuccessful as it brutally underlines the boredom and absence of love in the relationship with her husband; only her eight year old son gives some meaning to her return.
The scene is now set for Vronsky's relentless pursuit of Anna at soirées, recitals and theatres. After a period when she regards Vronsky's advances as a flattering distraction, she succumbs to his attentions and is seduced by him. Her cry of 'You have murdered my happiness' – surely the most profound and moving words uttered by her – has within it a feeling of despair and foreboding. She foresees in this ecstatic moment of giving herself to Vronsky the beginning of the end of her former life and the uncertainty of what lies ahead. She has much to lose: a place in society, a home, the custody of her son, and above all living with her conscience. Is her love for Vronsky, perhaps her first experience of love, worth all this? Although an ambitious young officer with a promising career ahead of him, he shows a degree of insensitivity and lack of empathy in some of his relationships and himself as a man for whom happy family life is not a goal.
After the failure of an attempt of reconciliation between Anna and her husband, where Karenin shows unusual tolerance, Anna tries to move in society as Vronsky's mistress. She is ostracised; Vronsky resigns his commission, and the couple leave St Petersburg to live in the country. Anna, cut off from society and her son, and totally reliant on the company of her lover, becomes jealous and suspicious of his public activities. Almost as a token of revenge on him, she starts to drink heavily and become extremely possessive. She lives within herself and finds no comfort in the company of the child she has had by Vronsky. She abandons hope and commits suicide by throwing herself under a train.
Alongside the tragedy of Anna and Vronsky, the life of Levin and Kitty has a serenity and simplicity that appeals. Levin is refreshingly outspoken about his belief in true love within marriage and the importance of home and family happiness. He does not escape, however, from his tortured musings on the meaning of life and death and receives advice on this score from a peasant on his estate, who tells him that man must live, not for his needs, but for God and his own soul. He is also rescued from recurring gloomy thoughts by the good sense, kindness and practicality of his wife.
The script is perfect and the theatricality of the production appropriate for concentrating on the truly important episodes in the novel. Any criticism must lie in the performance (perhaps casting) of Vronsky and Anna. Vronsky comes over as a handsome man in a dazzling uniform - not enough to attract someone as inwardly perceptive as Anna. Anna is more than the beautiful woman presented by the film. Tolstoy emphasises her attractiveness as she is not classically beautiful. Her allure lies in her vivacity and compassion, and in her lithe movements, her freshness, and the persistent animation of her face in her smile and glance.
An excellent film, enthralling in its own right.


Dairmid Gunn




 Visit this film's official web site