Posted on: 20th February 2014 |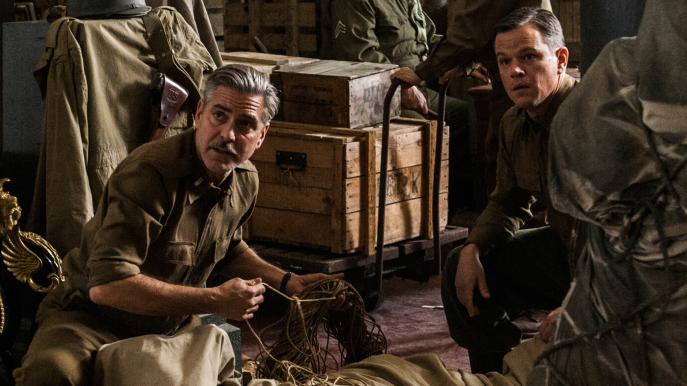 Director: George Clooney
Starring: George Clooney, Matt Damon, John Goodman, Bill Murray, Cate Blanchett, Hugh Bonneville, Bob Balaban
Certificate: 12A (118 mins)
UK release date: 14 Feb 2014
The Monuments Men is the new historical drama directed by George Clooney, who also wrote and produced the film with his regular partner, Grant Heslov. Together, Clooney and Heslov have been behind some intriguing and stylish films, The Ides of March and Good Night and Good Luck to mention just two. Much of their back catalogue could be described as worthy passion projects that try to tell the complete story of often complex characters in an honest way. This film should, by rights, fit that description, too.
Retelling the legend of 'the greatest treasure hunt in history', according to the press release, The Monuments Men concerns itself with an unlikely group, led by George Clooney's Frank Stokes and Matt Damon's James Granger, who are tasked with finding art masterpieces stolen by the Nazis from around war-stricken Europe and returning them to their rightful owners.
This film is a throwback to classic Hollywood World War II movies, such as A Bridge Too Far and The Longest Day, in which a stellar ensemble came together to re-enact some of the most important moments of the devastating war. The Monuments Men places itself firmly in that genre. There are plenty of cross-dissolves, the (very) rare bloodless battle and a sometimes twee, verbosely patriotic soundtrack. There is even the classic closing credits sequence thrown in for good nostalgic measure; each of the actors is introduced from one of their scenes, and we pause as they are caught in a smile or heroic stance while their name comes up. If this stirs up warm memories of the Golden Age of Hollywood, then this film most likely is for you.
On the same note, those of a squeamish disposition will be delighted to know that this is not Saving Private Ryan. There are no epic battle sequences, no gory injuries or explosive amputations. The harrowing nature of war is conveyed more in Clooney's regular voiceover than it ever is in any on-camera set-piece. Indeed, the BBFC certificate before the film notes that one of the reasons The Monuments Men received a 12A rating was for 'scenes of smoking'. That should tell you all you need to know about the risqué nature of the film.
This relatively sanitised (by modern standards) version of the war, however, lacks some punch. Indeed, those of a film-loving disposition might be saddened to learn that this is not Saving Private Ryan. Far from intense, edge-of-your-seat excitement, the film moves at a glacial pace, taking its time to establish characters and their motivation. It is a film not so much on a slow burn as a gentle simmer. The first half feels like a series of vignettes chosen and edited to communicate the mass effect of war. Sadly, the central premise is not strong enough to hold the story together.
Each of the actors, from Bill Murray and John Goodman to Cate Blanchett and UK darling Hugh Bonneville, looks to be having a nice time, working their way through a fairly undemanding script with ease. Sadly, each one of them feels sorely underused. The attempts at subtle comedy do not work as well as they might have. The jokes seem obvious and laboured. For example, Damon's Granger considers himself to be adept at French; however, it transpires he is not as good as he thinks. Ordinarily, this could serve either to put his character in jeopardy or to bring big laughs. Unfortunately, it does neither. It seems that in all the effort to offer a vigorous nod to the good old days of war movies, free of violence or offensive materials (apart from scenes of smoking), Heslov and Clooney forgot to tell a compelling story in a gripping way.
For this reason, The Monuments Men feels like an opportunity missed. The acting is fine, the story is alright; everything is just fairly neutral. It is definitely not a bad way to spend two hours, but, sadly, nor is it a particularly thrilling one.