Posted on: 19th December 2014 |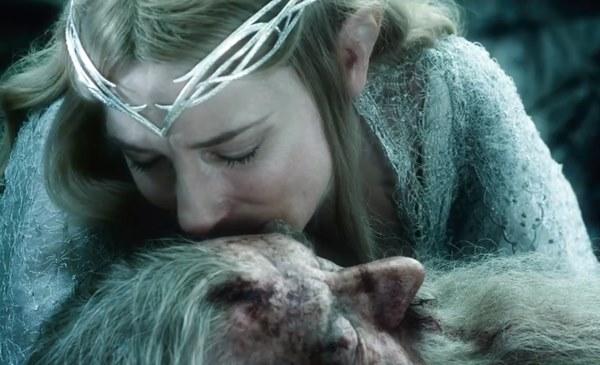 Director: Peter Jackson
Starring: Martin Freeman, Richard Armitage, Luke Evans, Ian McKellen
Certificate: 12A
Running time: 144 mins
UK release date: 12 December 2014
I have always considered it to be bad practice to read others' thoughts on a film before committing my own to a review. In this case, I confess that I did not follow my own advice, but happily it means that I can shortcut some of the obligatory critique by fully endorsing Mark Kermode's review for The Guardian. In summary, he praises Peter Jackson's outstanding cinematic achievements over the course of his six Middle Earth films; celebrates Martin Freeman's performance in general and this instalment's opening set piece – in which Benedict Cumberbatch's Smaug meets a spectacular end – in particular; and laments the computer game-style approach to the action sequences that gives this final chapter an unnecessarily silly gloss.
It is on the solid foundations of Kermode's review that I lay a few musings of my own, and of a Jesuit friend and Tolkien fan with whom I saw the film. My companion was particularly moved by the scene in which Freeman's Bilbo Baggins bids farewell to Thorin Oakenshield (Richard Armitage), bringing to an end a relationship that had undoubtedly added a few virtues to the character profiles of both individuals. Thorin's affirmation of Bilbo in at this point in the novel – 'If more of us valued food and cheer and song above hoarded gold, it would be a merrier world' – was edited on screen to replace those three listed comforts with the word 'home'. I wonder if this was a subtle disservice to the folk of the Shire who love their home comforts, yes, but not in a miserly rejection of other pleasures; rather because such security allows them to celebrate the abundance of joy that they are able to find in life's simpler things – such as food, laughter and song. This minor switch, and the slight mischaracterisation of halflings that it implied, is a symptom of a sickness (although not a particularly serious one) that has afflicted the whole series. This hobbit's failings and successes on film have been his own to account for, whereas in the novel his nature qua hobbit is explored and acts as an affront to dwarvish and dragon-like greed.
And greed of course is a central theme, no less so after the opening death of the dragon who was the embodiment of that sin. The scene in which Thorin envisages himself being dragged into a vortex of molten gold by Smaug served the purpose of illustrating the dwarf's recognition of the futility of the position he had taken until that point. Even if his solitary brooding and his companions' acceptance of his attitude didn't quite ring true, his conversion was rendered well.
A shared highlight was a scene that we do not read about in The Hobbit (although it borrows material from elsewhere in the Tolkien canon): Gandalf's encounter at Dol Guldur with the frankly terrifying Necromancer. The Dark Lord so overpowers Gandalf that Galadriel must come to his aid. In what is something of a resurrection scene, she is able to save the lifeless wizard whom she cradles in her arms: the Lady of Light overcoming the darkness. She uses every last bit of her power to drive away the Necromancer, declaring 'You have no place here! You are nameless!' This is astute scriptwriting – given that this is added material , it reflects well the Augustinian notion of evil as a privation of good to which Tolkien arguably aligns himself elsewhere: 'In my story I do not deal in Absolute Evil. I do not think there is such a thing, since that is Zero.'[i] We can also note that Galadriel grows more in force and stature in this incident that she does when she becomes momentarily menacing in The Fellowship of the Ring when tempted by Frodo offering her the One Ring – a sign that her goodness at its height is more potent than whatever her corrupted self might become.
There is one line from the novel that I can recite by heart, and it seems a fitting note on which to end, even if taken out of context. When Bilbo first sets eyes on Smaug and his hoard of treasure, Tolkien describes his wonderment thus: 'There are no words left to express his staggerment, since Men changed the language that they learned of elves in the days when all the world was wonderful.' Perhaps our own staggerment at Jackson's creations is now similarly indescribable. In 2001, we were amazed by the landscapes and characters that we encountered in The Fellowship of the Ring; that world was indeed wonderful. Over the past 13 years, Peter Jackson has maintained, upped and now concluded his game, and in doing so he has changed the language of cinema. There is nothing more to be said now, by him or by us.
---
[i] The Letters of J.R.R.Tolkien, ed. Humphrey Carpenter (Houghton Mifflin, 1981), p. 243–244.