Posted on: 13th January 2017 |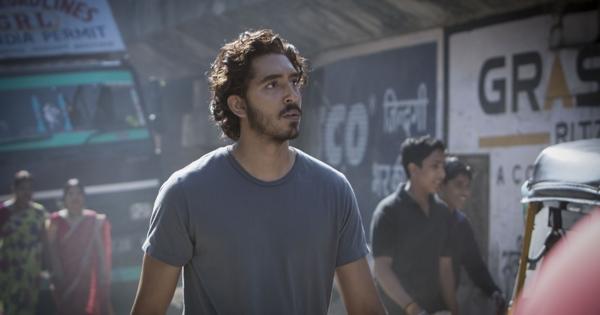 Director: Garth Davis
Starring: Dev Patel, Nicole Kidman, Rooney Mara, David Wenham
Certificate: PG
Running time: 120 mins
UK release date: 20 January 2017
In Garth Davis' Lion, 'the world seems both small and vast,' writes Richard Lawson for Vanity Fair. The film is an adaptation of Saroo Brierley's novel A Long Way Home, which tells the astonishing true story of the author's search as an adult for his blood family in Northern India, from whom he was separated as a small child. In this compelling story of determination against the odds, we are presented with a world that is, on one level, so huge it dwarfs the lives of individuals. Breathtaking shots of the Australasian landscape and of train tracks winding through rural India, and views of sprawling cities crammed with millions of anonymous people depict the individual as being at the mercy of the world, trampled by the onward march of powers, societies and nations. To drum this home, we are brought back again and again to a symbolically cold and pixelated image of planet earth on Google Maps.
Yet against this vast and unforgiving backdrop, Lion is a film that takes an intense interest in individuals. We zoom in on one person – a little boy from a little town – and our interest in this one life expands to fill and shape a whole film. In Lion, the smallest things are given great importance and value – the love of jalebi sweets, the sounds and smells of childhood, the devotion of a young boy to his older brother. These are the forces that build relationship, bind communities and withstand time, change and trouble. An unforgiving world is given meaning by personal encounter and emotional connection.
Davis doesn't plunge us cold into Saroo's search for home, but instead spends time laying the foundations of that home, preparing the characters and viewers for what is to come. A lot of screen time is given to the young boy's life in India, building depth into his character and painting a picture of India so vivid that it will haunt him into his adulthood in Australia. The India phase is a very earnest record of the world through the eyes of a five-year-old. The time and detail devoted to this sometimes poignant, sometimes heart-stopping sequence of events has a double function: firstly, it maps before our eyes the memories that will drive Saroo's actions in the latter half of the film. Secondly, it wins us over to his cause: before we have even noticed, our hearts are caught up with the fate of a small boy in a huge world.
The Australia phase deftly navigates a complex emotional and relational obstacle course. We watch as a series of events draws Saroo – despite a strong, loving relationship with his adoptive parents – into a restless search for his blood family. The musical score of this part of the film is threaded with haunting melodies that remind us of India. As Saroo becomes obsessive in his search, we return in increasingly compulsive circles to a driving, melancholy main theme. The versatile Dev Patel gives a sensitive performance in a convincing Australian accent, alongside a tender Nicole Kidman as mother, Sue, and a warm David Wenham as father, John Brierley. The film gives as much weighting to Saroo's contented family life with his adoptive parents as it does to his deep desire to find 'home'. Whilst these two apparently conflicting parts of Saroo's character cause pain for him and those around him, they do not make his character unbelievable. Davis, speaking at the 2016 Toronto International Film Festival, said he was careful to select a cast of actors capable of rendering true the emotional dynamics of this remarkable story. Davis' loyalty to the real personalities pays off: the raw and honest emotions displayed on screen, however complex, are what make the film's characters so compelling, rather than making them inconsistent.
Lion is a wonderful way to start your cinema-going year. Moving and heartfelt, it comes as a timely celebration of the triumph of human relationships over the world's often harsh realities. The film dances lightly over ethical questions of poverty and privilege, exploitation, education and globalisation, gently nudging us to consider rather than to judge. For in this film, people are not portrayed through a political, economic or moral lens. Rather, they are shown through the lens of personal relationship. People gain value and significance through human connection. As the whole world marches on, changing, deteriorating and expanding, what hope is there for the survival of our personal worlds, relationships and communities, Lion prompts us to ask? Against the odds, Saroo's story gives a clear and simple, little answer: every hope.