Posted on: 14th July 2009 |
Publication details:
Columba Press, 2009 128 pages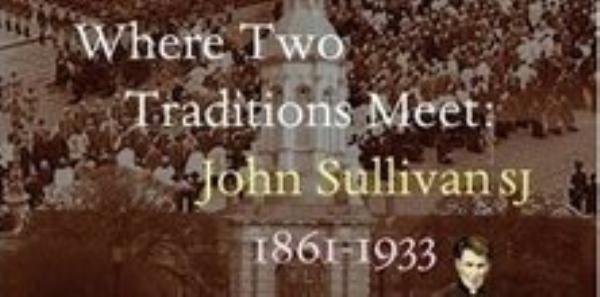 There have been a number of attempts to write the life of John Sullivan SJ. The first, and still the best, was that of Fergal McGrath SJ, Father John Sullivan SJ (1941), with some supplementary material provided in More memories of Fr John Sullivan (1976). Another Jesuit, Mathias Bodkin produced The Port of Tears (1954) and in 1948 Ethel Mannin had published a superb novel, Late Have I Loved Thee, loosely based on Sullivan's life. Morrissey now adds to this list his account of Sullivan's life and it is a very good starting point for those coming to Sullivan's story for the first time. The author, an experienced historian and biographer, attempts to situate the various stages of Sullivan's life against the wider canvas of the social and political problems of Ireland in the nineteenth and twentieth centuries. Furthermore it is now the only work of its kind in print.
John Sullivan was a child of a mixed marriage between his Protestant father, Sir Edward Sullivan, sometime Lord Chancellor of Ireland, and his Catholic mother, Elizabeth Baily. John was the youngest of the five children of the marriage, four boys and a girl. The custom in those pre-Ne Temere decree (1907) days was that in mixed marriages, sons should follow the religion of their father and daughters that of their mother. John and his brothers were therefore raised as members of the Church of Ireland and his sister was brought up a Catholic.
Sullivan's story has about it some vestiges of that of St Augustine: his estrangement from the faith of his mother who nevertheless greatly influenced his spiritual life; a somewhat bohemian, perhaps even mildly decadent lifestyle as a young man; a mid-life conversion followed by ordination to the priesthood; and a life of deep asceticism and devotion to the poor and the sick.
As a young child, Sullivan had the privilege of being taught by a private tutor, and he then attended Portora Royal School, Enniskillen, under the enlightened headship of Revd Dr William Steele who had begun to admit Catholic boys to that bastion of the Protestant establishment – Portora produced very many distinguished Irish Protestant figures, including Oscar Wilde and Samuel Beckett. An early aptitude for the classics ensured that Sullivan received a scholarship to read the subject at Trinity College, Dublin. He there came under the influence of two of the great men of the college, Professors R. Y. Tyrrell and J. P. Mahaffy, both of whom were vehemently anti-Catholic. However, during his time at Trinity, Sullivan gave up the practice of his Anglican faith, and once attended a Catholic Mass in the company of a college servant.
Sullivan's love for the classics is well attested to, but for a career he opted for his father's profession: law. He began to study law at Trinity after his classics degree, but when his father died unexpectedly in 1885, John went to London to read for the English bar. He seems not to have practiced law but he did work as the marshal for the Lord Chief Justice of England.
After something of a spiritual quest during and after his time at Trinity, he was received into the Catholic Church in 1896 by the Jesuits at their Farm Street church. His conversion caused a minor stir in the insular world of Dublin Protestantism. He returned to live in Ireland that same year a changed man and worked as registrar to Judge William O'Brien. Following his mother's death in 1898 John considered a religious vocation and joined the Jesuits in 1900 at the age of 39.
Morrissey paints a somewhat idealised picture of the realities of the Jesuit life that Sullivan then embraced. What is clear is that right from his early days as a novice, Sullivan's was a way of life that emphasised self-denial. He was deeply influenced by his novice master, Fr Michael Browne, whose own religious life and outlook featured much of the asceticism and austerities favoured by Sullivan. After his ordination in 1907, he was sent to teach at the Jesuit boarding school, Clongowes Wood College, Co. Kildare, which, apart from the years 1919 to 1924 when he was Rector of the Jesuit student house at Rathfarnham Castle, was to remain his home for the rest of his life.
Sullivan was not a notable success as a teacher but all in the College were convinced that they were living with and being taught by a saint. In addition to his teaching duties, he was also made the spiritual father of the school and he served the local population through his activities in the 'people's church' attached to the college and by his ministry to the sick in the vicinity of the college and indeed further afield. He seems to have developed a gift of healing, of which the book provides a number of examples. He died in 1933, his cause for canonisation was introduced in 1944 and in 1960 his body was exhumed from the graveyard at Clongowes and transferred to the Jesuit church in Gardiner Street, Dublin.
There are a number of curious minor factual errors. George Tyrrell's name is mis-spelled throughout. The author seems to imply that Sullivan entered the Jesuits in 1890 (p.58). Morrissey tells us (p.17) that Gladstone visited the Sullivan household in Dublin on several occasions and that the Grand Old Man dandled John and his older brother William on his lap: in fact Gladstone visited Ireland only once in 1877 and stayed less than a month, when John was sixteen and William several years older. The author refers to an Irish papal brigade defending Rome in 1870: there was no such troop in 1870, but such a brigade did assist in the defense of the Papal States against the Italians in 1859-60. The Irish civil war was fought in1922-23, not 1921-23 as we are told here (p.105). Cardinal Agostino Casaroli, not Casareli, was Vatican Secretary of State in 1983 (pp.118 and 124). The chronology of a number of important events in early twentieth century Irish history is jumbled (p.105), and can one really say that nineteenth-century Ireland was 'under British occupation'? (p.118).
Sullivan's life is a truly remarkable story given his background and his single-minded dedication to those in need. The problem for a biographer of Sullivan is one of how to write the story of an exceptional man of God, which is true to the facts of his life and yet does not veer too much towards hagiography. I am not sure that Morrissey has quite got the balance right. Furthermore the book tells us little about Sullivan's inner life and the struggles of his soul.
Oliver Rafferty SJ teaches Church History at Heythrop College, University of London.