Posted on: 29th January 2010 |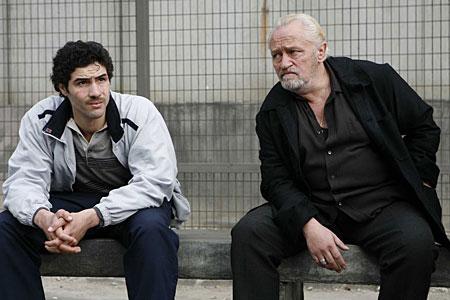 Director: Jacques Audiard
Starring: Tahar Rahim, Niels Arestrup, Adel Bencherif
UK Release date: 22 January 2010
Certificate: 18 (155 mins)


The role of a film-maker is a remarkable one. He or she has the power to help us better know and understand the world through the eyes of their leading character. The character might belong to a social group that we wouldn't usually associate with, and indeed might be someone we look down on for one reason or another. And if to know all is to forgive all, then film is a powerful medium that can expand our horizon, and even help us to better love our neighbours, in particular those neighbours whose life experiences are alien to our own.  Jacques Audiard has proved to be a master of this medium.
A Prophet opens in a dark cell, making us feel ill at ease and creating a tension that hardly abates for the duration of the two and a half hours we spend with Malik. The cruelty, harshness and bleakness of the prison environment are quickly laid bare. We see Malik being strip searched on entering prison and having all his belongings taken from him. It brought to mind how certain corners of the media complain that those who break the law are treated too softly; this film would beg to differ. This is not somewhere you want to be, where fear is the dominating motivator and a 'survival of the fittest' mentality persists. There is a pecking order in prison, much like in mainstream society, and those at the top of this order enjoy safety, and the odd luxury item like hash and cocaine. These seem to be the finest goals that the prisoners have, or know how to have. 
This film explores how the past defines us, and how often forces outside of our control exert a powerful influence on us. Malik never asked to be raised without parents and without much of an education, yet he suffers the consequences of lacking both.  Prison is meant to rehabilitate, yet how can it do this when prisoners are treated according to what they've done, rather than who they are?  More often than not, such treatment persists after a sentence has been served; prisoners continue to be victims of their past. People's actions have a tendency to be consistent with the expectations that are placed on them, and in the case of prisoners this can't be a good thing. I once spoke with a Sister of Charity who was a prison counsellor: she told me she never asked about a prisoner's past unless they wanted to reveal it. She wanted to be able to see who they were, to see past the label that had come to define them. If someone had shown such favour to Malik, he might have made some different decisions. He commits acts of violence, yet I would not want to describe him as being a violent man. In one particularly touching scene of gentle intimacy, we see him hugging and comforting the young daughter of his dying friend.  In Malik, the capacities for good and evil are juxtaposed much like in any of us. But again, which side becomes dominant is decided not always by our own merits, but by the weight of our environs.  This is illustrated at the start of the film when Malik faces a tough choice. He is told that he has to kill another inmate, and if he fails, he will be killed. This is a tough choice with which he wrestles, but Malik does kill him and this gives him protection for the duration of his stay, though in the long term it also takes him down some dark paths. This death haunts Malik throughout the film: the ghost of this inmate is always in his mind, showing how deeply hurt he was by committing the act.
Moments of consolation permeate the drabness of the prison, illustrated by the rising score by Alexandre Desplat. The first time Malik gets on a plane for a day break from prison is one of these moments: he's mesmerised by how the dinner tray in front of his seat works; he's offered some food by the air stewardess and treated with a dignity he's never known. You can't help but feel sorry for him and wish he could know that he was worth every bit of that dignity he was being shown. After arriving at his destination, Malik is overjoyed to paddle in the water on the beach, and on returning to prison after his day's leave we see him shaking some sand from the beach out of his shoe, a hint, perhaps, that something better could be outside for him after his sentence. 
A Prophet is a touching film, and so effectively captures the prison environment in all of its dimensions. Malik is someone we feel sympathetic toward. He isn't treated in any romantic way, but epitomises the majority of prison inmates. We see him as a good man, who has made bad decisions. A Prophet is an invitation to reach out to those whose lives have been blighted by the harsher side of this world.


Patrick O?Callaghan




 Visit this film's official web site