Posted on: 5th February 2010 |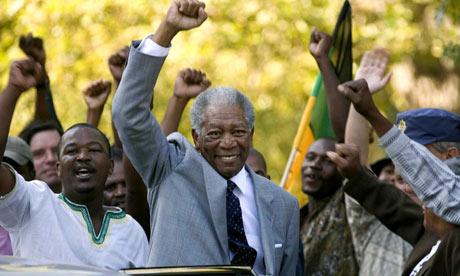 Director: Clint Eastwood
Starring: Morgan Freeman, Matt Damon, Tony Kgoroge, PatrickMofokeng, Matt Stern, Julian Lewis Jones, AdjoaAndoh
UK Release date: 5 February 2010
Certificate: 12A (133 mins)


There's a certain high dudgeon about in the celluloid circles in South Africa with regard to the playing of South Africans (such as Winnie Madikizela-Mandela) by foreigners. (See Stop Whining and Start Acting in The Sowetan http://www.sowetan.co.za/Entertainment/Article.aspx?id=1099352). Clint Eastwood's Invictus is an almost unanswerable reply to this complaint. It would be hard to better Morgan Freeman's portrayal of Nelson Mandela. His build and bearing make him visually ideal, and he has clearly worked extremely hard to do justice to what one thought of as Mandela's inimitable voice and body language.
Matt Damon has done a similarly impressive job on Francois Pienaar, the captain of the victorious Springbok team in the 1995 Rugby World Cup. Afrikaans accents are easy to parody, but particularly difficult to imitate perfectly. He has also got inside the mind of a young man who has a historic weight of responsibility cast upon him at an extremely disorientating time for his tribe and yet who, with the help of Mandela, not only rises to the occasion but carries his often reluctant team-mates with him.
South Africa in 1995 may have been an exhilarating place to be if you were on the side of the angels but for many on the losing political side it was a place and time of nameless terrors. It was these terrors that Nelson Mandela understood so well and set about allaying at the beginning of his term of office, and he saw the 1995 Rugby World Cup as a unique opportunity. It was not an easy task and his initiatives were met with resistance from his own party and suspicion from whites. The tensions are cleverly and viscerally displayed in the film in the horrendously difficult relationships between the white and black bodyguards that Mandela insisted on having around him.
Perhaps his biggest political gamble, in which Mandela expended considerable political capital, was to throw his personal weight against the move to scrap the Springbok as the emblem of South African rugby. Perhaps only Nelson Mandela could have preserved this symbol, loved by white rugby supporters and loathed by the ANC. That he also turned up for the final wearing the green and gold jersey and matching cap of the Springboks, was a display of political courage that is difficult to appreciate outside this beloved but bedevilled country.
Mandela's gamble paid off, at least in the short term. There's little doubt that the Springboks, who had only recently returned to the international rugby scene, were outclassed underdogs whose game was raised by the 'Madiba magic'. So South Africa won the Rugby World Cup and there was a moment of glory that was shared across the racial divides. There's a touch of mawkishness about how this is portrayed in the movie, but in my own memory, that's actually how it was – rather awkward, sometimes a little corny, but underlaid by a genuine desire to reach out to the other.
Whether the 1995 Rugby World Cup had any long-term effects will have to be judged by history. But as John Carlin (on whose book Playing the Enemy the film is based) points out in a recent article in the local newspapers, after fifteen years South Africa has not fallen apart, people generally treat each other with respect, and there are certainly more deeply divided places in the world.
This film (which takes its title from a poem by William Ernest Henley that Mandela used to read on Robben Island in his darker hours) appeals to us today because it portrays a quality of magnanimous leadership, which the last decade has somewhat lacked. The stories one hears from those who have actually met the man match the portrait painted in the movie, and thus it provides, in a popular genre, an authentic glimpse into the personality of the first president of a democratic South Africa.
The reviewer, Chris Chatteris SJ, is based at the Jesuit Institute, South Africa.


Chris Chatteris SJ




 Read Anthony Egan SJ's account of the week leading up to Nelson Mandela's release from prison in 1990, on Thinking Faith.




 Visit this film's official web site