Posted on: 26th November 2010 |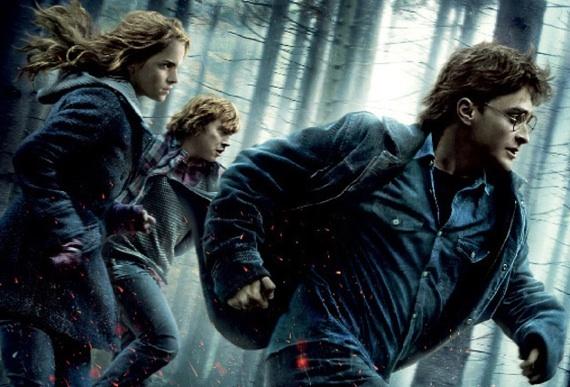 Director: David Yates
Starring: Daniel Radcliffe, Emma Watson, Rupert Grint, Helena Bonham-Carter, Ralph Fiennes
UK Release date: 19 November 2010
Certificate: 12A (146 mins)


I first heard the name Harry Potter some twelve years ago while I was working at a magazine in Boston. One of the staff writers came to my office to pitch me on a story idea: a British author, J.K. Rowling, had come up with a curious (dare I say, magical) formula for story telling that was getting a lot of kids to read, exactly the kind of kids who would otherwise spend their after school hours in an Xbox stupor. The books were making millions for their author and garnering universal acclaim (okay, nearly universal: then-Cardinal Ratzinger expressed some concerns). There was talk of turning the books into movies. I recall exactly what I wrote on my note pad: 'Harry Potter. Phenomenon? Check out.'
Well last night, after seven books, six internationally blockbusting movies, billions of pounds spent and made, and not a little prodding from my young nieces, I finally got round to seeing what all the fuss is about. It wasn't easy. Harry Potter: The Deathly Hallows, Part 1, as the critic Roger Ebert has noted, 'is completely unintelligible for anyone coming to the series for the first time.' Roger is right; I was lost. Half of the film was in another language: all that talk of Hogwarts and Horcruxes, Polyjuice Potions and Elder Wands, had my head spinning and my hand reaching for Wikipedia. I was thwarted only by the realization that the backlight from my iPod Touch would distract too many among the sold out weeknight crowd and I'd be as unpopular as a muggle at the House of Blood. Luckily, the screenwriters took pity on me and chock-filled the middle of the script with exposition.
The story, as near as I can surmise, goes something like this: Tension, menace and the feeling that good may not triumph over evil have taken over the Potter world (wherever it is). The bad vibe is even affecting the relationships of Harry (Daniel Radcliffe), Hermione (Emma Watson) and Ron (Rupert Grint) and threatens to derail their mission to find and destroy the Horcrux, some kind of demonic pocket watch that the bad guy needs in order to keep his evil empire together. The bad guy, Voldemort, for his part, is trying to kill Potter (the Messiah) and Hermione and Ron (Harry's disciples). As the movie opens, someone named Dumbledore, who I presume is the John the Baptist character in all of this, has been killed and Harry and his friends must now go it alone. The filmmakers remind us in some not so subtle ways that Harry is no longer a kid. And like all young adults he is confronting the pain of realizing that it isn't all about him: 'You may be the Chosen One, mate,' Ron says to Harry, 'but this is a whole lot bigger than you.'
It sure is. The film is jammed with big, dazzling action sequences and spectacular effects, a virtual visual feast. It's not easy for a movie that begins with the shock and awe of a dizzying battle on broomsticks to maintain its momentum. Yet just when you think that the film has peaked and has nowhere else to go, it surprises you again. The difficulty, of course, is that just as I started to get a clue and catch my breath, the movie ended, to be continued next spring. Director David Yates (back for his third 'Potter' film) and writer Steve Kloves (his sixth) try to inject a big emotional moment and something resembling a cliffhanger at the end, but it doesn't really work. The ending seemed abrupt, though I appreciated the ocular relief.
The three principal actors bear up pretty well. One of the drawbacks of the fantasy genre is that it requires so much exposition, which can make for weighty, downright boring dialogue. Radcliffe, Watson and Grint handle it deftly (They should; they've had a lot of practice). Joining this trio of actors are Ralph Fiennes as Voldemort the big bad and Helena Bonham Carter as Bellatrix Lestrange. Each is, in turn, appallingly creepy, which made me wonder whether my 11-year old niece should be watching this movie. Potter's world, at least in this installment, is a dark and bloody place. The themes are not juvenile and the violence is not mild. Maybe Cardinal Ratzinger was on to something. Also, somebody (presumably a fixture in previous episodes) shuffles off this mortal coil. I won't say who, but it's pretty sad and it may generate a few questions in those under 15.
Did I like it? Sure. Go see it; it's fun. I'm actually looking forward to part II. I'll try not to wait twelve years before I see it.


Matt Malone SJ




 Visit this film's official web site

 From Harry Potter to Jesus Christ by Joe Egerton

 Thinking Faith's review of Harry Potter and the Half-Blood Prince