Posted on: 19th January 2011 |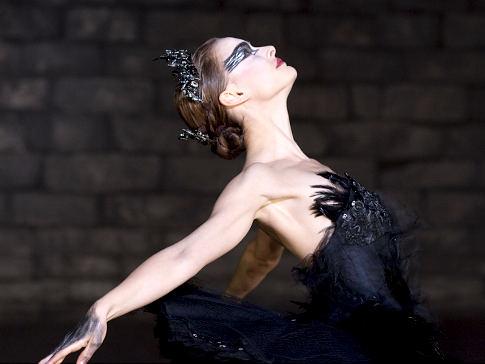 Director: Darren Aronofsky
Starring: Natalie Portman, Mila Kunis, Vincent Cassel
UK Release date: 21 January 2011
Certificate: 15 (108 mins)


Whether or not you've already had your slice of melodrama this winter, what with apocalyptic snows and the kind of doom-laden predictions for the near future that NASA are already officially denying, it's unlikely you'll avoid the excitement surrounding Black Swan. Why the fuss? Probably because the film, a stylish melodrama based on Swan Lake, is unusual, very slick and stands as a palatable metaphor for contemporary stories of self-destruction. It follows ballerina Nina (Natalie Portman) as she takes on the role of both the White and Black swans in her company's production of Swan Lake, her professional ambition matching her psychological breakdown as she slips further into madness. It's a film that aims for some of life's biggest themes – a far cry, and a relief at that, from some of the bloodless fare that Hollywood will serve up over the coming year.
If melodrama can be classified as anything, then it is a simplification of reality: swirls of event and feeling are polarised into opposing forces. Here Nina is caught between what the White swan represents – duty, obedience, discipline – and the Black swan – sensuality, abandonment, instinctiveness. These are oppositions as old as any art – Apollo vs. Dionysus, Dr Jekyll and Mr Hyde, but they need to be housed in a human reality for the story to have any resonance.
Black Swan's strength lies in its detailed depiction of the ballet company, and the physical strains the ballerinas undergo. We are introduced to close-ups of cracking toes, the muscularity of bodies refined through late-night rehearsals. At one point, a physiotherapist pushes her hand beneath Nina's ribcage to get at her diaphragm; her body is a piece of meat that must be kept in perfect condition for the first night of the show.
But an array of textures provides the splinters beneath the flawless surfaces. As Nina begins to crack under the strain, her toenails and fingernails split, ragged strips left at the end of her fingers. A mysterious rash, spreading from scratches on her shoulder blade, begins to cover her back. But in her bedroom, shut away in a small flat with her mother, Nina is surrounded by overstuffed cuddly toys, a parody of girlishness: all is pink, soft, pretty. This is where Black Swan is at its best, in its depiction of Nina's internal conflict in the symbolism surrounding her, and the eerie similarities she catches sight of on the subway, in her mother's paintings, in the mirrors that block out the walls of the studio.
The challenges for any melodrama, and for all Black Swan's artistic stylishness it is only a melodrama, are at least twofold: one is for it to remain tensing, despite the predictability of its narrative; and for it to be believable, despite the myths it invokes. Laughter is almost always anathema to melodrama – if you start giggling at the idea that a ballet dancer could turn herself into a swan due to the pressures she puts herself under, then where do you go from there? Unfortunately some of the dialogue in Black Swan lends itself more to Dirty Dancing: 'Respond to my touch', breathes the director, literally down Nina's neck. 'I don't want any boundaries between us', he tells her, pouring her a glass of champagne in his glass and black leather lair. Black Swan is certainly tensing, and some of the visual images were arresting enough to disrupt my sleep, but it teeters over the line of pretension into silliness at certain points. Suddenly the believability disappears – Nina's split persona seems less Hamlet and more Gollum.
It's likely to prove a huge critical success, however, and this isn't just to do with Natalie Portman's performance, exceptional though it is. Black Swan taps into a very contemporary philosophy about what it means to achieve 'self-fulfilment'. Nina's journey is that her desire to perform transcendently clashes with the psychological and social inhibitions that she has developed through a closeted, lengthy adolescence. It is a psychic battle: her will versus the forces opposed to it. From a secular perspective, this is one of the highest battles that can be fought (think Nietzsche) – the deep self, Nina's Black Swan, fights against conformity, obedience and society: her pure, nice and obedient White Swan. The film's philosophy lays on the side of obedience a kind of small-minded and weak 'goodness'; in contrast, Lily, a dancer who is far more 'natural' and sensuous than Nina, is compassionate, sexy, liberal. It wouldn't take you long to spot this pattern in many other films, in the media, in novels: Black Swan is another work that places obedience and passion in direct opposition.
This is at the crux of one of the biggest representational challenges facing Christians today. Somehow the idea that goodness is in some way boring, is about self-limitation and cowardly obedience, has become common currency. Black Swan merely taps into this cultural shorthand with the confidence that its audiences will agree with its depiction of the shy, disciplined Nina transcending and destroying herself at the same time: negative, destructive energy triumphs over goodness' soppy compromises. As Christians we should feel uncomfortable with the persistence with which glory is associated with a selfish 'doing what I really want to do'. We know – and should be energetic in evangelising as such – the truth that an exciting, life-altering transcendence is accessible through a giving-up, rather than a giving-in to, of self. This is more counter-cultural and revolutionary than any 'dark energy' that Nina taps into: for all Black Swan's melodrama and style, we should remember this.


Nathan Koblintz




 Visit this film's official web site