Posted on: 17th February 2011 |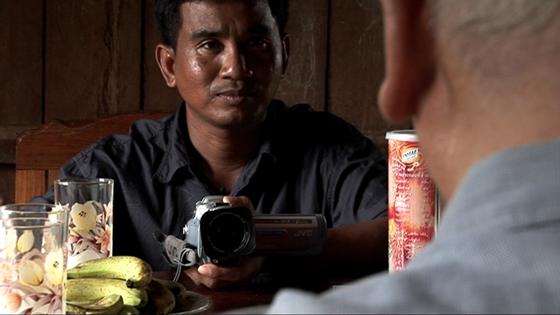 Director: Rob Lemkin, Thet Sambath
Starring: Thet Sambath
Certificate: 15 (93 mins)


A Cambodian professional in his mid-thirties fusses around an elderly man, respectfully calling him 'uncle', flattering him, arranging the tea things so that he will be comfortable in front of the video camera placed on the table before him. Is he a relative? A resistance leader? Another victim of the Khmer Rouge? There's a jump cut, and we are shown the leathery faces of four or so aging rural labourers as they confess to their hands-on role in the Cambodian massacres of 1975-79. The voice-over focuses on these men, the men who did the killing in the killing fields. After all, Pol Pot is dead, only a few of the leaders remain who could ever be brought to justice – maybe one day they will bring his deputy, Nuon Chea, to trial. Nuon Chea – a new name to most in the audience. Suddenly, there is a moment of recognition, and a different jump cut to some over-coloured footage from the 1970s: this charming old man is Pol Pot's deputy – we are watching someone have tea with a Reinhart Heydrich or a Joseph Goebels.
The younger man fussing around the retired dictator is Thet Sambath, a Cambodian journalist working for a newspaper in Phnom Penh, and it is Sambath's voluntary work that is the focus of Rob Lemkin's commendable film. Sambath's family were victims during the period of killing, and he spends all his spare time and spare money travelling up country to the north-eastern districts to document the killings. His is not a conventional journalistic enterprise, seeking scandal or blame – rather Sambath wants to record the real voices of those involved, to capture these truths for the future, to find out why they killed, and on such a scale.
Over the course of the past few years, he has slowly amassed an oral history archive of two score or so hours of recordings of interviews with perpetrators – Nuon Chea, regional officials of the Khmer Rouge administration, and also the ordinary killers.
This is a shocking film. Slowly, Sambath's developing relationship with the perpetrators allows him closer to their souls. Gradually, one or two admit to their guilt, to what they have done, to how they did it – and to the horror and the nightmares and the remorse. Others are in different stages of denial. It's the usual stuff – we had no choice, I only killed one or two, we had to do it…
If you have read any of the studies into the mass murderers of the Nazi period, a lot of the material in Enemies of the People will be depressingly familiar. Indeed, Sambath's work bears striking resemblances, both in its method and its conclusions, to Gitta Sereny's investigations into those who were part of the Nazi genocides. Sereny also spent hours and hours with the killers, and she also sought not blame but to find out why they took part in something that to most people is almost unimaginable. Into that Darkness is an investigation based on a series of interviews in prison with Franz Stangl, the commandant of the Sobibor and Treblinka death camps. Stangl, dressed in his immaculate white uniform, personally supervised the destruction of up to 900,000 people. Her masterpiece, Albert Speer, seeks to discover how much Hitler's architect really new of the final solution, and why a man of such sensibility could have been blind to the reality of the Third Reich.
Sereny's work is also rooted in slow, courteous questioning, in which the truth appears gradually to everyone except the principle witnesses – both Stangl and Speer die before they are fully able to bear the responsibility for what they did, for what they were involved in. Both Sambath and Sereny see the complexity of the men they're writing about and neither offers any simple one-line explanations as to their motivation. Sereny, however, is able to suggest some insights as to why ordinary men became involved in such evil: ambition, emotional need, idolatry of one kind or another. That explanation, so keenly sought by Thet Sambath, is missing from this film – we leave the cinema with no very good understanding as to why these murders took place. But this is work in progress, there will be more interviews, we are promised another film.
Even if you have struggled to understand the darkness of ambition, cruelty, hatred and evil shown in Poland in the 1940s or Cambodia in the 1970s, elements of the story will still shock you. Because this was not industrialised, mass murder, but the brutal, hands-on destruction of life by one human being of many others – so many others that the honest ones lost count.
The lasting memories you will take from this film will be of the simple testimony of the men who killed – sometimes stricken with guilt, sometimes shockingly light-hearted – plainly stating what they did, how they did it, and how many times they killed.


Ambrose Hogan




 Visit this film's official web site