Posted on: 19th October 2012 |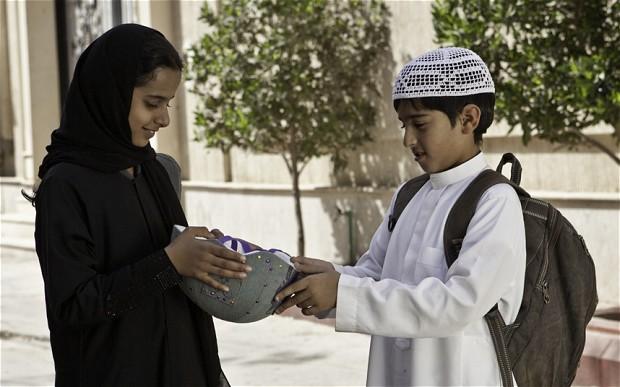 Director: Haifaa al Mansour
Starring: Waad Mohammed, Reem Abdullah, Abdullrahman Al Gohani, Sultan Al Assaf
UK Release date: 19 July 2013
Certificate: PG (97 mins)


One of the biggest surprises of this year's London Film Festival has to be Haifaa al Mansour's wonderful debut film, Wadjda. It is the first ever feature film to be made in Saudi Arabia, where cinema and film are banned. It is directed by a highly talented and gifted woman who sets out to confront our perceptions of her homeland whilst telling a story with universal themes of hope and perseverance. It is a real gem and when it goes on general release, be sure to go and see it. It will lift your spirits and put a spring into your understanding of Arab culture and identity in a way you will not expect.
Haifaa al Mansour stated that for her, the film is about resistance and holding onto your dreams. It stars Waad Mohammed as a ten-year-old girl, Wadjda who has a great friendship and rivalry with her neighbour (Abdullrahman Al Gohani), a boy who has a bike. He is free to ride where he likes. Wadjda sees the bike as freedom, so we are taken on a journey of discovery driven by her goal of having a bike, too. Her mother (Reem Abdullah) is horrified; riding a bike is not becoming of a young Muslim girl.
The journey takes us through Wadjda's relationships with her mother and father, and her experiences at school. Wadjda realizes that in order to obtain the money she needs to buy the bike she covets, she will have to enter her school's Qur'an reciting competition and win the cash prize – the only problem is she does not know the Qur'an and needs to learn fast. What follows is a very funny and instantly recognizable journey of discovery. Wadjda enlists the help of her mother to learn the Qur'an, and Haifaa al Mansour uses the opportunity to identify key excerpts from the Qur'an that have universal appeal and understanding. But there is a dark undertone of people struggling with who they are and what their faith means to them. Wadjda's mother is anxious and disillusioned about the forthcoming marriage of her husband to another woman whom he hopes will bear him a son. Wadjda's father clearly loves his family, but is too distant to really relate to his daughter.
But it is the relationships in the school that are the most fascinating of all. We can see the religious diligence and observance of the pupils and staff in the Riyadh school. The headmistress is obsessed with power and the rule of law, she commands respect and is feared and loathed in equal measure; however, she is exposed as being frail and vulnerable as the rest of us. The girls in the school are canny and observant. They are reverential but also assertive of who they wish to be. The mix of piety and humour is brilliant, and the outcome of the Qur'an competition has a wonderful twist.
That a country that seems so closed and foreboding from the outside can appear so familiar and human in all of its frailties and shortcomings, is a tribute to the drive and determination of the young girl in this film. The dignity of her struggle and her desire to overcome the obstacle of not having a bike is interspersed with a humour and charm that make you feel good to have witnessed it. The film is reflective without being sentimental, and speaks to the viewer in his or her own context. Just as with Danny Boyle's Slumdog Millionaire, the children in the film inhabit their own place and time but also demonstrate characteristics to which we can all relate: it is not that they possess a particular wisdom, but they have and admirable desire to achieve their dreams.
Wadjda is filmed beautifully, especially considering that Haifaa al Mansour has admitted that at times she was forced to direct the cast and crew from the back of a van using walkie-talkies, because in the most conservative parts of Riyadh the sight of a woman directing would just not be acceptable. She is proud of her identity and roots, but is not an apologist; rather she is a director who is shining a light on our own misconceptions and prejudices. That the film has been made at all is remarkable: it took two years of trying and a very impressive list of backers to make it happen. The German producers at Razor Film, Gehard Meixher and Roman Paul, deserve a lot of credit, as do the Saudis, the Jordan Royal Film commission, Abu Dhabi Film Festival and the Sundance Institute, who all supported the film.
At one point in the film the headmistress states that a woman's voice reveals her nakedness. It is more a statement of intent rather than an expression of cultural identity. By exposing our dreams we reveal who we are. We have an obligation to never give up and seek our own true spirit. Now get on your bike and go and watch this wonderful film.


John Paul Morrison




 Visit this film's official web site