Posted on: 22nd October 2013 |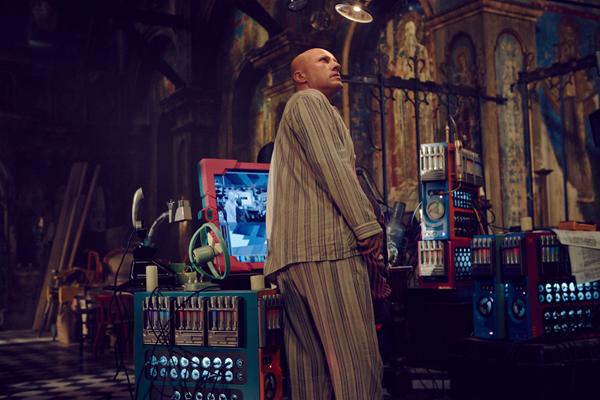 Director: Terry Gilliam
Starring: Christoph Waltz, M?lanie Thierry, Lucas Hedges, David Thewlis
Certificate: TBC (107 mins)


Working with director Terry Gilliam is notoriously difficult. In his 1995 sci-fi thriller, Twelve Monkeys, Gilliam racked up dozens of extra takes because a hamster deep in the background of a shot was not running on its wheel at what Gilliam considered the right speed. He has also had to deal with more than his fair share of tragedy: work on The Imaginarium of Doctor Parnassus (2009) had to be delayed due to lead actor Heath Ledger's untimely death, while his never-completed The Man Who Killed Don Quixote was seemingly doomed from the very beginning.
What this tells us, though, is that if and when Gilliam manages to complete a feature, we will always get a precisely manicured, if somewhat manically produced, film. And The Zero Theorem is one of his best; certainly his best in fifteen years.
Featuring a captivating and odd central turn from Christoph Waltz, The Zero Theorem sees Gilliam back in the world he creates best – off-beat science fiction. It is often said that the very best sci-fi tells us more about our own world than it does the future it depicts, and that is exactly what this film does so well. Savagely prescient and brilliantly humorous, The Zero Theorem gives us a hyper-coloured, technology-obsessed mirror in which to look at ourselves today.
Pat Rushin's first feature script follows Qohen Leth (Waltz), a computer genius who struggles to interact with other people and who constantly refers to himself as 'we'. Qohen – no 'u', as he tells the other characters repeatedly – wants to be stationed at home, so that he can continue to work as he waits, with a determined fixation, on 'the call'. The telephone call is, for him, the thing which will explain to him his life's purpose, his reason for being.
The Management of the company that Qohen works for, ManCom, mysteriously grants his request on the condition that he takes on the one job that nobody at the company has before managed to solve – to prove the Zero Theorem. This theory would prove once and for all that life has no purpose, no meaning, that '0 must be 100%'; literally, everything must equal nothing.
His eagerness to stay at home leads Qohen to take on this job that has bettered stronger men before him. Meanwhile, Management (an excellent cameo by Matt Damon), sends a lustful love interest and a teenager to seemingly put Qohen off all the while.
The teen, Bob, is humorously and energetically played by Lucas Hedges, an actor with a bright future ahead of him. But the stand-out performance to compliment Waltz is from French actress Mélanie Thierry as Bainsley, the love interest. Bainsley's charm and physical beauty beguile Qohen. She entices him into a world he never knew existed, one that frees him emotionally and mentally. Together, Bainsley and Bob find the warmth to melt Qohen's heart, and the chemistry between them is both hilarious and touching.
However, in the most memorable scene of the film, things take a rough turn, and Bainsley and Qohen are forced to make a difficult choice. Thierry's bravery in this scene allows us to see Bainsley as human and vulnerable, fractured and frayed. This is more than just a pretty blonde being eye-candy, and this scene is really what gives The Zero Theorem its undeniable heart. Indeed, this is probably the most tender scene Gilliam has ever directed.
Such is the strength of Waltz's overall performance that Qohen's yearning speaks to and of each one of us. He is a man whose soul is on fire with a desire to know his place in the world, to understand that great mission to which he just knows he is called. And yet this exact yearning destroys his life. He is socially inept, fearful of everything and living alone in an abandoned, fire-damaged church. He seeks sanctuary from a bombardment of advertising in his technological, ex-holy lair. The baptismal font is his sink, the organ his bed and the heavy, dead-bolted doors his protection from the luminous, ad-afflicted world outside.
Qohen's plight speaks to our faith lives today. The film examines a post-Christian world of abandoned churches and glass stained not just with religious pictures, but with years of neglect. This film challenges those of us who cherish our faith to look inward, to discern if we are happy to just lock ourselves away, reluctant to engage with an increasingly loud and brash world. It shows the negative consequences of this, examining how Qohen's life slowly disintegrates around him as he looks for his calling in the wrong place, shutting out the world around him as a result.
In many ways, The Zero Theorem is the quintessential Terry Gilliam film. It is off-beat, full of dutch-tilt angles and inventive photography. It carries subtle humour and superb acting (including another sneaky but outstanding cameo from Tilda Swinton). But in other ways, this piece is also different. It has more heart and emotion than most of his other films. It also concerns itself with some of the bigger questions. While it does not necessarily mine the depths of a film like Terrence Malick's The Tree of Life, Gilliam's new film details an existential struggle that will be familiar to many viewers, while safely couched in the surroundings of a mad-cap, futuristic comedy-drama.


John Quinn




 Visit this film's official web site