Posted on: 6th December 2013 |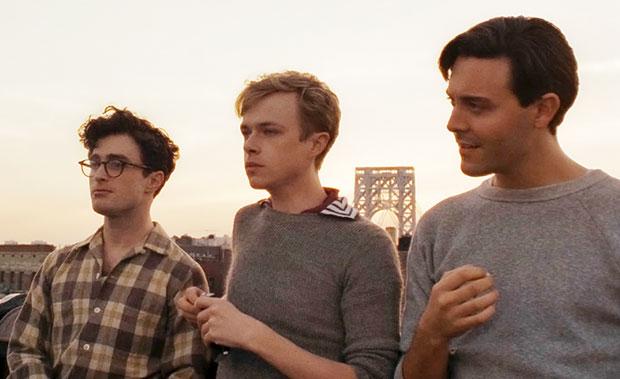 Director: John Krokidas
Starring: Daniel Radcliffe, Dane DeHaan, Jack Huston, Michael C Hall, Ben Foster, David Cross, Jennifer Jason Leigh
Certificate: 15 (104 minutes)
UK release date: 6 December 2013
In the late 1980s, I travelled across the United States in a Greyhound bus with a copy of Jack Kerouac's On the Road. It was a novel I struggled with in terms of style and content; I could not connect to the self-perpetuating angst that rips through the narrative.
I was reminded of those days after seeing John Krokidas's directorial debut, Kill Your Darlings, which explores the relationship between Kerouac (Jack Huston), Allen Ginsberg (Daniel Radcliffe) and Lucien Carr (Dane DeHaan) as it unfolded at Columbia University in 1944.
There have been countless films, plays and other analyses of the Beat Generation, but Krokidas has chosen to focus on the fragility and self-obsessed anxiety that characterised their formative years at university. The story is set around the real-life murder in 1944 of David Kammerer: he was stabbed and disposed of in the Hudson River by Lucien Carr, who had fended off Kammerer's obsessive infatuation for five years and was eventually convicted of first degree manslaughter.
At the BFI London Film Festival premiere, Krokidas informed the audience that although it took nine years to research and obtain funding for the film, it was actually completed in 24 days, and that is quite remarkable. His passion for getting the best out of his actors is evident; the quality of acting is extremely good. The way in which the director gets Dane DeHaan to brood over Carr's identity and sexuality throughout the film is very impressive. Daniel Radcliffe's portrayal of Ginsberg, too, is both powerful and uncomfortable. However, while he is doing everything he can to distance himself from Hogwarts and become an actor on the cutting edge of transformation and diversity, viewers may struggle to witness the lengths he will go to in order to break his ties to Gryffindor.
Ginsberg is famous for the sexual repression that comes across in his writings; this arose out of his insecurity about his sexual identity at a time when homosexuality was not only frowned upon but forbidden. Such anxiety defines the Beat Generation, but it struggles to come alive in this film. It is undoubtedly difficult to convey an angst-ridden writer on film, but at times Krokidas belittles Ginsberg by portraying him as a drug-fuelled, sexually-repressed writer, wearing nothing but a jumper and hammering away on a typewriter. It just does not sit well on the screen, and it gives the impression that the director is not interested in their talent, only in the shock factor of their sexual discovery and experimentation. Too often, the portrayal of their relationships is glib, indulgent and corny.
Krokidas goes to extraordinary lengths to depict what Greenwich Village would have been like in the 1940s; the attention to detail is exceptional and it is filmed beautifully. It is even more of a shame, then, that against this backdrop the characters are unappealing, self-obsessed and brutal in their treatment of one another. The near-disregard of death shown by all the characters is alarming; you feel that there should have been far more punishment given to this group than they actually received. Another weakness is that the female characters are under-developed and dismissed far too quickly, and the film suffers for that as it places the main protagonists even further out on a limb.
I never did finish On the Road; I left my copy in Grand Central Station, New York, and I would feel just as happy to part company with my memories of this film. However, my reservation about the director's vision of these characters is coupled with a grudging respect for the excellent work of the actors charged with bringing that to the screen.
Reviewer:
John-Paul Morrison