Posted on: 7th February 2014 |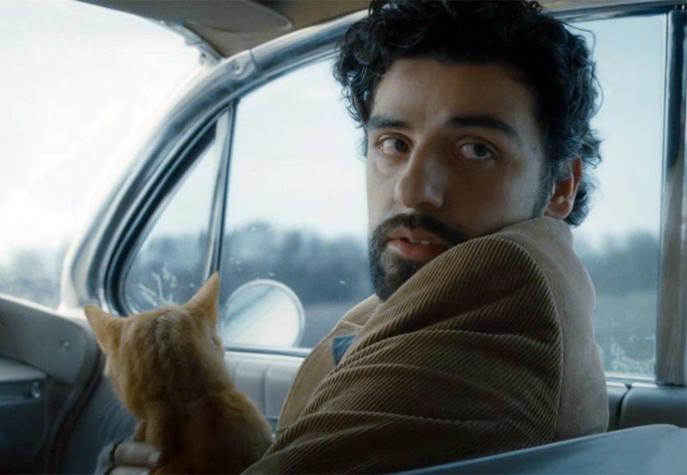 Directors: Ethan Coen, Joel CoenStarring: Oscar Isaac, Carey Mulligan, John Goodman, Garrett Hedlund, Justin TimberlakeUK Release date: Feb 2014Certificate: 15 (104 mins)
There was a recent bestseller called Save the Cat! The Last Book on Screenwriting You'll Ever Need. On its cover is a cute ginger cat, holding on for dear life to the end of a frayed rope. The book isn't a guide to writing quirky independent or art films, but one for scripting populist commercial cinema, and one of its snippets of advice is to have your hero-protagonist 'saving a cat', i.e. going out of his or her way to do something altruistic. Instant sympathy is guaranteed.
On one level, Inside Llewyn Davis, the Coen brothers' sixteenth film, is an extended joke mocking this advice. Early in the film our hero, Llewyn Davis (played by Oscar Isaac), an itinerant folk-singer from early-1960s Greenwich Village, loses a friend's ginger cat while borrowing a couch for the night in the friend's apartment, and instead of shrugging this off (as many an itinerant folkie might), Llewyn tears off to retrieve the moggie. Inevitably, singer and cat team up. Much of the charm of the film, as well as the occasional amusing reversal, centres round the pairing of the brooding dark singer and the oblivious ginger tom.
And this feline charm is badly needed, because a week in January spent in the company of arrogant, self-centred Llewyn Davis might otherwise be a tad chilly.
Llewyn's biography is loosely based on that of Dave Van Ronk, a folkie who skulked around Lower Manhattan and (like Llewyn) shipped out with the US Merchant Navy whenever he was on his uppers. At one point Van Ronk was considered for a part in the successful folk trio Peter, Paul and Mary, but his voice was considered too idiosyncratic. This is all mirrored in Llewyn Davis, who sits in a coffeehouse audience watching a similar trio of clean-cut folkies – Jim, Jean and Troy – with haughty condescension (Jim is played amusingly by pop singer Justin Timberlake.) Llewyn's first and only solo LP, a disc that has sold literally dozens of copies, and which gives the film its title, has the same cover design as Inside Dave Van Ronk from 1964. The Van Ronk LP cover even featured a tabby cat.
The film is therefore very much concerned with the tricky question of artistic integrity – being true to one's art and playing gloomy coffeehouses versus selling out and playing Carnegie Hall.
In an interview in the 1970s, Paul Simon criticised Robert Zimmerman for calling himself Dylan (Simon was patting himself on the back for the greater authenticity of 'Simon and Garfunkel.') But Simon wasn't playing fair. The 'S&G' suggestion originally came from a black producer at Columbia Records who actually had a hard time persuading Paul and Art – Simon was convinced that their own surnames sounded too Jewish for commercial success. The Coen brothers have some fun along these lines, and at Dylan's expense: 'Llewyn' is not only our singer's real name, but – as some may have remarked about Dylan in 1961 – Llewyn is told he doesn't look very Welsh.
Unfortunately for Llewyn, his artistic integrity serves only an average talent; it looks as though he'll be hitching lifts and sleeping on friends' couches for a good while yet. Furthermore, his self-centredness and commitment-allergy suggest he won't find happiness in love: his meaningless relationship with Jim's girlfriend, Jean (Carey Mulligan), is the hollow centre of the film. For a merchant seaman and NYC native, Llewyn also seems to lack all the requisite street-smarts. How many New Yorkers will walk towards a threatening stranger in a dark alley?
The most entertaining sequence in the film occurs on the road. During a long drive that Llewyn cadges to an abortive audition in Chicago, John Goodman makes a cameo appearance as Roland Turner, a mountain of a man with an equally stentorian ego – the backseat passenger from Hell. Roland is a jazz musician who uses all 12 notes of the chromatic scale, and he taunts and prods Llewyn for his three rudimentary and pitiful 'cowboy chords'. When Roland shifts his wheezing weight out of the car and totters away on walking sticks, we are instantly reminded of Captain Hank Quinlan in Orson Welles's Touch of Evil. Again, the Coens are having a bit of fun. In 1961 it was still a screenwriting cliché that a character's disabilities were an outward sign of inward spiritual disease. Roland's bulk is wrapped around a hissing sesspit.
But while the Goodman sequence might be the most entertaining, it is the least essential to the story. The only truly moving scene is perhaps when Llewyn sings Shoals of Herring to his catatonic father, who was also a seaman, in a nursing home.
The film is shot handsomely by Bruno Delbonnel (Amelie, Harry Potter and the Half Blood Prince.) His Greenwich Village under snow recalls the LP cover to The Freewheelin' Bob Dylan. I noticed some minor anachronisms, like earring punctures in male ear-lobes, and Jean calling Llewyn 'sad' because he is a loser. In 1961, 'sad' was how fans would have described Sinatra Sings For Only the Lonely.
But the greatest anachronism is in the film's mood and tone. When Dylan arrived in New York in January 1961, a mere four days after JFK's inauguration, he found a Greenwich Village buzzing with a new idealism and political awareness. This mood of optimism among the young was shared by the Downtown coffeehouse folkies and the black artists singing Uptown at the Apollo. It derived from the belief that the world was about to change for the better, and its righteous music spoke the language of the Civil Rights movement. Whether white or black, 1961 singers were declamatory and open-throated – they wanted the world to hear.
There isn't even the faintest suggestion of this buzz in Inside Llewyn Davis. Instead of being the voice of protest, Davis sounds like an introspective singer-songwriter from a later era, someone singing to himself rather than to others.
Which is another way of saying the film is probably about 2014 – about a more inward-looking, less idealistic generation feeling the economic pinch, and with no obvious ideologies or gurus to signpost their way.
The last moments of the film, when Dylan makes his appearance in the coffeehouse just as Llewyn is leaving, have a righteous power.