Posted on: 27th January 2017 |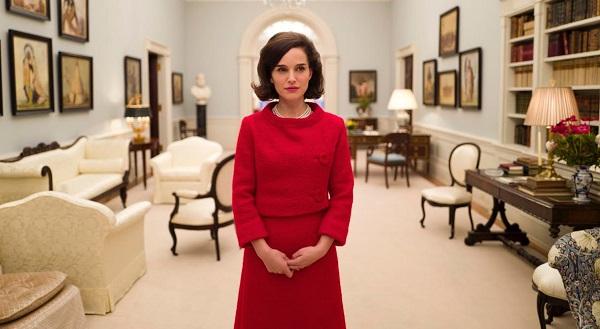 Director: Pablo Larraín
Starring: Natalie Portman, Peter Sarsgaard, John Hurt
Certificate: 15
Running time: 100 mins
UK release date: 20 January 2017
The 20th century's most famous widow, Jacqueline Kennedy, will forever be defined by the manner in which she handled the days that followed the assassination of the 35th President of the United States. At the time, the famous English socialite and Evening Standard writer Lady Jeanne Campbell wrote, 'Jacqueline Kennedy has given the American people from this day on the one thing they have always lacked – majesty'. Chilean director Pablo Larraín has created a masterful piece of work that digs beneath the majestic surface to unearth the understanding, sympathy, shock and grief that characterised that time.
Oscar-nominated Natalie Portman portrays 'Jackie' with grace and grandeur. Larraín rarely turns the camera away from her, and the close-ups and swirling direction serve to point us at every stage towards what is going on in her head, not the events and people around her with whom she is trying to deal. The film's brilliance is that it does not let Portman's remarkable visual and vocal resemblance to Jackie overwhelm its audience or distract them from this depiction of a woman dealing with the loss of her husband while surrounded by people defined by their own self-interest. In 1957, John F. Kennedy won the Pulitzer Prize for a book about American heroes called Profiles in Courage; Larraín crafts just such a profile for Jackie. The many facets of a complex and contrary woman are laid bare, but the lasting impression is of Jackie personifying Ernest Hemingway's definition of courage: 'grace under pressure.'
On Valentine's Day 1962, A Tour of the White House with Mrs John F. Kennedy was broadcast on US television and subsequently watched by 80 million viewers around the globe. The re-enactment of this documentary is captivating and thought-provoking. The way in which Larraín cleverly shifts the film's point of view between different sides of the lens extends the viewer's understanding of the character to consider the way in which the lens would begin to define this woman's life.
The photographs taken at the time of Kennedy's assassination were published all over the world in black and white, but this did nothing to hide the bloodstains on the double-breasted Chanel suit that Jackie wore in Dallas on 22 November 1963. Along with the matching pink pillbox hat, this suit has taken on a fame of its own, and would come to be as influential as Armstrong's astronaut suit in defining the sixties. The film takes the significance of this seriously, and treats the outfit as much more than just a costume or even an artefact. Portman physically shakes while wearing the replica suit, which Chanel helped to create. The original suit is now in the American National Archives and will never be seen by anyone alive today, according to the wishes of Jackie's will. It has never been cleaned since that fateful day.
Portman is a renowned political activist. She has been a prominent voice in the backlash against the election of Donald Trump and is an ardent Hillary Clinton supporter. She clearly embraced this role, not least as an opportunity to demonstrate the complexity of an individual and not just a chance to capture a brief moment in time. There is nothing two-dimensional about her portrayal of Jackie. As Portman says:
She can be brave, and self-interested, and vulnerable, and super-tough, and sensual, and cold, and all of these things at once because that's how human beings are. A lot of films that try for a 'feminist' portrayal will just make a woman be really tough. Well, that's not feminist because it's not allowing the woman to be a human being. No one's just tough.
The film's weakest link is the dynamic between Jackie and her priest (John Hurt). The writer, Emmy-winning television producer Noah Oppenheim, discovered that after the funeral, Jackie wrote to several priests asking them for advice and support as she questioned her faith and was struggling to cope. The film fails to convey the intimacy and discernment that would have been at work in such a relationship: stolen conversations in a park do not do it justice. Hurt's dialogue is clunky and superficial, and he looks as if he had turned up to a whiskey priest parade, not to be a spiritual director to the First Lady. Portman's faith (she is Jewish) is very important to her, as was Catholicism to Jackie Kennedy. However, this element of Jackie's life is not brought out convincingly in her interactions with Hurt.
Films can be like the Camelot that Jackie Kennedy famously referred to in the days after JFK's funeral: 'Don't let it be forgot, that once there was a spot, for one brief, shining moment, that was known as Camelot.' Thanks to her own brief, shining moment, many have put Jackie on a pedestal as the embodiment of dignity. 'Those four dark days were so violent, inward and absurd,' Larraín said. 'She managed to make him a legend, and in doing so, she became an icon as well.' Portman is to be commended for humanising and making us empathise so fully with an icon.
Reviewer:
John-Paul Morrison