Posted on: 16th February 2017 |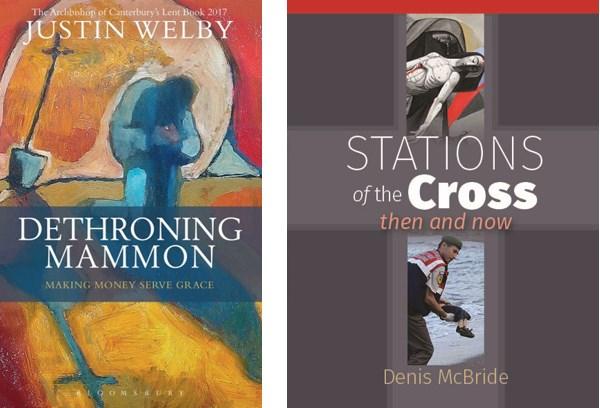 Denis Blackledge SJ recommends two titles that you might want to have at your fingertips throughout the season of Lent this year: the Archbishop of Canterbury challenges us to make money serve grace; and Denis McBride leads us through a visual meditation on how the Stations of the Cross manifest themselves in today's world.
Dethroning Mammon: Making Money Serve Grace
by Justin Welby
The Archbishop of Canterbury has done us all a good and timely service with a carefully crafted little masterpiece. With a foreword by Jean Vanier, who dubs the book 'beautiful and important', and whose life and thought are referred to throughout the book, Welby has sculpted six chapters which are shaped mainly by the Gospel and Revelation of St John.
The front cover, a painting by Daniel Bonnell of the finding of the pearl of great price, provides the author with his introduction, based on the parable at Matthew 13:45-46. He then names his six chapters: 'What we see we value'; 'What we measure controls us'; 'What we have we hold'; 'What we receive we treat as ours'; 'What we give we gain'; and 'What we master brings us joy'. The chapters take us, in order, to encounter: Lazarus; Zacchaeus; Mary who anoints Jesus extravagantly; Jesus washing his disciples' feet; Joseph of Arimathea and Nicodemus burying Jesus; and finally, the Message to Laodicea and the Fall of Babylon. The chapters are peppered with delightfully fresh insights.
Whilst the book is ideally meant to be used in Lent, either individually or as a group – there are questions dotted throughout to enable discussion – this is a set of prayer material to ponder at any time of the year. And it has a practical aim, stated in its subtitle: to make money serve grace, a challenge to all of its readers!
(Bloomsbury, 2016; 192 pages; ISBN: 9781472929778)
Stations of the Cross – then and now
by Denis McBride
Denis McBride is a true wordsmith, and a new book sets his skill with the written word alongside the superbly chosen work of south German artist Curd Lessig and contemporary photography. All three combine to offer a new way of travelling along the traditional Stations of the Cross in a simple, six-stage format.
Each Station begins with a passage from scripture; follows that with the accompanying painting from Lessig's 'Way of the Cross'; and then offers a two-page reflection from McBride on the Station in the light of the scripture and the painting. What is deeply striking, though, is that the reader is subsequently presented with a photograph representing a modern day instance of suffering, then a two-page meditation on that image; and finally a prayer.
What McBride has produced twins 'then' with 'now'. His aim is for the reader both to celebrate the memory of Jesus's Passion and to become more alert to the passion of so many around us who struggle under the burden of their own cross. Each photo reflects a contemporary parallel of the particular Station of the Cross, and has been selected with great sensitivity. The shooting of Pope John Paul ll, for example, has been chosen to echo the third station, the First Fall of Jesus; and, perhaps most poignantly, the Pietà, the thirteenth station, is paired with the now infamous photo of an aid worker tenderly picking up the small body of a drowned child, Alan Kurdi, from a Turkish shore. The two interpretations of the thirteenth station grace the front cover.
This is a book to ponder and pray, not to read. Whilst it is especially relevant for Lent and Holy Week, it is a book full of insights and blessings to keep in your daily prayer corner for any day or night of the year.
(Redemptorist Publications, 2016; 118 pages; ISBN: 9780852314722)
The reviewer, Denis Blackledge SJ, is Parish Priest of St Francis Xavier, Liverpool.